Peanuts get a lot of attention, but the most common food allergy for kids under 5? Milk.
In a study released on Friday, researchers found that milk allergy affects over half of 1-year-olds who have food allergies, accounts for 40 percent of food allergies for kids 1 to 2, and is the most common overall food allergy for children under 5.
"The general public needs to be more aware of milk allergies. They think it's all peanut," Dr. Ruchi Gupta, a professor of pediatrics at the Northwestern school of medicine in Chicago and an author of the study, told NBC News. "We set out to build awareness so families can get the proper diagnosis."
Milk allergy is different from lactose intolerance or other milk sensitivities, which generally cause gas, bloating and other gastrointestinal issues. The researchers were looking for symptoms of an immunoglobulin E-mediated allergy, such as hives, throat tightening and trouble breathing, which come on quickly after exposure to the allergen, in this case, milk.
"You picture your kids growing up and having independence, and now every bite of food, every cough, was scary."
In a nationally representative sample of nearly 52,000 U.S. households, including over 38,000 families with children, the researchers found that nearly 2 percent of kids reported symptoms consistent with IgE milk allergy.
"Only 1 percent of U.S. kids get milk allergy diagnosed with a physician," said Christopher Warren, a Ph.D. candidate at the University of Southern California school of medicine and another researcher on the study, presented Friday at the annual meeting of the American College of Allergy, Asthma and Immunology in Seattle. "So this is more common than people realize."
Jamie Kauffman, a mother from Springfield, Illinois, thought her son Miles was just a fussy baby. He was always crying and uncomfortable, which caused her anxiety and embarrassment.
"A nurse once told me, in front of a whole group of moms, that I needed to learn how to soothe my son," she told NBC News. "But when I breastfed him, I was just making it worse."
When Miles was 8 months old, Kauffman fed him some creamy spinach, and he quickly went into anaphylactic shock, breaking out in hives, wheezing and becoming unresponsive. Kauffman rushed him to the emergency room, where he was diagnosed with a milk allergy.
"So much about our experience made sense after that," Kauffman said.
Rather than switch to formula, she decided to continue breastfeeding and cut all foods Miles was allergic to out of her diet: nuts, soy, egg and milk.
Now 13, Miles has mostly outgrown the other allergies, but continues to be allergic to milk. Kauffman said it's been a struggle to keep him safe.
"The night we got the diagnosis, it was crushing, I cried," said Kauffman. "You picture your kids growing up and having independence, and now every bite of food, every cough, was scary."
She kept Miles out of restaurants and home-schooled him, but still, mistakes happen. When he was 3, she made him a grilled cheese sandwich, but confused the soy cheese with regular. "After two bites, he started coughing and his lip was so swollen, I thought it was going to burst," she said.
Luckily, she had an EpiPen on hand, something many parents of children with milk allergies don't have.
"Our survey found only one in four parents had a prescription for EpiPen for milk allergy," said Gupta.
Feeding Miles safely three times a day is a challenge, Kauffman said, but it's easier now because he is able to tolerate foods with baked milk, something Gupta said parents should test for.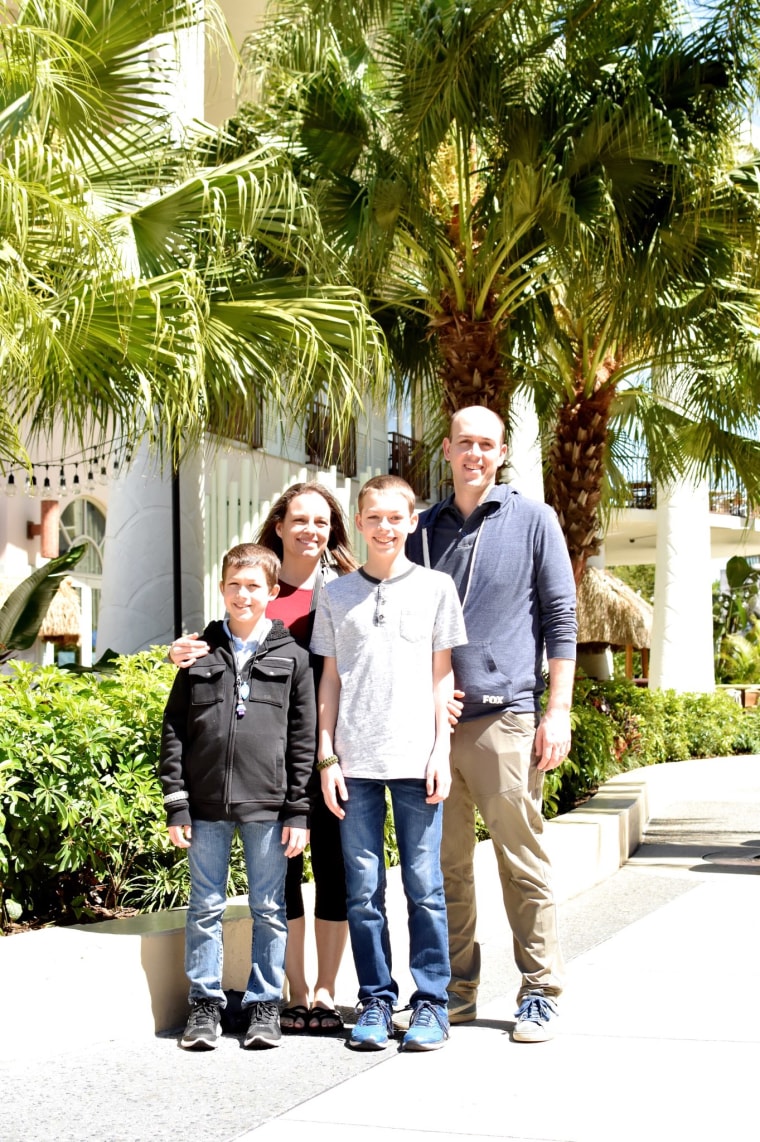 "Approximately 70 percent of kids with likely IgE milk allergy can tolerate baked milk products," she said. "We know it's hard for parents to avoid milk, so don't just assume your child can't tolerate it."
When Miles was diagnosed, Kauffman didn't know anyone else dealing with this concern, so she started a blog, Milk Allergy Mom, where she shares recipes and connects with other parents.
The allergy takes a toll on Miles too, who often misses out on social events because of safety concerns. But recently, he was able to eat out for the first time — on a trip to Disney World, where a chef accommodated him.
It's a sign that awareness for milk allergy is growing, Kauffman said.
"It's so much better than it was 13 years ago," she said. "It no longer feels like I'm the only one."