When Jenny and Alan Buchanan became foster parents to Mark in November 2010, the 6-month-old infant was blind, deaf and stiff from cerebral palsy, all the result of abusive head trauma, more commonly known as "shaken baby syndrome."
He required an 18-hour feeding tube and doctors said he would never walk or talk.
"His doctor said take him home, love him — in three months he won't be here," said Alan Buchanan, a printer from Colchester, Vermont, who with his wife has two grown daughters and two grandchildren. "We expected to do end-of-life care."
Mark was taken from his abusive family at 5 weeks old and placed in a pediatric nursing home. He had suffered from three skull fractures, two broken collar bones and a broken toe, some of them older wounds, at the hands of one or both of his parents.
"We don't know which parent and no one was ever charged," Buchanan, 65, told NBC News.
"His doctor said take him home, love him — in three months he won't be here."
About 25 percent of the victims of abusive head trauma die, according to the Centers for Disease Control and Prevention. Of those who survive, like Mark, 80 percent suffer permanent disabilities and brain damage.
One abusive head trauma expert says that not enough attention is being paid to these survivors, who may be in a permanent vegetative state or have lifelong neurological disabilities and seizure disorders. They not only place a heavy burden on the adoptive parents who raise them, but on social services and schools.
"Babies who have significant injury to their brains may never recover," said Joseph F. Hagan, clinical professor in pediatrics at the University of Vermont College of Medicine and the Vermont Children's Hospital.
"The vast majority have cerebral palsy caused by the brain injury and develop floppy spasticity and feeding problems," he told NBC News. "These are horribly afflicted babies. They may be able to eat and walk, but they are going to have remarkable intellectual impairment."
Long-term medical care for these children can range from $300,000 to more than $1 million, according to the National Center on Shaken Baby Syndrome.
"Shaken baby syndrome" was coined in 1984, but the American Academy of Pediatrics changed the terminology to abusive head trauma to broaden medical understanding of how the blunt impact and violent shaking or a combination of the two can cause bleeding within the brain or eyes.
In the classic case, an adult holds the baby around the trunk with chest facing them, putting the thumb over the child's collar bone and fingers along the head or spine, "vigorously shaking back and forth, away from you and back to you," said Hagan.
The shaking has a whiplash effect on the brain, which is composed mostly of water. It bangs against the skull, killing neurons, breaking blood vessels and causing swelling. When the brain pushes down on the brain stem, breathing can stop. In diagnosing abusive head trauma — something that has raised some controversy — doctors first look for outward signs of trauma. If the fontanel, the soft spot on an infant's skull is "full," an MRI or CT scan can identify lesions behind the eyes and skull fractures.
"If it's a very ill-appearing baby, it's not hard to make the diagnosis," said Hagan. "It's just a matter of thinking about it."
According to the Centers for Disease Control and Prevention, abusive head trauma is the leading cause of child abuse deaths in the United States, taking the lives of more than 1,500 children a year. Babies up to 4 months old are at greatest risk and inconsolable crying is the main trigger.
But Hagan says many cases go unreported, especially when the abusers are not prosecuted. "Most end up being adopted," said Hagan. "It's very complex to prosecute these parents because it often goes unwitnessed. Unless you get a confession."
Vermont, where Hagan works, had two high-profile homicide cases in the last year. In Winooski, 14-month-old Peighton Geraw died of head trauma. And in Poultney, 2-year-old Dezirae Sheldon died after her stepfather allegedly squeezed her head so tightly, her skull was cracked. Both children were "known to the system," according to Hagan, who consults for the state in diagnosing the most difficult cases and co-chairs the Department for Children and Families' citizens advisory committee.
In a recent controversial case of a teenage mother who is fighting a do-not-resuscitate order from child welfare officials, 6-month-old Aleah Peaslee was brain-damaged when her father allegedly violently shook her.
The girl is now in foster care, quadriplegic, on a feeding tube and unable to see or hear.
"In families, you don't always knows what goes on behind closed doors," Hagan said. While sometimes abusive parents are depressed and may use alcohol and drugs, there is no typical case, according to Hagan.
"It's going to be more frequent when there are more stressors on parents," he said. "But it can happen to anyone. That's what's troubling."
"I say to parents when they get really frustrated — it's OK to let them cry. Take a deep breath, relax, whatever it takes. It's OK to put the baby down and ask for help."
Medical experts are doing a better job of diagnosing and reporting abusive head trauma and are now focusing on prevention. Babies tend to cry more in the first three months of life, and parents can snap at the "most unpredictable times when infants are very demanding and the environment is not supportive," said Hagan.
"Raising babies is hard work," said Hagan. "I run six marathons and at the end, I need to sit down and drink water and recover. Certain aspects of parenting are hard work, especially infants.
"I say to parents when they get really frustrated — it's OK to let them cry. Take a deep breath, relax, whatever it takes. It's OK to put the baby down and ask for help."
Often families are distressed emotionally or economically and are having difficulty finding resources. Communities can provide housing options, and pediatricians can ask parents about their moods.
"We know these things make a difference," said Hagan, who is co-editor of "Bright Futures Guidelines" for the American Pediatric Association.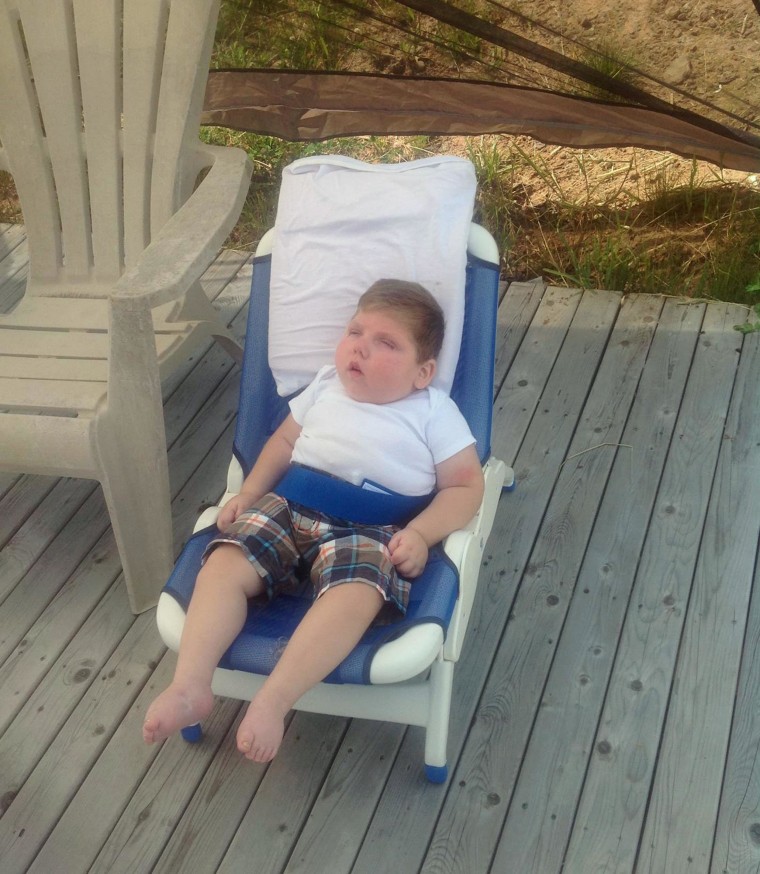 Unfortunately, the loving care the Buchanans provided for Mark was not enough. They adopted him, despite his health problems, but he died of pneumonia in November 2013, just shy of 4 years old.
"We had never taken on a challenge like this," said Alan Buchanan, who spent night after night on the sofa cuddling Mark against his chest, even though doctors said the child would never bond. Eventually, he was able to say, "I love you, Papa."
"A month before Mark died, I had him in the bath and he was moving his arms and legs and started giggling and talking," he said. He also learned to love massage and music therapy.
"When we went to meet him, I thought, 'I don't know if we can do this,' but we bonded immediately," he said. "We miss him, but we are not in any shape to take any more kids."
His wife, Jenny Buchanan, 62 and a retired bank worker, said she, too, had no regrets. "Once you saw him, your heart would melt," she told NBC News. "He needed a home, so we stepped up."
She just wants to prevent other children from suffering Mark's fate.
"A baby won't die from crying — they will cry themselves to sleep," she said. "Just walk away."