SAN FRANCISCO — Olivia Gordon was at a bonfire with friends during her sophomore year of high school the first time she tried a Juul.
"I didn't even know what it was," Gordon said, recalling the night. "They were just like, 'Oh, you should try this. You should try this.'"
She didn't like it a first. But the discreet e-cigarette, which looks like a USB flash drive, was soon everywhere.
People at school would huddle in bathrooms, Gordon said, taking puffs of the device's different flavored tobacco pods. "It just became, like, more and more popular," she recalled.
By senior year of high school, Gordon, now 18, said, just about everyone was "Juuling."
In the three years since Juul first hit the market in mid-2015, e-cigarette use among teenagers has exploded.
The Centers for Disease Control is expected to report this year that the number of high schoolers who were using an e-cigarette in 2018 is roughly 3 million, up more than 75 percent since last year's National Youth Tobacco Survey by the CDC.
The company has grown to dominate the rapidly expanding e-cigarette market, with over 74 percent market share and a roughly $16 billion valuation.
The Food and Drug Administration has scrambled to address what Commissioner Scott Gottlieb is calling an "epidemic"of youth e-cigarette use.
In September, Gottlieb announced he was giving Juul and four other e-cigarette manufacturers 60 days to present their plans to prevent youth access to e-cigarettes, or face regulatory consequences.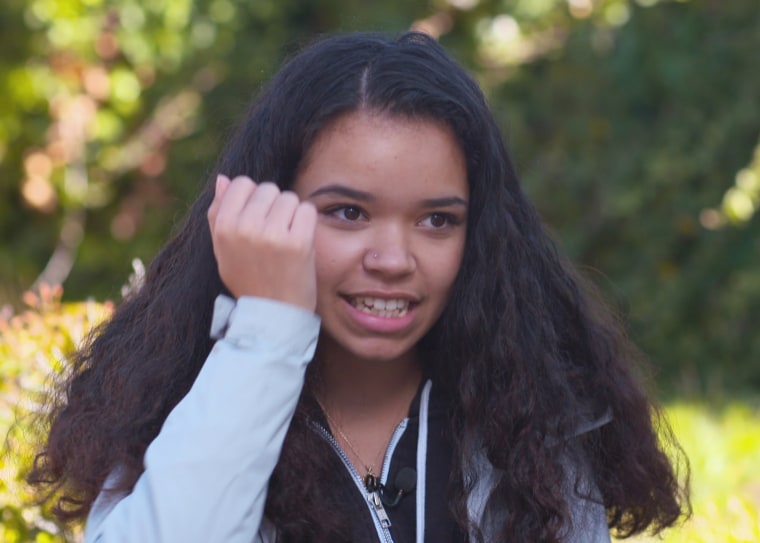 That deadline is fast approaching, leaving the FDA with a complicated decision to make — restrict access to a product that advocates say is helping adult smokers quit cigarettes, or permit access while kids revive a nicotine habit that had previously been at an all-time low.
According to unpublished numbers from the CDC's 2017 National Youth Tobacco Survey, 46.7 percent of kids who had tried an e-cigarette had never tried a traditional cigarette.
In a statement released Wednesday, Commissioner Gottlieb said the FDA has had productive discussions with five e-cigarette companies about their proposals to stem youth use of their products, but noted "we may need to take actions that narrow the off-ramp from smoking for adults in order to close the on-ramp to nicotine addiction to kids."
The devices fell under FDA regulation in 2016, but the agency has deferred its authority to regulate e-cigarette companies' pre-market applications until 2022. Products that were on the market before August 2016, like Juul, were allowed to remain on shelves without review. Revisiting that decision is one of the options the FDA has floated if e-cigarette companies' responses to their deadline are not satisfactory.
The potential long-term effects of e-cigarettes — including Juul — are still largely unknown.
"Juul's been on the market since 2015. We have data from the time the product was on the market to now, and we will collect data over time," said Ashley Gould, Juul Labs' chief administrative officer. "We don't have 10 years of data on the product. It hasn't been on the market that long."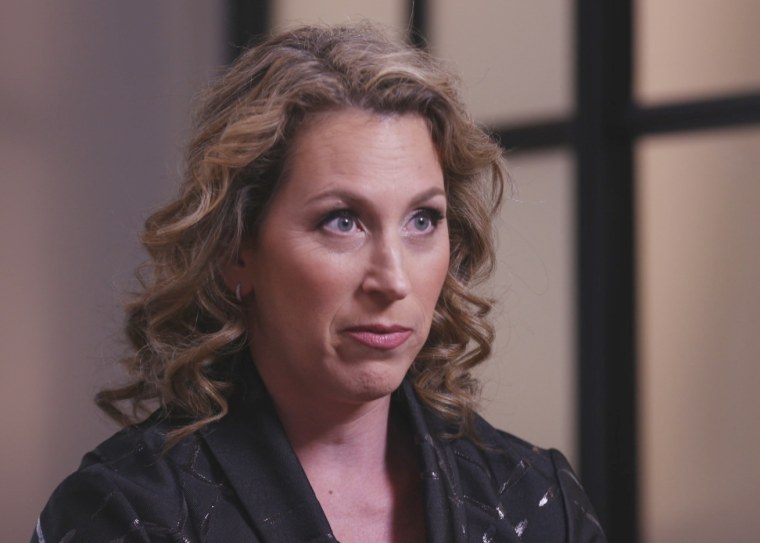 "We have on our website, we have on our packaging, that this product contains nicotine. We have all of the ingredients in the product. And we say this is what we know and what we don't know about the product."
While the FDA does prohibit e-cigarette companies from touting their products as safer or less harmful than cigarettes, the idea that e-cigarettes are less harmful than cigarettes is ubiquitous, and the science seems to back it up.
In January 2018, the National Academies of Sciences, Engineering, and Medicine concluded there was substantial evidence that "exposure to potentially toxic substances from e-cigarettes is significantly lower compared with combustible tobacco cigarettes" and that completely switching from regular cigarettes to e-cigarettes "results in reduced short-term adverse health outcomes in several organ systems."
"We've never said that this product is good for your health," noted Gould. "This is an alternative to a product that's killing half of the people who are using it."
"I had a lot of patients coming into the clinic telling me that they were using e-cigarettes or the Juul, and they were asking me if it was safe to use," said Dr. Mark Rubinstein, who studies nicotine dependence in adolescents at the University of California San Francisco. "I just didn't have an answer for them."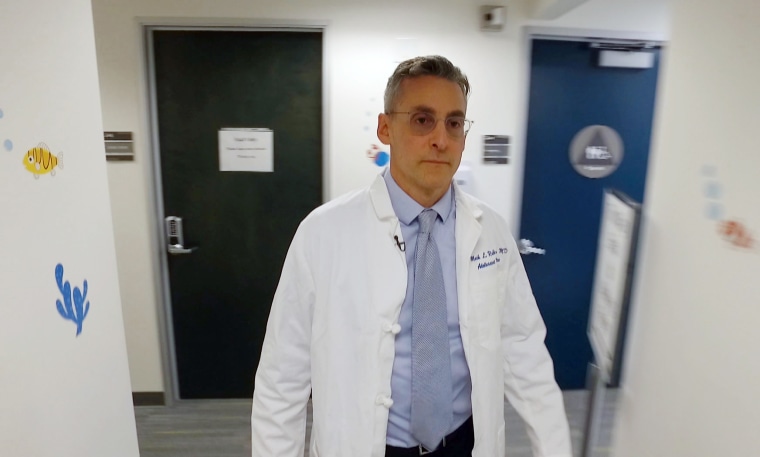 Rubinstein decided to launch the Teen Vaping Study, a year-long research project analyzing adolescent e-cigarette use.
Rubinstein and three co-authors from UCSF published research in the peer-reviewed medical journal Pediatrics in April showing that teens who used e-cigarettes had significantly higher levels of five chemicals in their urine than teens who didn't use e-cigarettes or cigarettes.
The study compared 67 teens who were only using e-cigarettes to 16 teens who were using both e-cigarettes and cigarettes and a control group of 20 teens who weren't using either product.
"We found a lot of the same chemicals in the urine of these teenagers that we see in cigarettes," he explained, "at much lower levels than traditional cigarettes, but higher than what we expect to find from just environmental exposures."
"The five main chemicals that we found are either shown to be cancer causing or thought to be cancer causing, either in humans or animals," said Rubinstein. "There's no reason adolescents, healthy adolescents, should be exposing themselves to even potentially cancer-causing substances," he added.
In a statement to NBC News, Juul pointed out that the study was not designed to draw conclusions about any one e-cigarette brand in particular, because the kids in the study were self-reporting which products they were using.
Rubinstein's study also found that teens who reported using fruit flavored e-cigarettes — the most popular flavor category in Rubinstein's study — had significantly higher levels of one chemical in their urine than teens who used other flavors.
That chemical, acrylonitrile, is classified by the EPA as a "probable human carcinogen."
"I actually reanalyzed the data just to make sure it wasn't because the fruit flavors were more appealing, so the kids were vaping them more frequently. They weren't. Even if you controlled for how much they were using, the fruit flavors seem to produce more toxins," Rubinstein said.
The FDA has singled out e-cigarette flavoring as one of the drivers behind youth usage of the products, but scientists say it's also one of the biggest unknowns when it comes to e-cigarettes' long-term health effects.
While flavoring components in e-cigarettes are often safe for use in food or cosmetics, many of the flavoring chemicals used in e-cigarettes have not been studied for inhalation toxicity.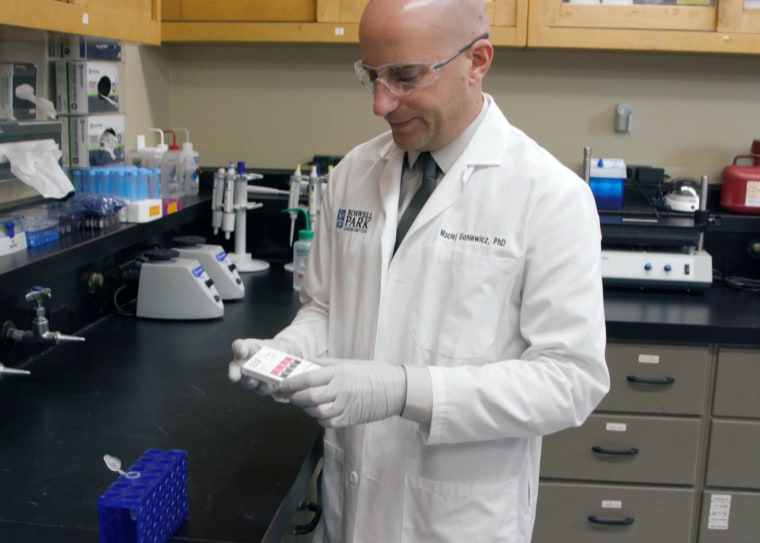 Maciej Goniewicz is a pharmacologist and toxicologist at the Roswell Park Comprehensive Cancer Center in Buffalo, N.Y., which recently won a $19 million federal grant to spearhead the nation's first research program dedicated to flavored tobacco.
"I think we have a good knowledge currently of what is in the product. How much nicotine is in the different products, how it is delivered to blood," Goniewicz said, "Unfortunately, what we are missing today are data from the long-term studies. We don't know what is really the health risk that may be associated with using those products for many years."
Although Juul lists only five ingredients on its packaging, Goniewicz tested the liquid of three Juul pods for NBC News — Mango, Fruit Medley, and Virginia Tobacco — and identified a lengthy list of chemicals that fall under just one of Juul's five ingredients, "flavor."
It's many of these chemicals that he says have unknown long-term health impacts, especially if users are continuously exposed to them over a long period of time.
"A regular user of electronic cigarettes will be exposed to those chemicals every day with hundreds of puffs per day for probably many years. And this is a really important question that we would like to know and we trying to answer with our research. What's going on after this repeated exposure? After years of using the products?"
Goniewicz noted that the existing research gives him the confidence that e-cigarettes like Juul "are less risky products than tobacco cigarettes," but added that he "will not make the assumption that those products are safe."
In a comment to NBC News, Juul Labs said it follows appropriate standards for product labeling: "Our product includes glycerol, propylene glycol, flavor, nicotine and benzoic acid. Flavor consists of other components, and we provided the FDA with the ingredient list as required, but the specific formulation of the flavoring is proprietary information."
In research that it presented at a nicotine conference this year, Juul's data on its aerosol indicates undetectable levels of three of the same toxicants Rubinstein found in significant amounts in the urine of his sample of e-cigarette users.
"It's critically important that youth are educated about the harms of nicotine, what we don't know about e-cigarettes, and why these are not products for them. We agree 100 percent with that. We also agree that adult smokers deserve alternatives to a product that is killing half of them."
The company has drawn ire for its marketing practices, with critics particularly zeroing in on a 2015 advertising campaign that featured young and attractive models.
Gould says that was never the goal. "Our 2015 campaign was done at a time that the company was very small. If we could go back and do it differently, we would, but t he intention was always to reach adult smokers. We fully take the criticism that that campaign was not successful in that."
"If I knew how to have youth not be interested in the product and we could just snap our fingers and make that happen, we would do it immediately, obviously," Gould said.
Juul Labs has taken a number of actions since then to address its product's popularity with young people, most notably by removing all of the product-related content from its social media pages in favor of testimonials from adult smokers.
Nevertheless, two attorneys general are currently investigating Juul's marketing practices — Massachusetts Attorney General Maura Healey and North Carolina Attorney General Josh Stein — and earlier this month the FDA conducted an unannounced inspection of Juul's headquarters in San Francisco, seizing thousands of sales and marketing documents.
During a panel on the risks of e-cigarettes hosted by the news website Axios in September, Gottlieb said he's considering "a range of options" when it comes to e-cigarette regulation. One option that the FDA has raised is restricting access to flavors that appeal to kids, or even pulling them from shelves entirely.
"I've heard the argument that, if they want to quit smoking cigarettes, they don't want to be reminded of that tobacco flavor," Rubinstein, "Unfortunately, the flavors that they've chosen, like crème brûlé, fruit medley, mango flavor, are definitely something that's appealing to children."
"So I would argue, maybe we could limit the flavors for adults to flavors that are used in nicotine replacement, like cherry and orange."
Gould said flavors are imperative to Juul's mission, "Our data tells us that flavors are incredibly important to adult smokers to switch."
In the meantime, public health experts worry that the teenagers who experiment with e-cigarettes may not be able to stop once addicted to the nicotine. Studies show that kids who use e-cigarettes are more likely to move on to smoking traditional cigarettes.
In the beginning, Gordon didn't realize there was nicotine in the product — one pod of which has about as much nicotine as a pack of cigarettes — and she only took a puff or two when a friend offered, but by her senior year, Gordon had her own Juul, and was using it upwards of five times a day.
Still, Gordon doesn't think she's addicted.
"I'm more concerned about the people who are using it more often than me because that's where it's, like, turns," Gordon explained, "I feel like, I haven't been doing it enough, or often enough, for it to have a lot of negative side effects."
Rubinstein is currently working on another paper about the kids in his Teen Vaping Study, and one thing is clear. Juul's popularity isn't going anywhere.
"In the beginning of the study, I would say just under a third of the kids [who vaped] used a Juul. Over the course of the study, the majority of kids switched over to Juul."
"We don't know that these kids will continue to use for many years," Dr. Rubinstein said, "But should they, we expect to see some of these same negative outcomes that we see with cigarettes."