Here's how you might be able to turn autism around in a baby: Carefully watch her cues, and push just a little harder with that game of peek-a-boo or "This little piggy." But don't push too hard — kids with autism are super-sensitive.
That's what Sally Rogers of the University of California, Davis has found in an intense experiment with the parents of infants who showed clear signs of autism. It's one of the most hopeful signs yet that if you diagnose autism very early, you can help children rewire their brains and reverse the symptoms.
It was a small study, and it's very hard to find infants who are likely to have autism, which is usually diagnosed in the toddler years. But the findings, published in the Journal of Autism and Developmental Disorders, offer some hope to parents worried about their babies.
"With only seven infants in the treatment group, no conclusions can be drawn," they wrote.
However, the effects were striking. Six out of the seven children in the study had normal learning and language skills by the time they were 2 to 3.
Isabel was one of them.
"She is 3 years old now and she is a 100 percent typical, normally developing child," her mother, Megan, told NBC News. The family doesn't want their last name used for privacy reasons.
"We don't have to do the therapy any more. It literally rewired her brain."
Autism is a very common diagnosis for children in the U.S. The latest survey by the Centers for Disease Control and Prevention shows a startling 30 percent jump among 8-year-olds diagnosed with the disorder in a two-year period, to one in every 68 children.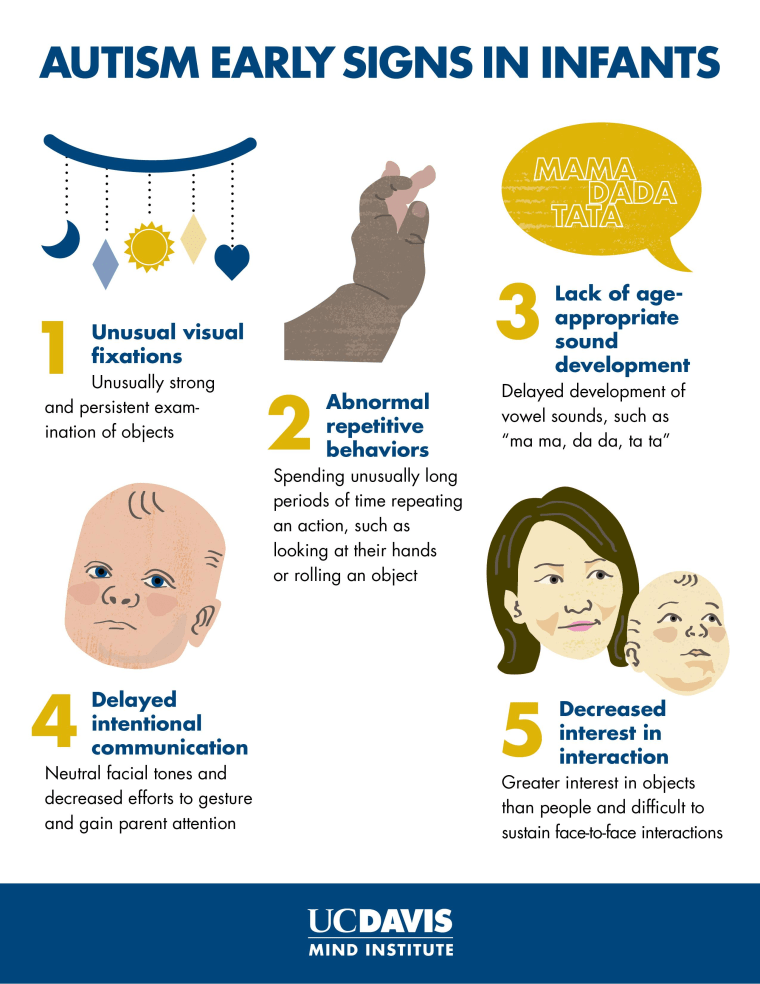 The CDC says the numbers almost certainly reflect more awareness and diagnosis of kids who would have been missed in years past. But another recent study shows that the brain changes associated with autism start in the womb, and are likely a combination of genetics and something else that happens during pregnancy. Some studies suggest that viruses such as flu might be one trigger.
The symptoms range from fairly mild social impairment to severe and profound inability to learn and communicate and sometimes violent and unpredictable behavior.
Parents can become desperate. A prominent autism advocate and blogger has just pleaded guilty to first-degree child abuse in a case in which she was accused of trying to kill her severely autistic daughter.
The signs are not always clear early on. Megan says she and her husband, John, began to be concerned about Isabel when she was 3 months old.
"Her brother would be dancing around trying to attract her attention, but she'd be looking at the wall. She wouldn't turn or anything."
"She wasn't hitting two-month milestones," Megan said. "The main thing for her was that she just had zero eye contact. Maybe she'd look in your general direction, but she was not making real eye contact." They'd walk into her room and she wouldn't even turn around in her crib. Vision and hearing tests showed both were normal.
"She had some behaviors, once she discovered her hands, she'd look at them for way too long and we couldn't get her attention," Megan added. Isabel's older brother, then 2, also noticed. "Her brother would be dancing around trying to attract her attention, but she'd be looking at the wall. She wouldn't turn or anything."
"We of course couldn't diagnose autism in these very young children," she told NBC. "We don't have a method for diagnosing autism before the age of one at this point. But we did see a number of symptoms that other studies had shown as were related to higher risks for autism."
One symptom is extended staring at objects. The other is repetitive behaviors. "Some babies really like to look at their fingers, move them across their faces, look at them in silhouette with the lights," she said. "Some babies enjoyed the repetitive movement of objects and they'd be moving something that rolled back and forth and back and forth, just to watch it roll."
Other signs -- the babies don't babble, smile or interact much.
Isobel's family, originally from Washington, moved to California to join Rogers' study.
"We knew that every moment counted and this was time that brain was developing," Megan said.
The 12-week treatment was intense, and consisted of one-hour coaching sessions. Mostly, the parents do what parents always do — play with their babies.
"We'd come in once a week and play and interact with her with toys and things, and Dr. Rogers would coach us," Megan said. For example, she'd say: "Did you see her glance away? Try to talk softer. You're a little too close."
The training uses what's called the "Denver model," to make a child enjoy the reward of social interaction.
"We helped the parents read the babies' cues," Rogers said,.
"We also encouraged the parents to persist. It's hard to continue in an interaction if your partner isn't giving you much back. You need to know that you ware on the right track or else you think that you're doing something wrong," she added.
"With a normal child, mom smiles back and that's a reward in itself, but there's not that kind of connection in kids with autism," Megan said.
"I'd primarily be working with her at home, trying to get her to glance in my general direction, get her to give the toy or turn the page of the book," Megan said. "You're playing, feeding her but really paying attention to what she's trying to tell you, what she wants or needs."
For instance, Rogers demonstrated, Megan would play patty-cake with Isabel's feet. She got a little too aggressive and Isobel squeaked a little. That's a cue, Rogers said, that mom may be playing a little too rough.
It gradually worked. "It really was incremental progress," Megan said. "It wasn't like a light bulb suddenly turned on."
But the reward for Megan and John was stunning. They'd worried they'd have to provide special care for Isobel her whole life. She'd been diagnosed as severely autistic.
"For me, it was incredibly empowering to go from loving this child and wanting to help her to having the tools to help her," Megan said. "To have her life handed back to her … it just makes me feel overwhelmed with gratitude. I never in my wildest dreams thought she'd live a happy life, and now that's what she has."
Outside experts say the findings are promising but by no means the end to the story.
"This is a very exciting and promising study," said Deborah Fein, a psychology professor at the University of Connecticut.
And because the parents are not doing anything unusual, it's an approach that's unlikely to be harmful, Fein said.
Parents whose kids are past babyhood should not worry, Rogers stressed.
"I have a concern that parents whose children were diagnosed and received treatment at age 2, or 3 or 4 are going to feel somehow like they missed the boat, that they should have been getting intervention earlier or (been) aware of symptoms earlier," she said. "And I really want to emphasize that most children with autism do not show symptoms as early as 6 to 7 months."
Other treatments help some older children, she noted.