Most American kids are getting far too much salt in their food — about a third more than is recommended, federal health officials said Tuesday.
It puts children and teens at risk of high blood pressure and heart disease — both conditions more associated with middle age. But they're hitting children and teens more often, and salt is often to blame.
Studies clearly show that eating a lot of salt can raise blood pressure — not in every single person, but in a significant percentage of the population. The latest survey of what kids eat shows that more than 90 percent of them are eating far too much salt. And they are not getting it from the salt shaker, the U.S. Centers for Disease Control and Prevention found.
"Our report reveals that children and teens are eating too much sodium before salt is added," CDC's Dr. Ileana Arias told reporters.
"U.S. school-aged children consumed an estimated 3,279 mg of sodium daily," the CDC report says. CDC recommends that children get no more than 2,300 milligrams a day.
The biggest culprits may not be the most obvious ones — they're pizza and bread.
"Most sodium is from processed and restaurant food, not the salt shaker," CDC director Dr. Tom Frieden said in a statement. "Reducing sodium intake will help our children avoid tragic and expensive health problems."
"Most sodium is from processed and restaurant food, not the salt shaker."
The CDC used an in-depth survey of 2,200 children to figure out how much salt they were getting and where. It's not salty snacks, but what they are eating for dinner, mostly.
"About 43 percent of sodium eaten by children comes from the 10 foods they eat most often: pizza, bread and rolls, cold cuts/cured meats, savory snacks, sandwiches, cheese, chicken patties/nuggets/tenders, pasta mixed dishes, Mexican mixed dishes, and soups," CDC said.
The researchers found that 65 percent of salt the kids eat comes from store-bought foods, 13 percent from fast food and pizza restaurants, and 9 percent from school cafeterias.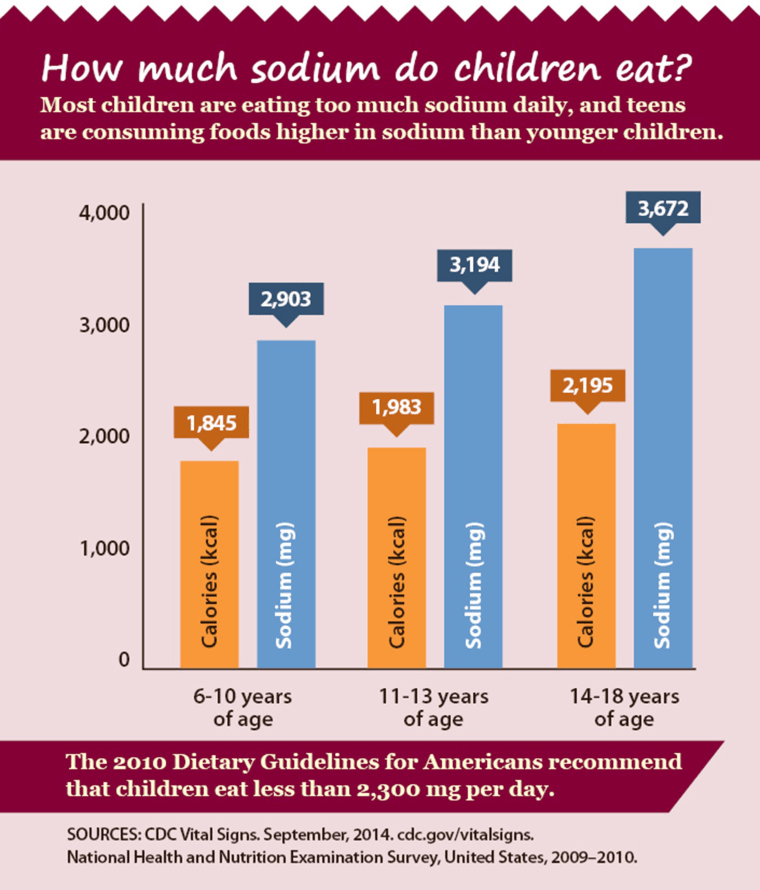 With heart disease the leading cause of death in the United States, it's a problem that adds up to big numbers. CDC quotes studies that show if Americans collectively cut the amount of sodium they eat by 40 percent, it could save between 280,000 and 500,000 lives over 10 years.
And sodium does appear to be raising kids' blood pressure — CDC says one in six U.S. children have borderline or high blood pressure. A third of the entire U.S. population has high blood pressure.
The issue of salt and blood pressure is controversial. The American Heart Association advises that some people should cut salt to as low as 1,500 mg a day. But there are regular studies that challenge this idea. Most recently, one published in the New England Journal of Medicine suggested salt doesn't affect blood pressure that much.
A separate study in the same issue of the journal reached the opposite conclusion, and most heart experts agree it's a good idea to cut sodium — especially for children.
CDC officials said some restaurant chains like Taco Bell and Olive Garden are working to cut sodium in at least some of the foods they offer.