Two drugs used to treat both hair loss and prostate problems could carry another risk that men might want to know about: long-term sexual problems.
It's a low risk— overall, just 1.4 percent of men who took the drugs suffered long-term erectile dysfunction. But it lasted a very long time: more than 3 ½ years after they stopped taking the drugs, the team at Northwestern University found.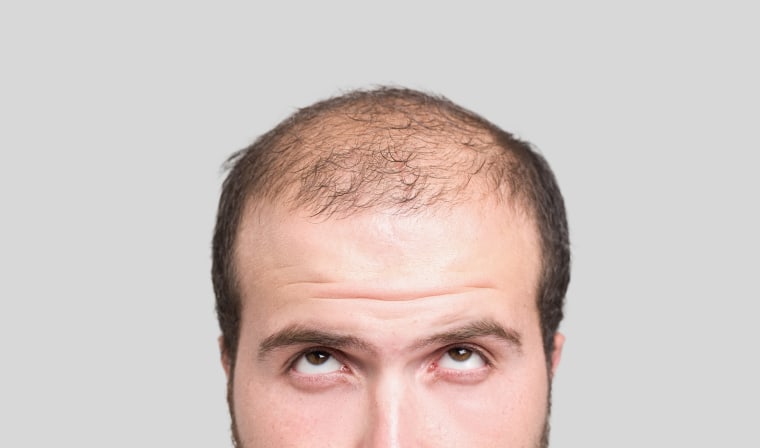 And 4.5 percent developed shorter-term erectile dysfunction.
The younger the men, the bigger the risk, they reported in the journal PeerJ.
The drugs are sold under the brand names Propecia, Proscar and Avodart and are known generically as finasteride and dutasteride. One dose treats the effects that can trouble men as they grow older and the prostate enlarges, from trouble urinating to discomfort. A lower dose can be used to stop hair loss.
"Our study shows men who take finasteride or dutasteride can get persistent erectile dysfunction, in which they will not be able to have normal erections for months or years after stopping finasteride or dutasteride," Dr. Steven Belknap, a dermatologist at Northwestern University Feinberg School of Medicine, said in a statement.
Propecia got renewed attention recently when the New York Times quoted President Donald Trump's physician Dr. Harold Bornstein as saying Trump takes Propecia for hair loss.
Related: Propecia Linked to Long-Term Sexual Dysfunction
The drugs act on an enzyme called 5-alpha reductase, which converts testosterone into its active form. The hormone testosterone has complex effects on the prostate, sexual function and on male-pattern hair loss.
They're known to cause erectile dysfunction and loss of interest in sex, or libido. The Food and Drug Administration changed the labels on Propecia and Proscar in 2012 to reflect the reports of longer-term effects.
"Our study shows men who take finasteride or dutasteride can get persistent erectile dysfunction."
But Belknap said the risks are not clearly calculated and they're not always clearly presented to men who may take the drugs either for hair loss or to treat the symptoms of an enlarged prostate.
The full prescribing information says that the risks are not worsened by taking the drugs for longer, and that stopping the drugs clears the problem up.
But there are many reports that say otherwise and at least 1,300 finasteride-related lawsuits have been filed against finasteride's maker, Merck.
"Some reports describe men with symptoms beginning within days of initiating finasteride and persisting for years after stopping finasteride," the team reported.
The risks of the drug are discussed at length online and the controversy has encouraged a number of law firms to advertise litigation services specifically for men claiming they've been injured by taking Propecia.
So Belknap's team studied the cases of more than 11,000 men who got the drugs between 1992 and 2013.
They found 1.4 percent of them developed persistent erectile dysfunction lasting on average 1,348 days – just over 3 ½ years. They found 4.5 percent of the men developed some sort of erective dysfunction.
The longer they took them, the bigger the risk.
Related: Hair Loss Drug Linked to Depression
"Among young men, longer exposure to finasteride posed a greater risk of persistent erectile dysfunction than all other assessed risk factors," they wrote. Men younger than 42 who took the drugs for seven months or longer had about five times the risk of long-term trouble getting erections than men who took the drug for less time.
"Their only crime in life is to take an FDA-approved drug."
It was a hard problem to fix. Taking Viagra or other drugs did not seem to help, they reported.
"Merck stands behind the demonstrated safety and efficacy profile of Propecia, which has been prescribed to millions of men since its FDA approval in the U.S. in 1997," the company said in a statement. "Merck conducted well-designed clinical trials on the product and stands behind the results, which were reported to the FDA and regulatory agencies around the world."
Dr. Irwin Goldstein, director of sexual medicine at Alvarado Hospital in San Diego, says he has treated many men with problems he links to Propecia use. And not all of the problems are sexual, he said.
"I have hundreds of these patients," he told NBC News. "They have low libido. They have flat emotions. They see a woman, they say intellectually, 'I know I am supposed to be interested in you. But I am actually not interested in you'. They have muted orgasms, reduced volume of ejaculate, reduced penile sensation."
It's because the target of the drugs, 5-alpha reductase, affects more than just sexual functioning. Testosterone, like all hormones, has a range of functions and enzymes such as 5-alpha reductase act on more than one hormone. "There are more than 10 very critically pathways that are prohibited from acting," Goldstein said.
Goldstein, who was not involved in the study, said he was not reassured to learn that just 1.4 percent of men had long-term problems. "If it is 1.4 percent and there are several million people on this product, you looking at 300,000 men rendered impotent by a hair loss drug," he said.
"Their only crime in life is to take an FDA-approved drug."