When an Army medic suffered a lower body injury during an explosion while serving in Afghanistan, he thought he had lost his ability to have biological children. But a medical advance is giving wounded warriors a chance at fatherhood.
In January 2014, Army Sgt. Thai Lee had just finished breakfast on his base in Pasab, Afghanistan. He was preparing his armor for another mission scouring the road for homemade bombs, when he felt the earth shake. He grabbed his rifle and ran to the scene of the attack. Several explosions later, Lee felt a searing heat between his legs. After a few steps, he collapsed and blacked out.
When Lee came to, he felt a deep pain in his groin and stomach. A friend from the 849th Mobility Augmentation Company was kneeling over him.
"How are my boys?" Lee asked. His friend checked Lee's pelvic region.
"Sorry man, you're not going to be able to have kids."
"All the guys coming back from deployment started having kids. I felt so left out."
Three days later at Walter Reed National Military Medical Center in Bethesda, Maryland, Lee learned the extent of his injuries: he'd suffered a stroke and a neck wound that had partially paralyzed the left side of his body; he was hit in the stomach and lost part of his intestines; his penis had been severely cut; one testicle had been blown off, and the other crushed.
Lee was devastated. He and his wife in Grimes, Iowa had hopes of buying a house and starting a family after he completed his duty.
A new procedure
Hope arrived when Walter Reed urologist Col. Robert Dean told Lee about a breakthrough in fertility medicine that might help him father a child.
The procedure involved retrieving sperm that remained in the seminal vesicle, where it's stored before being ejaculated through the penis. Doctors could freeze the existing sperm and thaw it when Lee and his wife were ready to try for a pregnancy. Lee gave his consent.
Guided by ultrasound, Dean inserted a long thin needle into Lee's seminal vesicle through the rectal wall and suctioned out about a quarter-to a half-teaspoon of fluid, which he estimated contained 40,000 to 6.4 million sperm — enough for several cycles of in vitro fertilization. (For comparison, a normal sample contains 20 million to 200 million sperm.)
So far, only six patients—including Lee — have taken advantage of this technique, which became available in 2012. But it's showing promise for men, especially those in the military, who have no other options to father biological children.
Groin injuries in combat
More than 1,200 U.S. service members in Afghanistan and Iraq suffered genital injuries between 2003 and 2014, according to the Department of Defense Trauma Registry. The majority occurred in Afghanistan due to the proliferation of improvised explosive devices that troops encountered on foot patrol.
"Those blasts go up and injure more of the pelvis region and cause more limb loss and penile and groin injuries," says Dean, a male infertility specialist who developed the technique. "Sometimes, men would come back with no testicles. That means they'll never have another chance to make sperm again."
As U.S. and U.K. forces became skilled at saving lives after IED blasts, the damage to men's fertility became more apparent. "Normally, 50 percent of men who lost both legs would have died. But we got so good at managing trauma that suddenly we had to deal (with) these people now surviving," says Dr. Davendra Sharma, a urologist who worked for the U.K. Royal Air Force.
"You have 19-year-olds with no legs, and that's hard enough for them to deal with psychologically. Then they learn they've lost the ability to have biological kids and may have erectile problems."
Lee underwent four surgeries to repair his stomach, neck and groin, including plastic surgery to implant prosthetic testicles. He still can't move his left ankle easily, type well with his left hand or play video games like he used to. He has to take medication daily to control occasional seizures.
But the prospect of not having children hurt the most.
"All the guys coming back from deployment started having kids. I felt so left out," says Lee, 29, who works as an agricultural genetics researcher. He dreamt about teaching a son to ride a bike or cheering him on during soccer games. "And I felt like I had disappointed my wife," he says.
His wife of eight years Nkao Ger Lee, 28, struggled to come to terms with his injuries. "I've always wanted kids," she says. "I'd lost 15 pounds while he was gone to get ready to start trying."
'I finally felt complete'
When the couple began IVF a year ago, their fertility doctor, Navy Lt. Dr. Mae Healy thawed one of Lee's three vials of sperm and injected some into his wife's surgically-extracted eggs. Healy — who has frozen the sperm of six men between five and 12 days after they were injured — says the biggest challenge is finding enough high-quality sperm to achieve a pregnancy.
"The longer we wait to retrieve and freeze the sperm, the motility isn't ideal and the shape changes," says Healy, who recently presented her findings at the annual meeting of the American Society for Reproductive Medicine. She hopes the new technique can be used to help civilian trauma patients injured in car or motorcycle accidents.
In the meantime, Dean says the military is developing programs to encourage some men to freeze sperm before deploying.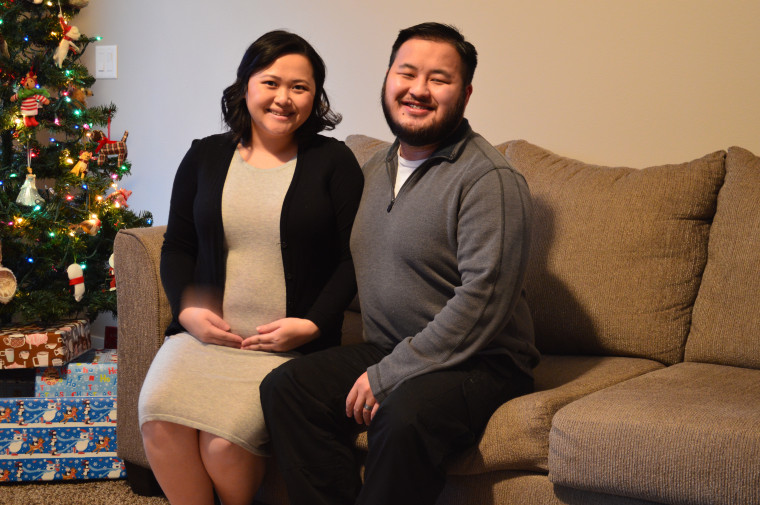 Nkao Ger Lee became pregnant on the second try and is scheduled to give birth in April. The couple has a second frozen embryo waiting in the freezer, although the Lees are unsure how they'll pay for more treatment. The average cost of in vitro fertilization is about $12,400, according to the ASRM, and Lee's veteran benefits don't cover IVF. (The ASRM recently called on Congress, and Sen. Patty Murray (D-WA) has introduced legislation to expand the policy.)
But for now, the couple is ecstatic.
"I can't wait to be a dad," says Lee. "When she got pregnant, I finally felt complete."
Sarah Elizabeth Richards is the New York-based author of "Motherhood, Rescheduled: The New Frontier of Egg Freezing and the Women Who Tried It."