Fewer U.S. men got prostate biopsies and surgery after new recommendations steered most men away from routine prostate cancer screening, researchers reported Wednesday.
Their findings add to a growing body of research that's adding to the debate about prostate cancer screening and often leaving men and their doctors more confused than informed. At issue is whether screening the general population of men for their second leading cause of cancer death does more harm than good.
The latest report, published in the Journal of the American Medical Association's JAMA Surgery, shows the new guidelines have indeed cut back on the number of procedures that men are undergoing.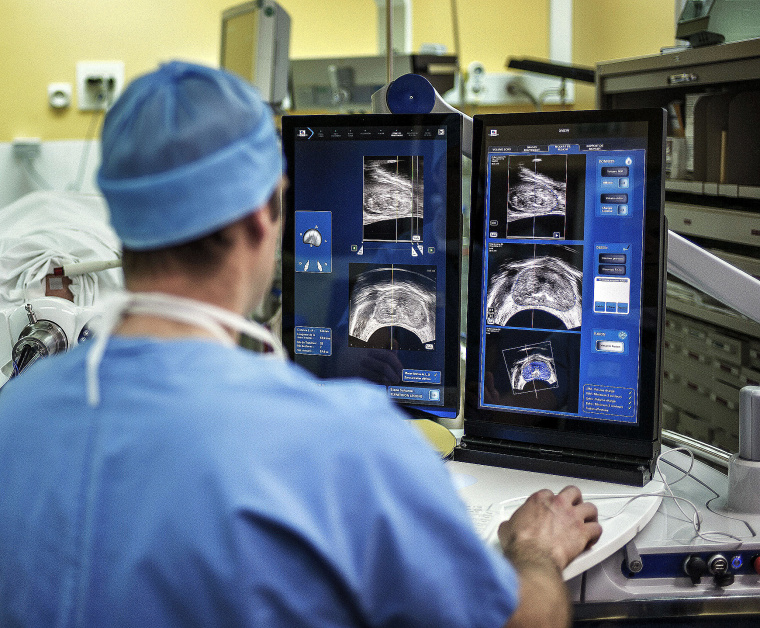 "Practice has followed the guidelines," said Dr. Jim Hu, a urologic oncologist at NewYork-Presbyterian and Weill Cornell Medicine who helped lead the research team.
But Hu and his colleagues say they are worried that some men with dangerous cancers may be slipping through the cracks and argue that the highly controversial recommendations may have gone too far.
"Practice has followed the guidelines."
Hu's team was following up on 2012 guidelines from the U.S. Preventive Services Task Force (USPSTF) that recommended against using a blood test called a prostate-specific antigen (PSA) test to check most healthy men for prostate cancer.
Prostate cancer is very common, showing up in 240,000 U.S. men every year. It kills about 27,000 a year.
So the PSA test used to be a rite of passage for many men as they entered middle age. But the USPSTF said the test found very few men with prostate cancer who needed treatment, and caused men to be needlessly treated for slow-growing prostate tumors that never would have harmed them. Sometimes that treatment meant side effects, from impotence to incontinence.
Related: All Prostate Treatments Equally Effective
It was an extremely controversial recommendation. USPSTF advisories guide health insurance reimbursement and often guide practice.
The American Cancer Society supports the USPSTF's approach to screening. But the American Urological Association doesn't.
The AUA doesn't recommend that men up to age 54 get routine PSA screening, but it says men aged 55 to 69 should consider it. Studies show that routine PSA testing saves about one life for every 1,000 men screened.
"The greatest benefit of screening appears to be in men ages 55 to 69 years," the AUA says. "The AUA continues to support a man's right to be tested for prostate cancer -- and to have his insurance pay for it, if medically necessary."
Hu and colleagues looked at records from about 10 percent of practicing urologists for their study.
They found a nearly 29 percent drop in the number of biopsies done for prostate cancer since 2012. A biopsy is a small sample of tissue taken to be examined for evidence of cancer. They're usually done for prostate cancer if a man has some evidence of risk, such as an enlarged prostate, a lump or an irregular blood test called a PSA test.
And the number of radical prostatectomies dropped by 16 percent.
That suggests the USPSTF has achieved its goal of reducing the number of men treated for prostate cancer, Hu said. But he doesn't believe that is necessarily a good thing.
Related: Ben Stiller Talks About His Prostate Cancer
"This is a controversial issue. I think it's also politically charged," Hu told NBC News.
"I think the answer is education, and let patients decide what's best for them."
The battle is being fought out in the medical journals, with high-profile urologists and oncologists performing studies aimed at proving their points. For instance, in July, Dr. Edward Schaeffer, chair of urology at Northwestern University Feinberg School of Medicine, raised a ruckus with a study showing cases of aggressive prostate cancer were on the rise.
Hu said it is too soon to say whether some men with dangerous cancer may have missed out on treatment.
"Given that lead time associated with PSA screening is estimated at 5 to 7 years and the indolent nature of prostate cancer, a resultant increase in prostate cancer–specific mortality would likely remain undetectable for another decade," they wrote.
And it's possible some of the drop in biopsies could be due to better methods, such as the use of MRI scans, to see if the prostate looks like it has tumors on it.
"This is a controversial issue. I think it's also politically charged."
The decrease in radical surgery could have come because of non-surgical methods to treat prostate cancer, such as radiation, as well as an approach called active surveillance, which delays treatment until the cancer shows signs of worsening.
Related: Less Prostate Screening Seen With New Guidance
But Hu thinks the USPSTF recommendations went too far.
"I am not trying to paint them as the evil empire. I think they were well-intentioned," he said.
Hu also thinks a report that came out earlier this year suggesting that the recommendations have led to more men developing advanced cancers goes too far the other way.
Dr. Raj Pruthi, a urologist at The University of North Carolina at Chapel Hill who was not involved in the study, agreed.
"The trends of a reduction in screening, a decrease in diagnoses, and an increase in advanced disease create a natural concern that we may indeed have turned back the clock in the care of patients with prostate cancer," Pruthi wrote in a commentary on the study.
The USPSTF is reconsidering its guidelines on prostate cancer screening now, but has not said when revised guidelines will come out.
"My hope is they will reconsider the scope of the evidence," Hu said.