It's not unusual to hear patients screaming and crying at Western State Hospital, workers say. But lately, they say it's been worse than normal at the massive psychiatric facility just south of Tacoma, Washington.
Since COVID-19 hit the hospital a month ago, its Victorian-era buildings have felt "eerie" and "strange," according to workers.
The art room is empty, group therapy is canceled and patients eat alone in the cafeteria. A skeleton staff cares for more than 700 patients battling illnesses that range from schizophrenia to suicidal depression. Older patients are not so much quarantined as stranded, unwilling or unable to get up from their hard plastic beds without help, workers say. Other, younger patients are free to roam the halls with no masks.
Thirty-four patients and staffers have tested positive at Western State since the outbreak began, and one patient has died. The hospital says conditions have improved, with few new cases in recent days and no new sick patients in two weeks. But some workers — who actually outnumber patients 4 to 1, and who account for most of the coronavirus cases — tell NBC News they fear the real scale of the infection is unknown.
"This is a massive problem that is going to have continuing ramifications both psychologically and physically," said Lauren Smith, a forensic psychologist at Western State. "We have people who are sick, and we have people who are absolutely scared."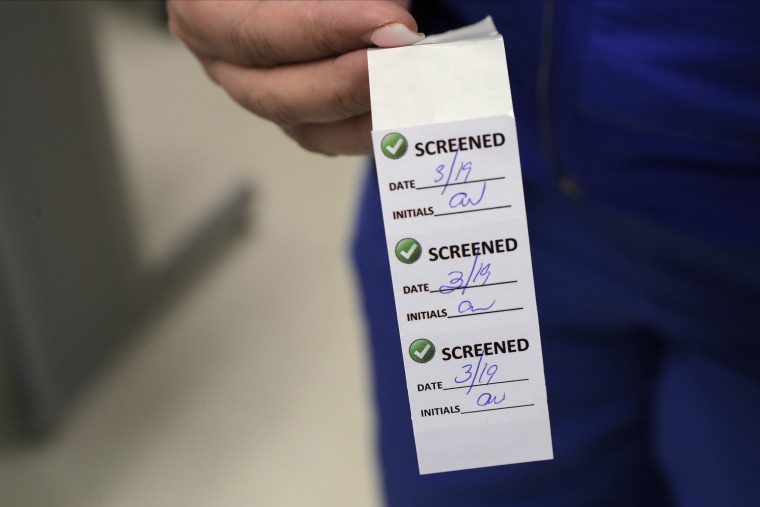 Western State, one of the oldest and largest state psychiatric hospitals west of the Mississippi, was the first in the U.S. to report a coronavirus case. At least 62 other state facilities have followed to date. An outbreak at a Louisiana facility has infected 99 patients and 34 staff members; in New Jersey, all four state psychiatric hospitals have outbreaks and six patients have died. At Nevada's Willow Springs Residential Treatment for Kids, almost half the patients are positive, and one person has died.
As of Thursday, NBC News had identified more than 1,450 COVID-19 cases at state mental health facilities in 23 states and Washington, D.C. — roughly double the total reported in the federal prison system. The numbers, provided by state health officials, are likely an undercount since 16 states did not provide data.
Full coverage of the coronavirus outbreak
"It's the worst of all worlds," said Dr. Peter Katona, an infectious diseases professor at UCLA School of Medicine and a former Centers for Disease Control and Prevention investigator. "You get one case in these institutions, and you've got 10 in the next few days."
"These are almost invariably very high-risk patients. They're elderly, they have chronic medical conditions, they're on medications. It's a mess."
The challenges are different in psychiatric wards. Alcohol-based hand sanitizer is an ingestion hazard. Many rooms have multiple beds, supervised bathrooms and windows sealed shut, which prevent self-harm but can aid contagion.
Most important, in mental hospitals, isolation can be dangerous, far more than in college dorms or other institutions where people live in groups. Social interaction is not a luxury; it is a therapy and it helps save lives. Patients walk the grounds, eat, exercise and go to therapy together.
"Our facilities are designed to encourage people getting together, not to keep people apart," said Dr. Robert Trestman, chair of psychiatry at the Virginia Tech Carilion School of Medicine and council member for the American Psychiatric Association, adding that the coronavirus outbreak has created major challenges around the nation. "We are forced to deliver care in ways that historically none of us have ever tried to practice and which are by no means optimum."
But workers at Western State and across the country say some facilities aren't doing enough to prevent infection. Everyone wants to avoid what they have seen in other institutions with confined populations; death clusters in nursing homes, riots in jails and the "medical disaster" in a South Korean psychiatric ward, where all but two patients caught COVID-19 and seven people died.
"The virus seems to be slippery," said Sean Murphy, a former deputy CEO at Western State who is now an assistant secretary for Washington's Behavioral Health Administration, which oversees the hospital. "It moves fast. It can spread very, very quickly ... Other institutions must be prepared for the fact that this is a marathon and not a sprint, and it is likely coming."
Inside the outbreak
The first Western State patient tested positive for COVID-19 on March 16, after several feverish days in and out of the hospital.
Rosalyn Lee, a resident nurse, said she cared for that patient, checking his vitals and listening to his lungs without wearing any protective gear. But she said the hospital never informed her she had been exposed to someone with the coronavirus; instead, she found out from a co-worker's Facebook post. When she told one of her immediate supervisors about her exposure, she said the supervisor suggested it was OK to work. Hospital management said differently, and Lee stayed home.
"I was disappointed and confused," said Lee, who added that she later tested negative for COVID-19 at her private doctor. "Disappointed in my leadership that they wouldn't have been more concerned about people who were exposed."
Five other Western State employees said that the hospital's early response to COVID-19 left them concerned for their health. They say there were weeks in which exposed people were not tested, hospital use of masks and gloves was limited and staff continued to work shifts across multiple wards.
"I was told I was not supposed to wear masks on multiple occasions to prevent getting this virus that I now have contracted," said Loren Kennedy, a mental health technician. "The day before I was sent home from work because of a cough, I was still saying: 'Hey, when do we get masks? When do we get to protect ourselves?'"
By April 1, according to hospital records, six patients and 14 staffers had tested positive. During March, the hospital conducted a total of 61 tests — all of symptomatic patients. The hospital's 2,600 staffers were told to go through their health care providers for testing.
Two weeks later, the staffers are still concerned that the facility isn't doing enough. The total number of staffers who have tested positive is now 28. Internal emails from Western State's leadership obtained by NBC News describe three recent cases where staffers were tested for COVID-19, worked the following day and later received a positive result. They also describe at least four other cases where employees became symptomatic on a day they had also worked at the hospital.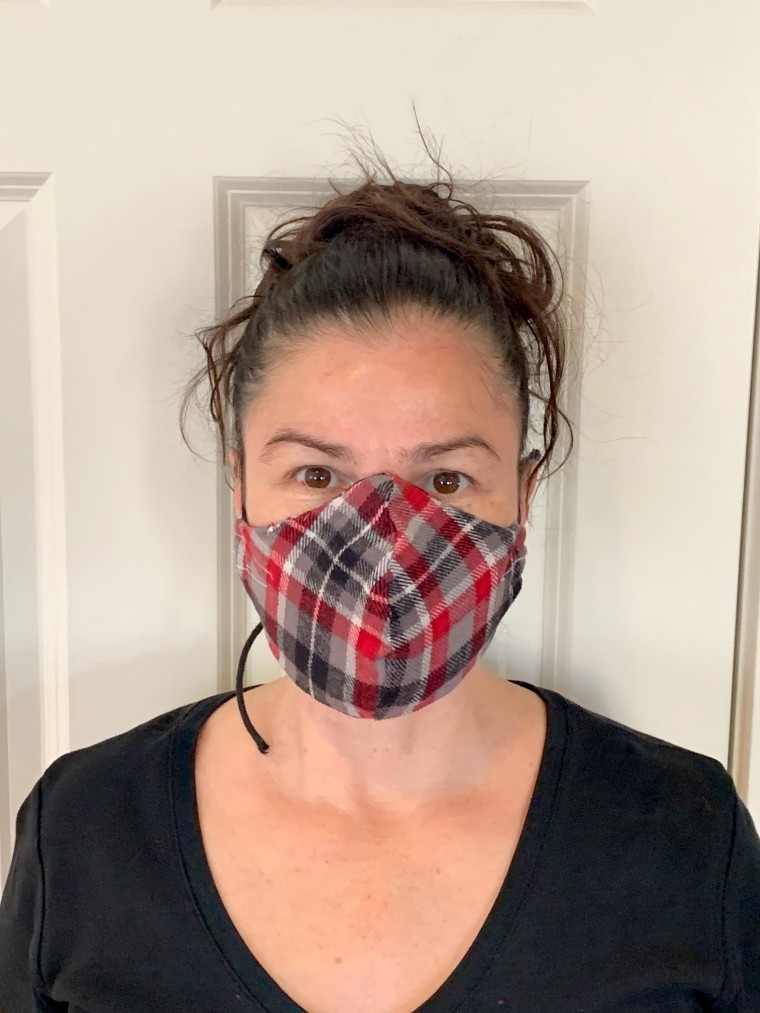 "We all feel like we're being dismissed," Lee said. "But everyone is afraid."
Western State Hospital says differently. It now tests staffers and says it has instituted new protocols for safe interaction and protective gear. As of April 6, after a state Health Department inspection, it expanded testing criteria based on state guidelines for exposure, rather than just testing symptomatic individuals.
So far this month, 465 people have been tested, Murphy said, and only 10 have tested positive. None of them were patients. Four workers remain positive, and the rest have recovered, said Murphy. One patient died.
"We've stood up lots of practices, processes and systems to mitigate the spread of COVID within the hospital," Murphy said. "We've mitigated quite a bit of that spread. Certainly, we could always improve, but I think our staff has done an amazing job with what they've done."
Murphy said the hospital lacks the resources to test the rest of the more than 3,300 patients and workers, about 280 of whom are now working remotely.
Murphy describes the hospital's progress as "nothing short of amazing."
"It has been difficult really carving the path for how you handle an outbreak like this," said Murphy, noting they were the first major psychiatric hospital to face COVID-19. "In looking back, there were definitely some lessons learned … You can never set something up fast enough, especially for a disease that moves so quickly."
Infection control on a psychiatric ward
Infection prevention can seem especially daunting at a place like Western State. Many of the buildings reflect the norms of 19th-century asylum design. Air systems are old, hallways are narrow, and shared bedrooms are intentionally spartan — to encourage patients to leave them.
Social distancing in a psychiatric facility is easier said than done, experts say.
"People in for severe depression and suicide … may be so despondent and intent on ending their life that they might not care about the consequences," said Dr. Jeffrey Lieberman, the chairman of psychiatry at Columbia University. "The more common situation is someone in the hospital because of a psychotic disorder: schizophrenia, a toxic psychosis, a delirium. They're literally out of their mind. They're not necessarily coherent, they're not necessarily rational, and they're not necessarily able to follow directions."
In the past month, Western State's management has unveiled dozens of new policies to address these new challenges. They have limited visitation, screened workers and educated people on infection prevention through videos, signs, games and town halls. They have now started a COVID-19 isolation ward, limited cross-ward movement and cut access to their 264-acre campus. Two weeks ago, they began allowing workers to use personal protection equipment (PPE) from home, like bandanas and homemade masks, in their daily rounds.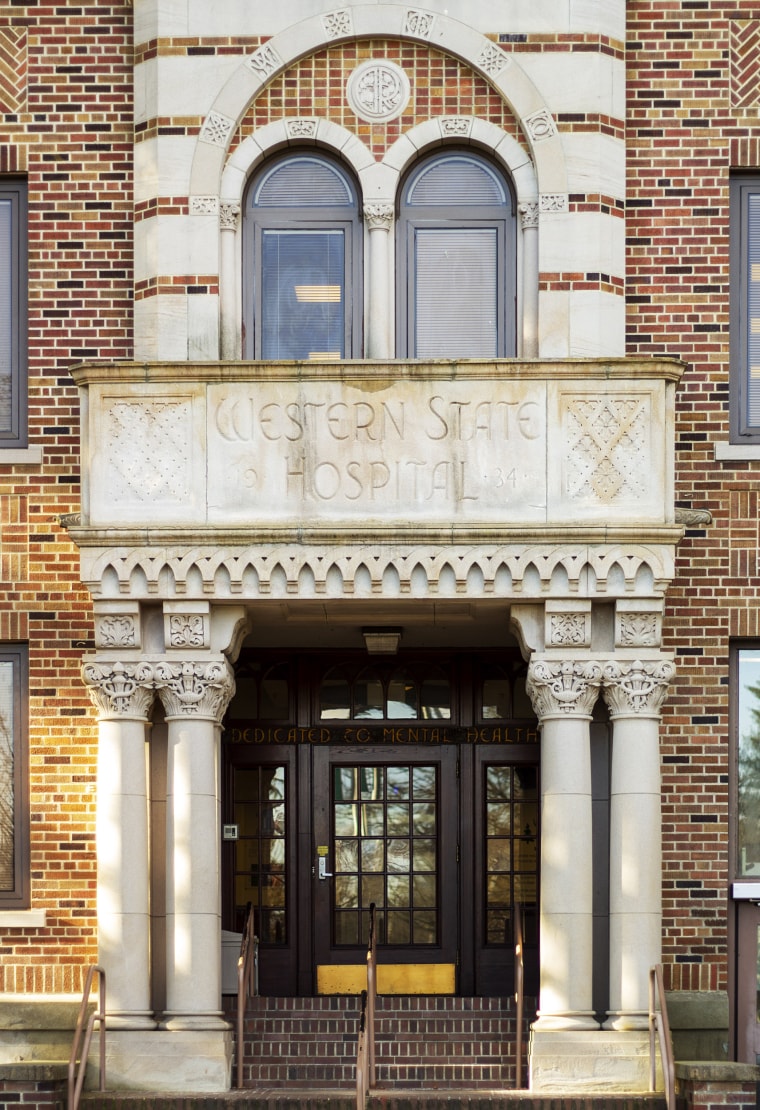 But some workers say the new policies are still inadequate.
Workers say the hospital gave up on initial attempts to screen temperatures, after two different thermometer shipments kept reading nearly hypothermic temperatures on employees coming in from the cold March air. Now, employees sign a sheet attesting that they have no symptoms or recent exposure and then get their "screened" sticker.
"It is not unreasonable to think a health care setting could go to self-screening and answering the series of questions," Murphy said. "It's important to remember that folks can be asymptomatic for quite some time before they would have failed the screening criteria in either case."
Even expanded testing has become fraught. Of the hundreds of tests administered by Western State in April, only 38 were for patients. When the Health Department told the hospital to increase testing, it did not recommend testing asymptomatic patients on wards with known infections among staff.
Employees in certain wards, meanwhile, can now get drive-through testing. But Smith emailed management last week to say "drive-through testing" required her to go inside a building and wait in a narrow hall with high-risk staff.
Download the NBC News app for full coverage of the coronavirus outbreak
"[T]he person 'administering' the testing was coughing, not wearing any PPE (i.e. NO MASK, NO GLOVES), and instructed me to swab my own nose," Smith wrote. "I was instructed not to swab very far back in my nose, but rather close to the outside."
Smith also noted "unacceptable and unnecessary risks," like being asked to work despite recent exposure and pending COVID-19 results and lack of PPE directions while working with vulnerable patients.
Murphy responded that the hospital was following Health Department guidance. He also said the drive-thru testing problem was due to a traffic back-up and would be fixed.
'They rely on us completely'
Both hospital management and workers expressed concern that precautions due to COVID-19 may disrupt treatment of mental illness.
"Yeah, we have a global pandemic, but in the meantime, we have very sick patients who are not getting adequate treatment," Lee said.
In the past, a normal day for Western State patients began with communal breakfast, possibly followed by gardening, book club or music. They attend group therapy and classes at the "treatment mall" and perhaps bingo or karaoke at night. For those with loved ones outside, visitation is a highlight.
Almost all of that is gone or significantly changed. Group therapy and classes have been canceled, and there is a push for therapy by video chat and the discharge of patients.
Nonessential and high-risk staff — including some social workers, psychologists and doctors — now work from home. Social worker Maria Claudio keeps thinking about the way patients asked her, "Are you coming back?" She says one patient began punching the doors, kicking and fighting with the staff, screaming "nobody cares," and "I want out."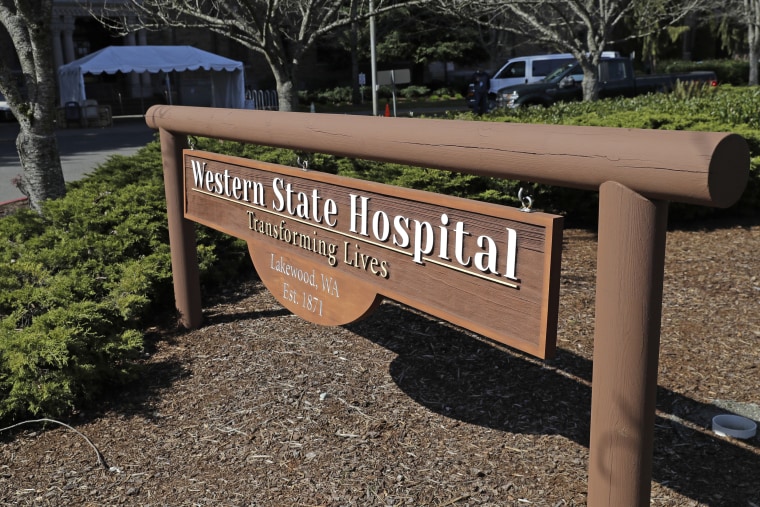 "What they were all frustrated and upset about was true," said Claudio. "It felt that way — like everybody is forgetting them. … We are their family members. They rely on us completely. They're scared."
Anne Tarlton, another Western State social worker, says she is struggling to assess patients from home without necessary documents. She handwrites her notes and drops them off at the hospital, she says, because there were not initially enough laptops for workers. Her usual goal is to prepare patients for discharge, but it's harder than ever to find group homes and nursing facilities willing to take them.
"I feel like I'm out on a lake in a boat, and I don't have any oars, and I'm kind of out there drifting," Tarlton said. "I just don't think there is a really clear plan."
'We're having to scramble'
Facilities nationwide now face the same dilemma as Western State: the balance between physical and mental health.
"At the highest level, it might appear that these things are directly opposite each other," said Dr. Frank Fortunati, medical director of Yale New Haven Psychiatric Hospital. "Our job is to align these two competing interests."
It's possible, but hard, he said. At Yale's facility, contact tracing seems "impossible"; there aren't enough tests for asymptomatic people. The wards don't have enough sinks to reinforce strict hand washing, Fortunati said, and they only use lower alcohol hand sanitizer, which doesn't work against COVID-19.
"These are things we've never had to deal with before," said Lieberman, who is also the director of the New York State Psychiatric Institute. "It's improvised. We didn't have warning, we didn't have rehearsal. … Then, all of a sudden, we're having to scramble."
In Michigan, for example, facilities tried to be proactive by preparing isolation wards and collecting PPE. But in three weeks, their three COVID-19 cases ballooned to 120 across four facilities.
"A locked door doesn't stop a virus," said Dr. Debra Pinals, Michigan's medical director of behavioral health and forensic programs. "It is psychologically disheartening to see it did come to our state hospitals despite preparation. But I think this is the way it is with this virus."
Hanging in the balance of how psychiatric facilities rise to the moment are the health and safety of hundreds of thousands of workers and patients.
"It's just sad," Claudio said. "It's sad to think about how many staff members are going to be positive, how that is going to trickle down to their families … A psychiatric hospital is invisible to the rest of the world. Patients are invisible and the staff is invisible. These patients are human beings and they deserve better."