Autism advocates were horrified by the death of 6-year-old London McCabe, a nonverbal autistic boy who plunged to his death off an Oregon bridge. But many confessed another, troubling reaction to allegations that his mother was responsible: understanding.
For months, Jillian Meredith McCabe of Seal Rock, had spoken online about the family's difficulties. The boy's father, Matt McCabe, had been recently diagnosed with multiple sclerosis.
Rob Gorski, the parent of three autistic children and an award-winning autism blogger who knew the McCabes through their activism, said he was "speechless" when he heard the news.
"They were both loving parents," he told NBC News. "Everything seemed to be about London and giving him every possible avenue for help that they could possibly do, that any parent would do."
London, according to Gorski, was "challenged … but just a sweet kid."
Relatives of McCabe say London was the center of her life, and that she was a devoted mom consumed by his 2011 autism diagnosis. They said she suffered a mental collapse in the face of the challenges of caring for her son and her husband — and didn't get proper mental health care.
Describing herself as the "sole breadwinner," 34-year-old Jillian McCabe, had penned personal messages for fundraising appeals spearheaded by friends for her family, writing, "I am scared and I am reaching out."
On YouTube, she admitted thinking about "pulling a Thelma and Louise," a reference to the 1991 film in which best friends drive to their deaths over a cliff.
Gorksi said the boy's death creates a divide in the autism community, raising troubling questions about how much a parent who has "reached the point of desperation" can be blamed.
"The tragedy here is London," he said. "There's no question about that. This should not have happened. There's no excuse … But at the same time, you have to wonder what happens that an otherwise loving mother can feel like this is the only option or that this is the best option."
Reaction to London's death online was mixed. "Gutted. Absolutely heartbroken for this little soul," tweeted Pilar Clark. Others called the incident "sickening," "ableism" and "infanticide."
The Autistic Self Advocacy Network said that "this crime should be prosecuted to the fullest extent of the law" and urged the media "to avoid framing murdered children as burdens on their family."
This is the third recent high-profile case of a mother attempting to hurt an autistic child.
In September, Kelli Stapleton, a 46-year-old autism blogger from Michigan, pleaded guilty to first-degree child abuse for lighting two barbecue grills in a closed van with her 15-year-old daughter Isabelle. Both were found unconscious from carbon monoxide poisoning.
Her former husband, a high school principal, said families face daily stressors in raising a child with autism.
"People just don't wake up one morning and say I'm going to take my kid in a van and kill her with carbon monoxide poisoning," Matt Stapleton, 42, told NBC News. "I know what my wife has been through for the last 13 years since Issy's diagnosis."
And in New York City, Gigi Jordan, a former nurse and health care executive, was convicted of first degree manslaughter on Wednesday in the 2010 death of her autistic son Jordan. She described to the jury how she gave her 8-year-old a deadly cocktail of vodka mixed with Ambien, Xanax and hydrocodone.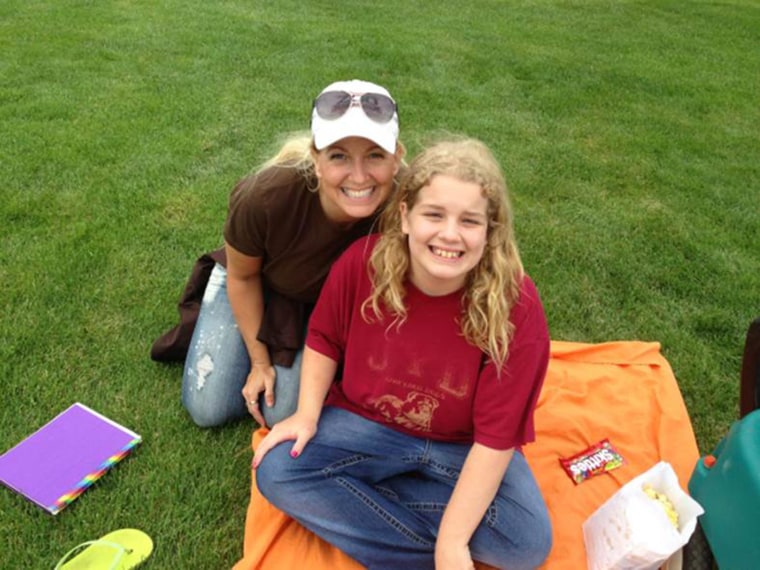 "Thankfully, these tragedies are rare," said Eric Butter, director of the Child Development Center at Nationwide Children's Hospital in Columbus, Ohio. "But every day I see families coping with these challenges."
"Often these pressures come at a time when they are just learning to cope with their children's diagnoses and a lifetime of completely different expectations and dreams for a child," he told NBC News. "It seems insurmountable."
Butter said that the pressure to raise an autistic child can be exacerbated by lack of social support or a treatment plan, financial worries, divorce or marital conflict.
"These stressors accumulate in a family that is already challenged," he said. "And parents can feel terribly overwhelmed and not think clearly — the unthinkable can happen."
"The moms don't really experience the love that comes back from a child — the bonding is mitigated."
Autistic children are also at increased risk for bullying, violence and sexual abuse, according to the advocacy group Autism Speaks.
"If they are nonverbal, they are unlikely to be able to speak for themselves and cry for help," said Butter. "They are also more susceptible to corporal punishment."
According to 2014 data from the Centers for Disease Control and Prevention, 1 in 68 children (1 in 42 boys and 1 in 189 girls) has been identified with autism, a spectrum of brain development disorders that affect social interaction, communication and repetitive behaviors.
Dee Shepherd-Look, a psychology professor at California State University, Northridge, who runs an education group for mothers of autistic children, said "quite frankly, I am surprised this doesn't happen more often."
"These children are really unable to be in a reciprocal relationship and the moms don't really experience the love that comes back from a child — the bonding is mitigated," she told NBC News. "That is one of the most difficult things for mothers."
Shepherd-Look said autistic children can also be "rigid and oppositional."
"A mother told me yesterday, her whole entire day is consumed just by activities of daily living — getting up, brushing their teeth, eating breakfast," she said. "Moms are really on duty 24/7."
But Stephen M. Shore, a professor of special education at Adelphi University in New York, says that with education and support, life can get better for parents.
Shore, himself, is on the autism spectrum and has written about his personal struggle.
"I was hit with the autism bomb at 18 months old," he told NBC News. "It took them a year to find a diagnosis and when they did, the doctor said he had never seen a child so sick."
Doctors recommended Shore, who was nonverbal and prone to meltdowns, be institutionalized, but instead, his parents implemented an intensive home-based early intervention program.
"Understanding goes a long way," he said. "People can come to the house and provide therapies, someone can come and give the parents a few hours to go on a date."
Gorski, the blogger and friend of the McCabes, agreed tragedies like theirs can be prevented with more support.
"We want to make sure that something positive can come from [this]," he said. "And if that's just helping to educate the public on how you can help a family like this — just make a phone call, check in on them. you don't have to give them money or things, just time.
"And sometimes just getting a phone call at the right time can change the course of the entire day."