In a sign that experts are taking sports concussions more seriously, new guidelines released today suggest that players be pulled from games even if there is only a suspicion that there's been a head injury. Further, updated  American Academy of Neurology guidelines state that an athlete shouldn't be allowed to return to play until a specialist gives the OK.
"The message we're sending is that any time a concussion is suspected, even if you're not sure, you should sit that player out until there has been an evaluation by a medical provider with concussion expertise," said the guidelines' lead author, Dr. Christopher Giza, an associate professor of pediatric neurology and neurosurgery at the David Geffen School of Medicine and the Mattel Children's Hospital at the University of California, Los Angeles.
"We say:  'If in doubt, sit them out'."
Olivia Brandy and her family certainly wish that those guidelines had been in effect when she suffered her first concussion. It happened back when Olivia was a high school freshman soccer player.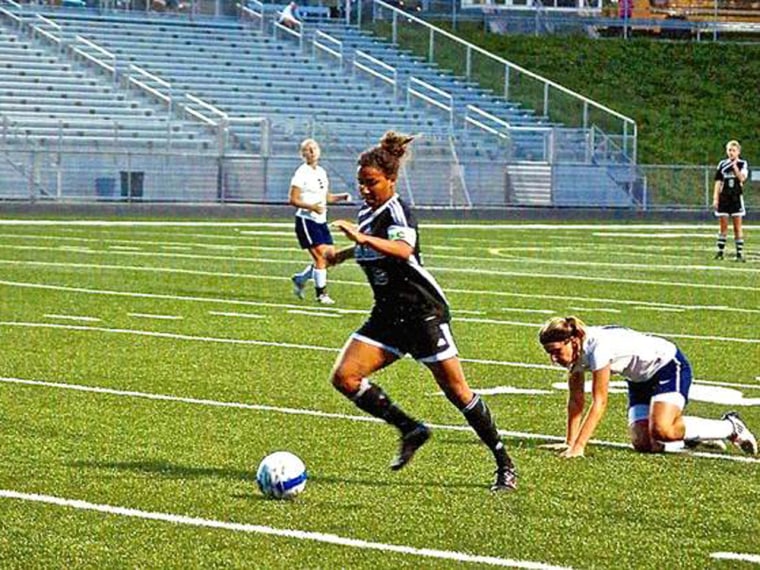 "The problem started when I hit heads with a girl going up for a ball in a game," said Olivia, now 19. "I remember feeling totally different when I got up, like somebody had tied a rope around my waist and was holding me back as I ran. I had no idea what the problem was. I just pushed through it and at the end of the game I was in severe pain."
It took a week before anyone diagnosed the Pittsburgh-area teen with a concussion and that delay cost her six months of school and playing time -- which came as a shock to her parents.
"My husband's a physician and I'm a nurse and though we knew about concussions, we didn't appreciate how serious they were, or how much they could affect a young person's life," said Trina Brandy, 50. "We had our eyes opened by this."
The guidelines also take into account new research showing that it's almost impossible to immediately to predict how long concussion symptoms will plague a player. Earlier guidelines released by the AAN in the late 90s contained a concussion grading system that linked the severity of the hit with suggested recovery times.
Over the past two decades, however, researchers have learned that hard hits don't necessarily correlate with long recovery times, Giza said. "We have all seen players knocked flat and unconscious who are able to pass our tests in a week," he explained. "Others may hit their heads on the locker door and be out for weeks."
What may be most important is the kind of symptoms kids experience right after the hit, Giza said.
Dr. Micky Collins, a specialist unaffiliated with the new guidelines  -- and Olivia Brandy's doctor --  agreed.
"Concussions are like snowflakes -- each one is different," said Collins, program director of the Sports Medicine Concussion Program at the University of Pittsburgh Medical Center. "What we've learned is that seemingly mild ones can become severe and severe ones can turn out to be mild. Players who have a loss of consciousness may not have any worse outcome. Dizziness on the field seems to be the only symptom that predicts poor outcome.  Players who experience dizziness are more likely to have a month or more of recovery time."
Symptoms aside, the biggest factor controlling recovery time, both Giza and Collins agree, is quick diagnosis and proper management  --  which means rest for the recuperating brain.
That's certainly been the case for Olivia. She's experienced more concussions since the one that disabled her for six months during her freshman year. Recovery time has been much shorter for the most part, which she believes is due to her realization that play must stop as soon as she feels any symptoms.
She advises other kids, "If you feel different in any way [after a hit] you should come right out. The problem of post-concussion syndrome comes when you keep pushing yourself hard and your brain can't handle it. That's when you really hurt your brain."
Even after five concussions, Olivia has continued to play soccer at the elite level because it's her passion. This summer she'll head off to Penn State where she's already got a commitment for a spot on the school's top-ranked soccer team.
But she says she'll not only keep a close eye out for concussion symptoms, but she'll also try to play smarter. "I've learned from my mistakes and I'm not a foolish player," she said. "If I don't think I'm going to win that 50-50 ball, I'm not going to go up for it."
While happy for her daughter's success, Trina Brandy has mixed feelings about playing with the continued threat of more concussions. Not long ago she asked her daughter's doctor straight out: "I think it's time for us to talk to her about quitting, don't you?" But, she said, Collins said, "It's not time yet."
From Collins' perspective, with proper care, kids can continue to enjoy the sports they love. While some do need to be "retired," when it looks like they've reached a point where the next concussion might throw them into long term, if not permanent, symptoms, most can keep playing.
 "My message to parents is that concussions can be managed safely," Collins said. "Sports are a wonderful thing for kids."
Related stories: