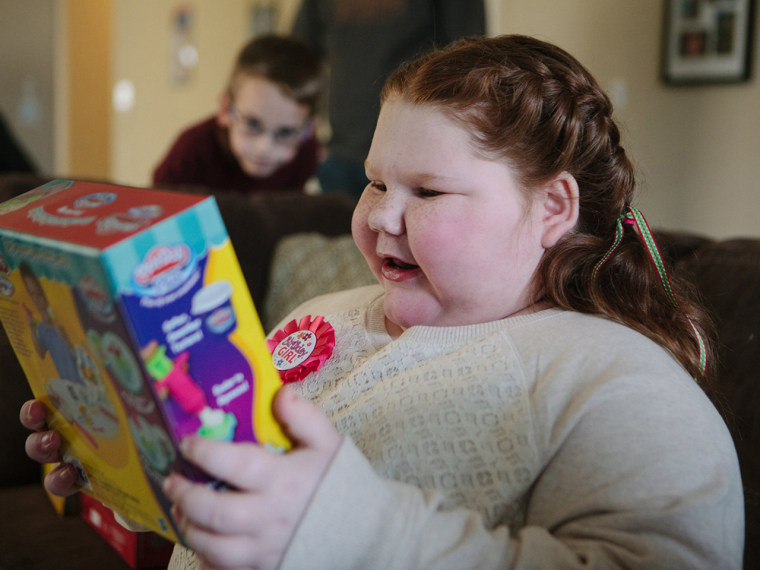 Surgery to remove a brain tumor two years ago has left a 12-year-old Texas girl with a heartbreaking condition that makes her gain massive amounts of weight — even though her body thinks it's starving.
Doctors say a gastric bypass operation is the only thing that can help Alexis Shapiro, who is 4-foot-7 and weighs 198 pounds. But the U.S. military, which provides her family's health insurance, says it won't pay for the $50,000 weight-loss procedure because she's too young.
"Our reviewers have denied your request for Roux-En-Y Gastric Bypass," reads the rejection notice sent this month.
Alexis' parents — and her doctor — are protesting the decision from insurer TRICARE, which they say sentences the child to a fate of dangerous health problems and social isolation caused by hypothalamic obesity, which is packing on at least 2 pounds every week.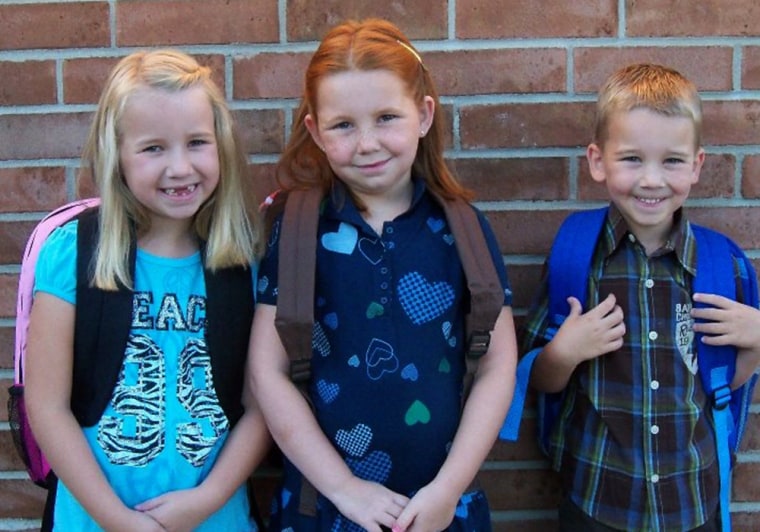 "It just keeps going up and up," said her mother, Jenny Shapiro, 34, of Cibolo, Texas. "She desperately needs this. I feel like she will die if she does not get this surgery."
In just the past three months, Alexis was hospitalized for a kidney infection and developed Type 2 diabetes that requires nightly insulin injections, both related to her growing girth.
More photos of Alexis and her family
Dr. Thomas H. Inge, a Cincinnati expert in pediatric obesity who is treating Alexis, acknowledged that there have been few cases like hers. But he said surgery may be the only way to stop weight gain that could top out at 400 pounds — and to cut the brain cravings that make Alexis want to eat an entire jar of peanut butter at one sitting.
"I think it is disappointing that they cannot see the facts of this case," said Inge, of the Cincinnati Children's Hospital Medical Center. "There is no evidence that doing nothing would be in this child's best interests."
But a spokesman for TRICARE and Humana Military, which provides insurance coverage for Alexis' father, Air Force veteran Ian Shapiro, said their rules are clear. Gastric bypass and other weight-loss surgeries may be covered, but only if the patient is 18 or has achieved full bone growth.
"In general, our Managed Care Support Contractors are required to approve or deny coverage based on TRICARE policy," spokesman Austin Camacho said in an email to NBC News. "We have an appeals process in place specifically designed to give our medical professionals the opportunity to examine the details of any special cases when coverage is denied."
However, an appeal could take months or longer, said Jenny Shapiro, and there's no guarantee that the surgery would be approved even then. She said that by-the-book denials are making the rare disease that struck her normal 9-year-old even worse than it's already been.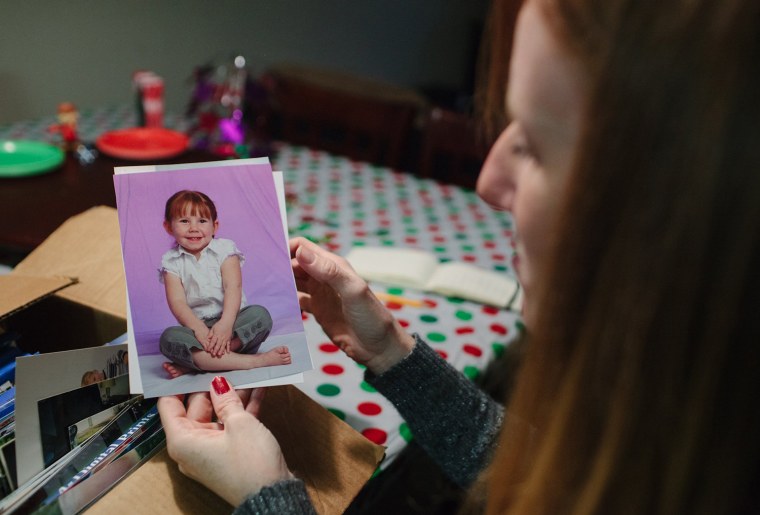 'We've had to padlock the cupboard'
Two years ago, Alexis was a normal, happy third-grader who liked to ride scooters and bikes with her brother Ethan, then 5, and sister, Kayley, then 7.

Then Alexis developed a craniopharyngioma, a rare kind of benign brain tumor that grows near the pituitary gland and affects at most 1 child per every million each year.
The good news was, the tumor wasn't cancer and the surgery to remove it, though scary, went well. The bad news was, Alexis developed hypothalamic obesity, a rare condition caused by damage to the hypothalamus, the fingernail-sized organ that helps govern energy balance, appetite — and weight.
More than half of children who have such tumors develop problems with excessive eating — called hyperphagia — and significant obesity.
"The treatment is what ends up interfering with very, very important pathways that are immediately adjacent to the tumor," Inge said.
In Alexis' case, the result was an immediate, unceasing weight gain even with a diet restricted to 900 to 1,400 calories a day — and with extra exercise, said Jenny Shapiro. At the same time, Alexis developed a ravenous appetite.
"She's always hungry," Shapiro said. "In the past, we've had to padlock the cupboard."
Alexis' illness has upended family life, even though Jenny Shapiro said she works hard to keep things normal. Their daily routine is governed by a strict diet and exercise plan that is often frustrating for Alexis and the rest of the family.
It's difficult finding clothes for Alexis, who now wears a woman's size 1X or 2X and who goes up nearly a size every month, Jenny Shapiro said. She had to be home-schooled starting this year, both because her condition leaves her in constant pain and because of comments from other kids. It's hard to go out in public because of the looks and whispers targeted at Alexis' size, her mother said. 
"She doesn't have any friends or anything like that," Jenny Shapiro said. "It's so sad, because she remembers what it was like before."
Worse, though, than the daily challenges is the worry about where Alexis' illness will lead.
"You meet with the psychologist and you meet with the nutritionist," she said. "They asked Alexis how she felt and she said she wants to die."
The risk of devastating consequences is what compels doctors to consider bariatric surgery for patients like Alexis. The operation has lifelong consequences and no one wants to perform it on a child unless the benefits clearly outweigh the risks, Inge and other experts say. 
Though the literature is scant — Inge and his colleagues have reviewed just 70 cases — craniopharyngioma patients who've had the surgery have lost significant weight, between 20 percent and 30 percent of their body mass. In addition, gastric bypass surgery, which makes the stomach smaller and bypasses some of the small intestine, appears to have an effect on the part of the brain related to appetite and satiety, the sense of fullness.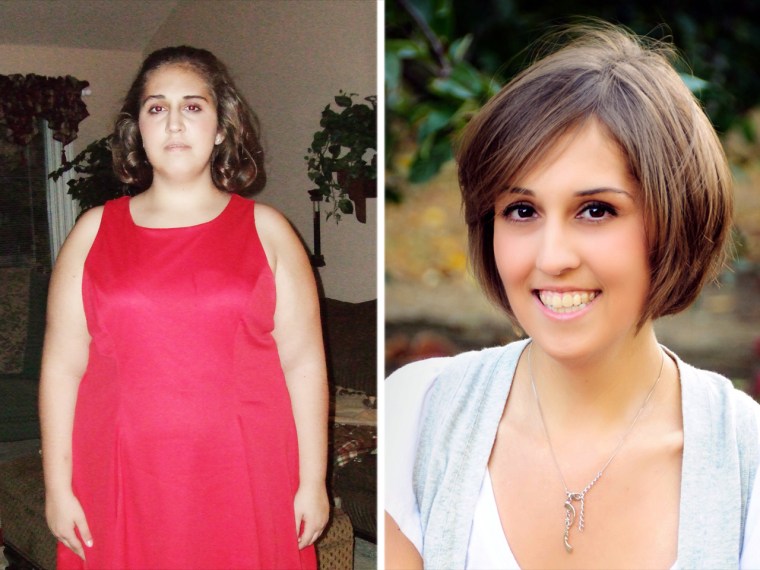 Just ask Tawana Blackwell, 53, of Indianapolis, Ind., whose daughter, Kelsie, was diagnosed with hypothalamic obesity at age 8 and didn't have surgery until five years ago, at age 16. Just 5 feet tall, the girl weighed 230 pounds and was gaining up to 20 pounds a month.
After the surgery, Kelsie, now 21, lost 100 pounds and has been able to keep it off with a careful diet and regular exercise.
"I feel very blessed we were able to get this surgery done," said Blackwell, whose health insurance through her job covered the costs. "These kids are not normal kids where you can say, go out and exercise, go on a diet and lose weight. They have a medically induced obesity state."
Inge has been pushing for an exception to the TRICARE bariatric surgery rule based on the severity of Alexis' symptoms. Doctors at the San Antonio Military Medical Center have referred her case for higher review, but it's not clear where it stands.
Meanwhile, Jenny Shapiro said she's growing desperate to help her little girl. The family has started a medical fundraising account on the site GoFundMe.com to help raise the money to pay for the surgery. As of late Saturday, NBC readers and others had contributed more than $45,000. 
"These kids will literally eat themselves to death," the mother said. "That's what I'm scared of."
JoNel Aleccia is a senior health writer with NBC News. Reach her on Twitter at @JoNel_Aleccia or send her an email.