CHARLESTON, W.Va. — The children seemed to appear suddenly, all five in the living room, their tiny hands grasping plastic bags filled with the few possessions they had.
"We were extremely nervous," Louisa Snuffer said. "They were extremely nervous. It was just a big pile of nerves."
It was 2012, a week before Christmas. For years, Louisa and her wife, Nikki, who works as a member of the U.S. Air Force security force, had hoped to build a family together. That hope led to a decision to foster children and perhaps, one day, to adopt. In West Virginia, where the opioid crisis had started to push an increasing number of children into the foster care system, the need for foster parents was growing.
At the time, they didn't know how much that need would change their lives — how the children, shy and uneasy, standing in their home that evening, would end up becoming the planets around which their lives revolved.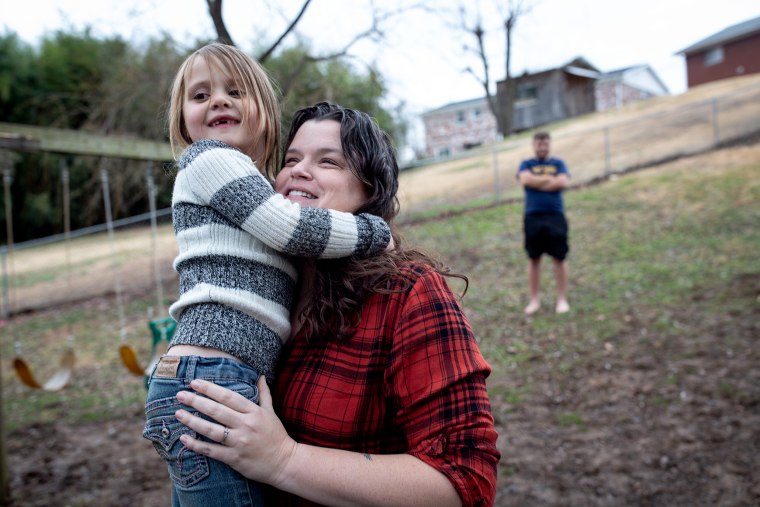 "We got our family from fostering," Nikki Snuffer said.
West Virginia officials are desperate to recruit more foster families like the Snuffers. Today, more than 7,000 children in West Virginia are in state care, a 71 percent increase over the past decade. Experts say this is due in large part to the opioid crisis, as more children are being removed from their homes because of parental substance abuse and neglect.
"The kids are the ones who are really suffering," said Tina Williams, a social worker with the Children's Home Society of West Virginia, a nonprofit that contracts with the state to place, shelter and facilitate the adoption of foster children. "It's putting them in foster care. It's putting them in grandma's house."
'Do you have a home that would take all three?'
On a recent morning, Juliet Lloyd worked the phones at the Children's Home Society in Charleston.
It was 10 a.m. Of the 106 emergency beds run by the nonprofit across the state, only two were open.
Just 15 minutes later, those last two beds were filled.
"It's just kind of like this mental switch of, 'OK, we're full, but we're not stopping,'" Lloyd said. "'We're not going to go home.' Like, what can we do to keep working and keep getting these kids placed?"
West Virginia officials are struggling to manage the crisis. A federal lawsuit, filed in October by a local law firm and two nonprofit advocacy groups, charges that the state has failed to protect foster children for years. West Virginia has the highest rate of child removals in the country, according to the state's Department of Health and Human Resources. More than 63 percent of the children entering state care are age 10 and younger. Eighty-three percent of open child abuse and neglect cases involve drugs.
For those on the front lines, finding safe harbor for children is a daily battle. When there are no options left, it's not uncommon for children to stay days in government offices and hotels.
"It's the reality," Williams said. "We need facilities. We need foster homes."
Today, there are fewer than 4,000 licensed foster homes in West Virginia. That's not enough to fill the gap, said Rachel Kinder, a program director at Mission West Virginia, a nonprofit that specializes in recruiting foster and adoptive families.
Kinder said that while she has seen the number of children in care surge since she began working in the field a decade ago, the number of families seeking to foster has not kept pace.
"The crisis has strained the system significantly," she said. "Five years ago, my agency was happy to talk to 400 families who were considering being foster parents. Now, we talk to about 2,000 a year, and it's never enough."
Back at the office of the Children's Home Society, permanency facilitator Kellie May was trying to find a new foster home for a sibling group of three boys under the age of 6. Two of the boys had been diagnosed with autism.
"They were originally removed due to substance abuse," she said, pausing for a beat as she listened to her colleague on the other end of the phone line. "The worker wants to keep them together, though. Do you have a home that would take all three of them?"
It was just one of the cases that May had to focus on that day.
Over the previous 24 hours, the agency had received several referrals, including one involving a 7-year-old girl. After her parents overdosed, May said, the little girl walked barefoot through the snow to a gas station and asked for help. A second case involved three siblings under the age of 11 who were removed from their home a second time because of their parents' substance abuse.
Because those siblings were not all the same gender, May said, it was likely that they would have to be split up.
"It's not getting better," she said. "It's getting worse and it's getting more challenging."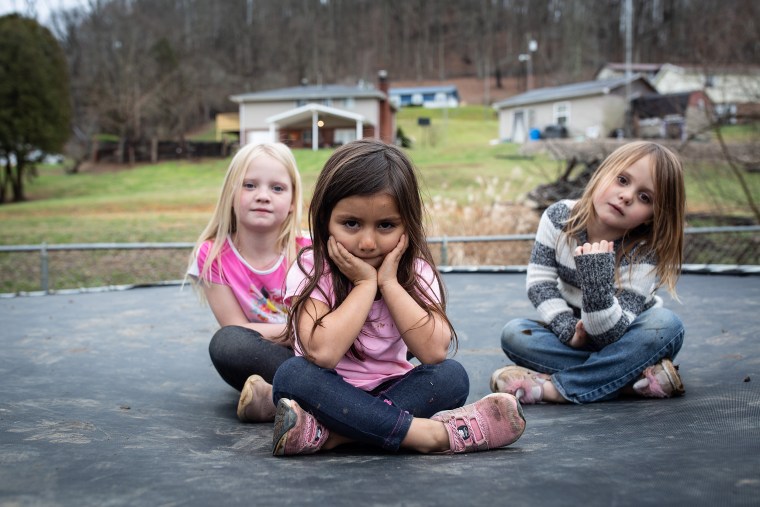 May, who entered foster care herself at the age of 15, said she worries about the long-term, and cyclical, effects that trauma is having on West Virginia's children.
"These kids who have had these traumatic experiences, who aren't having the home experience, they're becoming adults and also having children," she said. "It's a cycle."
"We really need people who are committed" to becoming foster or adoptive parents, she added. "We are raising the next generation."
'We went from zero to five'
Although the need for foster families remains acute, thousands of families in the state have stepped in to help, many of them driven by their personal experiences, their desire to serve their community, or both.
When the email from the foster care agency came, asking if the couple could take five siblings all under the age of 9, the Snuffers rushed to get ready. They traded their two-door car for a van. They borrowed a toddler bed from a friend.
"We went from zero to five," Nikki said.
It didn't take long for Louisa and Nikki to realize that the trauma the children had been through would take years to process and heal.
One of the first signs came in the form of a pair of shoes. Addison, then just 8, arrived wearing a pair of torn-up sneakers that she had been given in foster care. When Nikki and Louisa threw the old pair away and replaced them with a brand-new pair, Addison fell apart.
"We were like, 'We got you a brand-new pair,'" Louisa said.
But to Addison, that didn't matter.
"She was like, 'Those were my new shoes,'" Louisa said. "And they were hers. They were hers. That was the thing."
The children, who spent more than a year and a half in foster care, didn't know what it was like to have their own things, and they knew that the few things they did have could be taken at a moment's notice.
According to their caseworker's notes, they also didn't know what it was like to eat, or bathe, regularly. The youngest, 2-year-old Kristen, had been born dependent on opioids. Ethan, 3, could speak only a few words. The two of them clung to each other, often speaking in their own made-up language.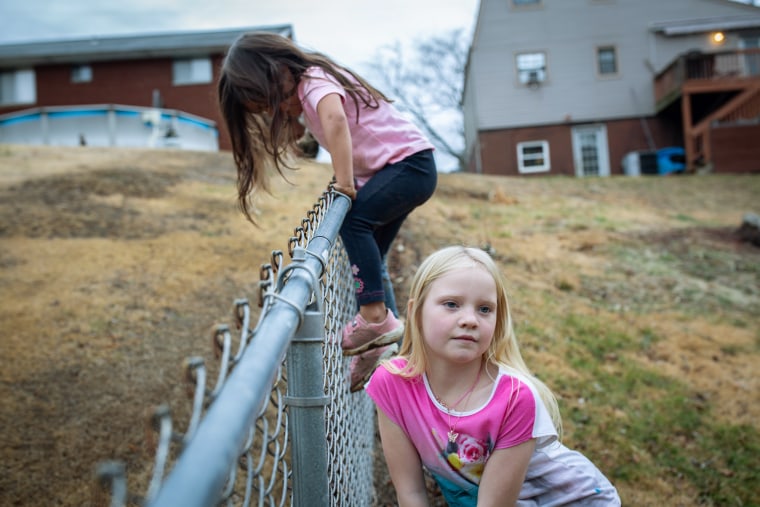 As Nikki and Louisa jumped into the chaotic, daily grind of doctors' appointments and school, grocery shopping and laundry, and all the other trappings of family life, they watched the consequences of the children's history unfold. The oldest boy, Dominic, afraid to ever make a mistake, became the mother hen. Addison had bawling, screeching tantrums.
They watched, too, as the drug crisis changed their community. Kanawha County, home to Charleston, the state's capital, and where Nikki grew up, has for several years led the state in drug overdose deaths — second only to nearby Cabell County.
Addiction "is a disease that gets into every crevice of society and families," Louisa said. "It's everywhere."
When things got tough, Louisa used her own childhood as a touchstone. She was just 11 years old when she was removed from her home in Oklahoma because of abuse and neglect. She spent her entire adolescence, up until the age of 18, living with her brother in a group home for children.
"It saved our lives," she said.
"In my own life, I know how important stability is," she added. "And love, over everything else, how important love is."
In 2014, the Snuffers learned that the children had a new biological sister, Harlow, who was exposed to opioids in utero and born with a serious heart condition. By that time, they had started mentoring another foster child, Michael, who had also been removed from his home because of substance abuse.
When Harlow came home from the hospital, Nikki said, Michael, who was then 13 and living with the Snuffers, wouldn't let her out of his sight.
Like so many children who have suffered from neglect or abuse, Michael said that he never felt like anyone ever protected him. Seeing Harlow suffer, he said, made him angry.
"She looked horrible," he said. "It was bad. It's upsetting that you could let that happen to somebody. She's a human being like everybody else."
'All I need'
The Snuffers are a foster care and adoption success story.
Louisa and Nikki ended up adopting eight children, including the original five siblings, and Michael, Harlow and Michael's 4-year-old half-sister Brynn, who arrived in 2015. She was also born dependent on opioids, including heroin and Suboxone, a medication used to treat opioid addiction.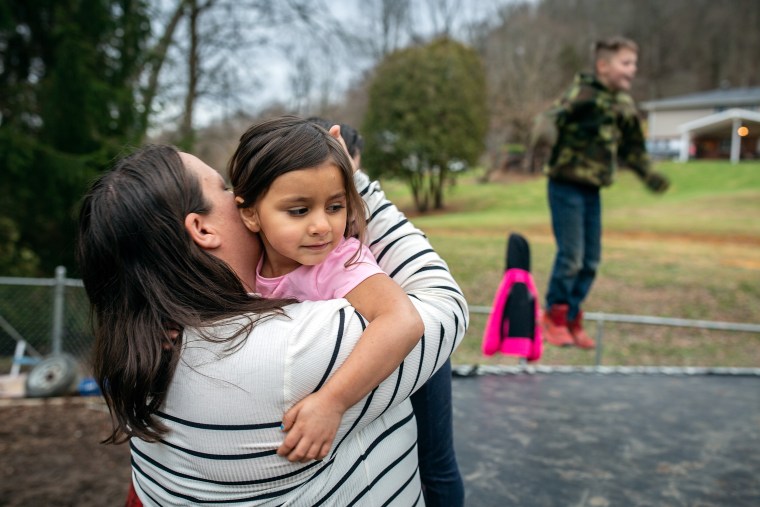 The only downside, they said, is that they no longer have the space to continue fostering, although the couple hasn't ruled out the possibility as their children grow and leave home. But the Snuffers remain committed to helping foster families and are starting a local support group for kinship caregivers. Nikki also trains potential foster parents and works a second job as a kinship care coordinator at Mission West Virginia, where she helps family caregivers, many of them grandparents, who have taken in children.
The children still struggle, and the Snuffers are still learning about what they've been through. But in many respects, the family is thriving.
On a recent day after school, the little girls, including Harlow, dropped their backpacks in the living room and ran outdoors to play in the backyard with the family's two dogs. They laughed, argued and got mud on their clothes.
It's the kind of life, Louisa and Nikki said, that all children should have.
"I broke a family cycle of drugs and addiction," Louisa said. "I had the opportunity to learn how to live without all of that. So if we can change a life for someone to be a productive, loving, and kind adult, which there are few of these days, then that's all I need. That's absolutely all I need."
For more information on how to become a foster parent in your state, visit https://www.adoptuskids.org/.
There are a number of organizations in West Virginia working to help foster children, including Mission West Virginia and The Children's Home Society of West Virginia. For more information, email fosteradopt@missionwv.org or call 1-866-CALL-MWV.
Many organizations collect donations for "Foster Care Closets" of clothing, toys, furniture and baby items to help out foster children and families. Visit the website of the Foster Coalition to find a location near you.