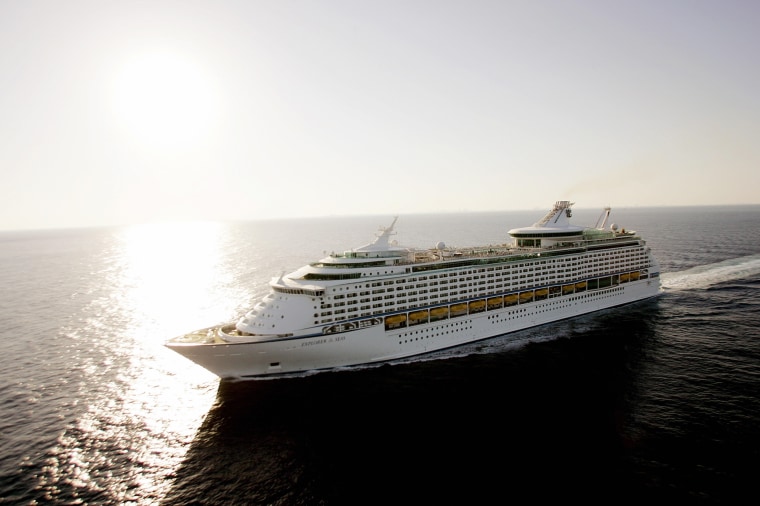 The Royal Caribbean cruise ship Explorer of the Seas will return to New Jersey two days early after more than 600 people were sickened by a fast-moving gut bug that spiked over the weekend.
At least 564 passengers and 47 crew members have reported symptoms of a possible norovirus outbreak since the 10-day cruise to the U.S. Virgin Islands launched on Tuesday, an official with the Centers for Disease Control and Prevention said Sunday.
The Explorer of the Seas is carrying 3,050 passengers and 1,165 crew members. The cruise departed Tuesday from Cape Liberty, N.J., with plans for stops in San Juan, Puerto Rico, St. Thomas and St. Maarten.
Some people on the ship have recovered after illnesses in the first days of the cruise, but Royal Caribbean Cruise Line officials said Sunday that the disruptions caused by the wave of sickness meant they were "unable to deliver the vacation our guests were expecting," and consultation with medical experts prompted an early return.
"We think the right thing to do is to bring our guests home early and use the extra time to sanitize the ship even more thoroughly," firm officials said in a statement.
CDC and cruise officials have not confirmed that the outbreak characterized by vomiting and diarrhea is norovirus; test results are expected mid-week. But the symptoms are consistent with the highly contagious bug spread by touch, by infected people or contaminated food or water. 
Cruise officials said they will sanitize the ship again and that guests scheduled for the next trip on Explorer of the Seas could be confident that all measures had been taken to prevent future illness. 
Still, the outbreak concerns people like Deborah Galcik Taylor, 47, of South Glens Falls, N.Y. Her parents, Paul Galcik, 70, and Joyce Galcik, 67, of Schuylerville, N.Y., are "avid cruisers" who took the trip to get away from this year's bitter winter. They haven't gotten sick, but they've seen others fall ill, including some who were hospitalized, she said. Taylor said she is set to board the Explorer of the Seas for a cruise in six weeks. 
"We're a little tentative," she said. "I'm sure my parents will be glad to see us on Wednesday."

Norovirus is the most common cause of acute gastroenteritis in the U.S., resulting in about 21 million illnesses, between 56,000 and 71,000 hospitalizations and as many as 800 deaths, the CDC says.

The virus lingers on surfaces and spreads very easily. Thorough handwashing with hot water and soap and meticulous environmental cleaning can help stop the spread.
It's not yet clear whether the outbreak on Explorer of the Seas has been linked to a nasty new type of norovirus known as the GII 4 Sydney strain. That was the bug blamed for an outbreak last year on the Queen Mary 2. During a voyage from Dec. 22, 2012 to Jan. 3, 2013, 204 passengers and 16 crew members developed norovirus, the CDC reported. 
JoNel Aleccia is a senior health reporter with NBC News. Reach her on Twitter at @JoNel_Aleccia or send her an email.