Why do we shoot ourselves in the foot when it comes to public health? The latest example of what not to do in the war against disease comes from the world of sex: All over the United States, police and prosecutors are discouraging safer sex by using the possession of condoms as evidence of a crime.
For decades, police officers have been regularly confiscating condoms from people they believe are engaged in prostitution to either justify an arrest or to use as evidence at trial. District Attorneys routinely mention the number of condoms a person had on them when arrested to help cinch prostitution charges.
Prostitutes are far more likely to be infected with HIV and other sexually transmitted diseases than are the general population. That is why health departments spend a lot of money distributing condoms and trying to convince sex workers to use them.
New York City's free condom program to reduce unintended pregnancies and transmission of diseases such as AIDS costs more than a million dollars a year to provide about 3 million condoms a month.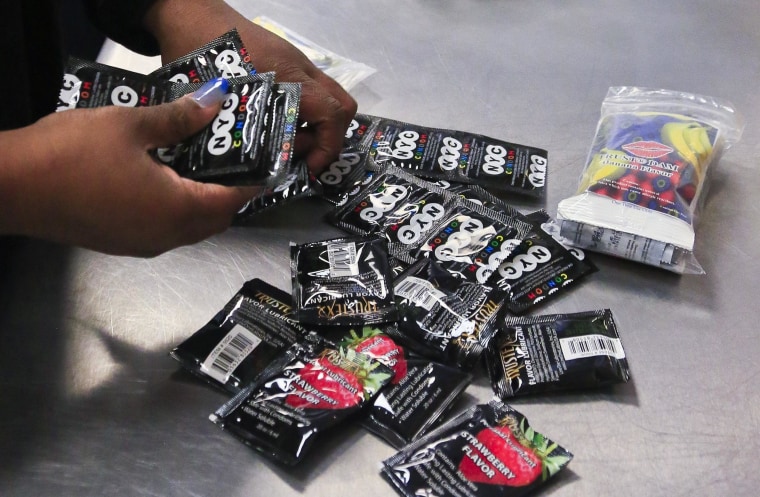 What does permitting the possession of condoms as evidence of crime make prostitutes decide to do? Duh. They are far less likely to carry and thus not use condoms.
A group called Human Rights Watch reported in 2012 that it had interviewed more than 200 current and former sex workers in New York, Los Angeles, Washington, D.C., and San Francisco, and many of them either carried only one condom or none at all for fear of getting busted by the cops.
Thankfully a group of state legislators has proposed a bill to do something about a self-defeating public policy that gives condoms away to sex workers and then prosecutes them if they carry them. The bill would stop police and prosecutors from using possession of condoms as evidence of prostitution. It ought to be enacted. And other states should follow suit.
Prostitution is not going away. You may not like that fact, but the huge numbers of people who utilize sex workers guarantee that the world's oldest profession is going to remain a profession for a very long time to come.
Given that reality, we need to reduce the health harms that prostitution causes. Condoms are a key tool in making that happen. Putting them off-limits as evidence in arrests and courts is the right thing to do.