LONDON — Playboy Prince Harry took a HIV blood test live on Facebook Thursday to show how easy it is be checked.
Video of the test, which included an unidentified health worker walking him through the procedure, was streamed live on the British royal family's Facebook page.
"It is amazing how quick it is," the 31-year-old Harry said during his appointment at a London hospital.
The famously red-headed royal added: "So whether you're a man, woman, gay, straight, black or white — even ginger — why wouldn't you come and have a test?"
The video hearkened back to groundbreaking images of Harry's late mother, Princess Diana, reaching out to people with HIV in the 1980s. Diana's gestures — including a photograph of her shaking hands with an HIV-positive man and hugging children with AIDS — went a long way toward removing the stigma around it.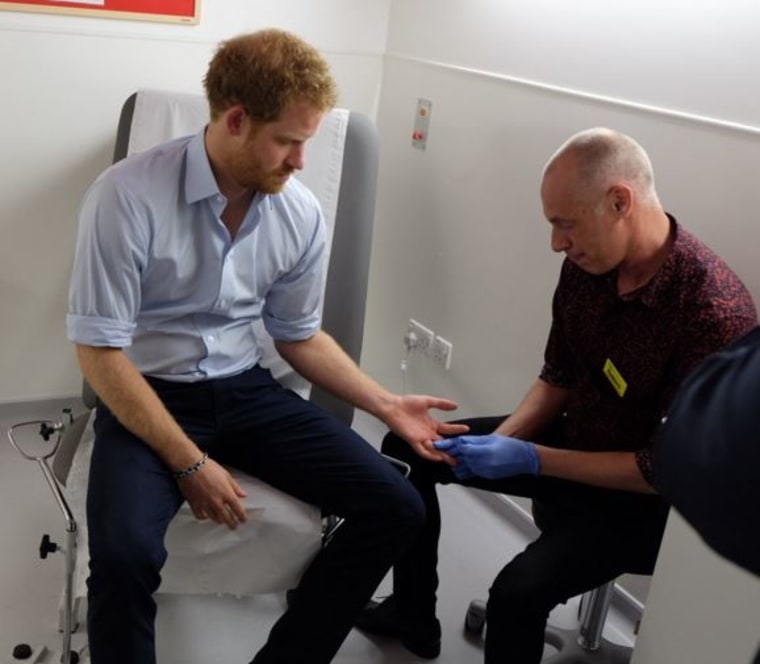 The head of the Terrence Higgins Trust, a charity that campaigns on AIDS and HIV issues, called Harry's decision to have the test live on Facebook "a groundbreaking moment in the fight against HIV."
"Not only does it show his royal highness' genuine and personal commitment to tackling the HIV epidemic, it will amplify a message to millions all over the world: Testing for HIV is easy, quick and nothing to be feared," chief executive Ian Green said in a statement.
The prince — whose results came back negative — is also planning to attend the 21st International AIDS Conference next week.
While visiting South Africa for the event, the fifth-in-line to the throne will meet leaders in the battle against HIV and AIDS and "highlight the importance of youth leadership to confront" the challenges the disease presents globally, according to a statement issued by royal officials.
Harry will also share a stage with pop star Elton John, an old friend of his mother.