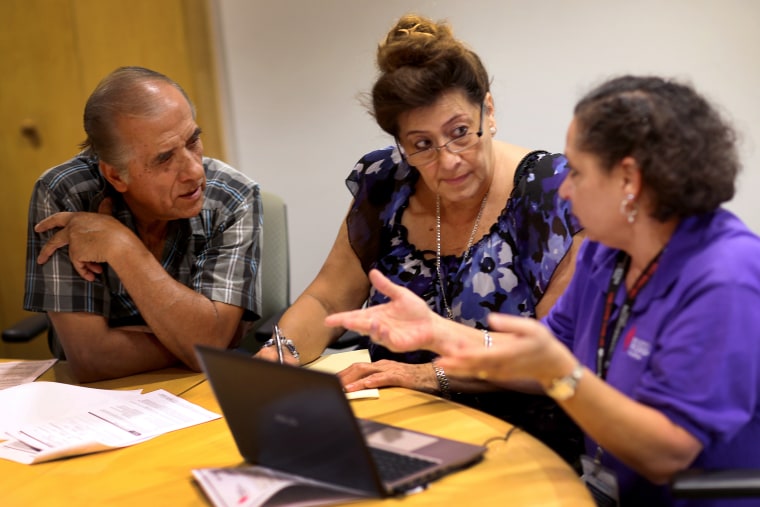 States whose governments are hostile to Obamacare are hindering efforts to get people signed up for health insurance, according to a study released Tuesday.
Laws restricting outreach and enrollment efforts have handicapped community health centers that are a key component of plans to get health insurance to millions of Americans who lack it, researchers at George Washington University found.
"This is the first study to attempt to measure the impact of restrictive state policies," said Sara Rosenbaum, who led the team at GW's Department of Health Policy that did the study. "The navigator laws are having a real effect."
The 2010 Affordable Care Act seeks to get health insurance to the 15 percent of Americans who don't have it in several ways: with online health marketplaces called exchanges, by expanding Medicaid and by changing insurance laws so that companies cannot refuse to cover certain people or stop their coverage once it gets expensive.
To sign people up, the Obama administration recruited and trained so-called navigators, assistants to help people choose which plans would be best for them among the dozens of choices in some states. And community health centers launched their own efforts, because many of their clients fall into the groups most in need of health insurance.
But after the Supreme Court gave them the option, many states decided not to expand Medicaid — even though the federal government will pay for the entire cost until 2017. Around 20 have decided against it.
In addition, states such as Missouri, Montana, Texas and Florida have passed law restricting what navigators and others can ask and say in helping people enroll in health care. They're all states that have refused to expand Medicaid or to operate exchanges, forcing the federal government to step in and do it.

The Missouri law requires the navigators to pass an exam and pay a fee before they can be licensed by the state. Texas is requiring extra training and testing for navigators, while Florida forbids navigators from working in state offices. 
Supporters of the laws say it's important to ensure that people working with private information — names, addresses, Social Security numbers and income details — be properly trained and vetted. The Obama administration calls it "bullying."
"This is a blatant attempt to add cumbersome requirements to the navigator program and deter groups from working to inform Americans about their new health insurance options and help them enroll in coverage," U.S. Health and Human Services department spokesman Fabien Levy said in September after Texas passed its law.
Some of the laws were passed to address issues raised by licensed insurance agents and brokers, Rosenbaum says. But it has affected efforts to help people sign up.
"The big smoking gun as far as I am concerned is assisting in selecting a health plan," Rosenbaum told NBC News. "There is a highly significant difference between the restrictive states and the non-restrictive states in community enrollment assisters who are actually helping people figure out the health plans."
Don McBride of ACCESS Family Care in Neosho, Mo., says he's seen it. "We have been handicapped," McBride told NBC News. "But with everything that is going on, I think we are making the best of it."
"We haven't been able to reach as many people," agreed Kally Taul, outreach coordinator and a navigator at the clinic system.
But McBride, Taul and others say they are not simply being hobbled by state laws. It's more complex than that, they say. "It's not the funding. The main thing is the negative publicity," Taul said.
Bad publicity had made people mistrustful, McBride agreed. "They call it 'Obamacare' and it's like the atom bomb," he said. "It is definitely going to take some time to build trust."
Rosenbaum's team surveyed 606 out of the nation's 1,198 federally qualified community health centers. They compared the answers from health centers in states that have embraced health reform to those that have been less welcoming and found that community health centers in restrictive states had smaller enrollment staffs and workers there expected more of the patients they assisted to remain uninsured. 
At least 19 states have passed laws that limit what navigators or other assisters may say and do, or that add hours of training and licensing requirements on top of what the federal governments asks.
"Health centers in restrictive states reported approximately half the staffing capacity maintained by health centers in full implementation states," the report reads.
"Of particular significance in measuring the impact of navigator restrictions is the fact that health centers in restrictive states were significantly less likely to assist with plan enrollment," it adds.
This can hurt because the people signing up at health centers are those who are the least likely to understand health insurance in the first place, Rosenbaum says.
"The significantly lower rate of plan enrollment assistance suggests that the regulatory burdens created by navigator laws are affecting not only the work of certified navigators but community outreach and enrollment efforts more generally," the report concludes.
"When you change the policy environment and put the brakes on things, it really trickles down to the community," Rosenbaum said.
The survey was done last year and it's too soon to say whether actual enrollments were affected. The Obama administration said Monday that 2.2 million people have signed up for private health insurance on the exchanges, and more than 3 million more have newly qualified for Medicaid, the state-federal health insurance plan for the low-income.
Follow NBCNewsHealth on Facebook and on Twitter