Obesity among teens in the U.S. has begun to level out, but not among adolescents in low-income families or whose parents have only a high school education, according to a study of two long-term national surveys. The new findings are a strong reminder that all young people need access to sports and exercise activities, researchers said. 
Rates of obesity in adolescents skyrocketed in the United States in the 1980s and 1990s, but have plateaued over the last decade, on average. However, Harvard Kennedy School researchers found in recent data that a quarter of all kids whose parents have less education are obese, compared to just one in 14 kids from more affluent, more educated families.
"There is some good news," lead author Carl Frederick, research fellow at the Saguaro Seminar of the Harvard Kennedy School, said about the report released Monday. "But efforts so far are not reaching all parts of society … Unfortunately there are huge obstacles," Frederick said.
In 2003 to 2004, according to the surveys, about 17 percent of adolescents aged 12 to 17 years were obese, nearly double the rate of 9 percent between 1988 and 1991. Overall, that number has largely stayed the same, but since 2003-2004, the children of less-educated, lower-income parents are more likely to be obese.
In 2009 to 2010, 26 percent, or roughly 1 in 4 kids whose parents have at most a high school education, were obese, compared to 7 percent, or roughly 1 in 14, kids whose parents have at least a four-year college degree, according to Frederick. He cited data from the National Health and Nutrition Examination Surveys and the National Survey of Children's Health.
Lack of exercise is a main factor in the disparity, Frederick said, with access to sports and other activities playing a big role in the obesity rate among low-income teens.
Parent income can affect the quality of neighborhood kids live in — whether it is safe to play outside or walk to school, whether there are sidewalks, and whether there are accessible supermarkets with fresh food, not just convenience stores, the new research indicates.
And it also limits the resources that parents have to help their kids play sports, for example.
"The higher-income families have the resources to make it happen. They have the money to sign up their kids for sports that cost money, for example," said Marlene Schwartz, director of the Yale Rudd Center for Food Policy and Obesity. "There is a big difference between knowing what to do and really being able to do it."
Childhood obesity has been targeted as a critical public health concern in the U.S., with First Lady Michelle Obama's three-year-old "Let's Move" program encouraging healthy eating and exercise among kids.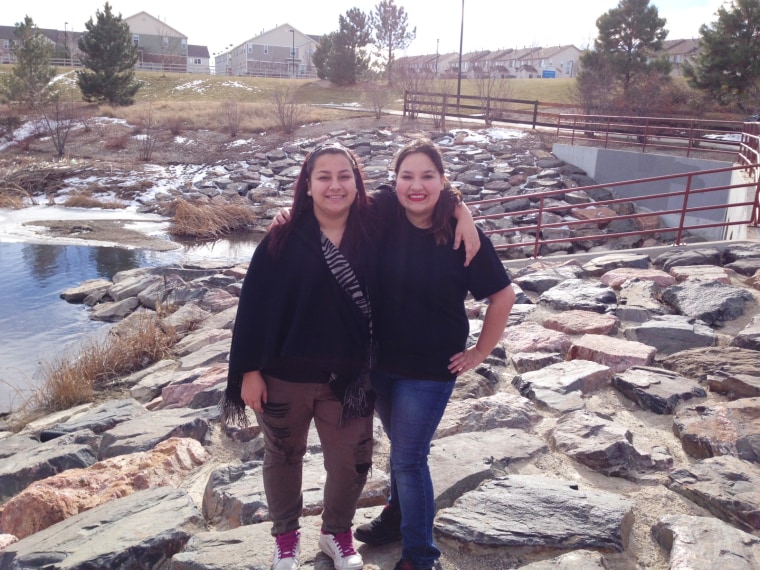 Obese children are more likely to suffer more social problems at school, and they are more likely to have Type 2 diabetes, obstructive sleep apnea and high blood pressure, among other conditions previously reserved for older adults. When obese kids grow up, they are more likely to be overweight adults and suffer from chronic disease.
For 17-year-old Jacklyn Lucero, a senior at Prairie View High School in Henderson, Colo. who had been overweight since she was 8, the message to eat right and exercise more "bounced right off me."
Even though Jacklyn considers her family middle class — both parents are employed and her mother is a trained nurse technician — the cost of high school sports, along with the time commitment, was a factor in her quitting volleyball, which she played in middle school.
"The money had a lot to do with it," she said.
It wasn't until she was diagnosed with Type 2 diabetes late last year and feared the disease's effect on her fertility that Jacklyn decided to change her lifestyle. She now goes to the gym for more than an hour a day, at least six days a week, and eats more fruit and vegetables.
The 5'4" teen has since lost 17 pounds and continues to work hard to drop the 40 more pounds needed to reach her goal weight of 160 pounds. In fact, the upbeat, outgoing girl has inspired many of her friends to exercise with her and to kick the junk food habit.
Dr. Megan Kelsey, associate professor of pediatric endocrinology at the University of Colorado – Denver, called for more funding of community and school-based activities, that are available to all kids.
"Certainly we see in our clinic that the resources aren't as available to our patients in the lower socioeconomic class as opposed to the upper," Kelsey said.
"We need to take away some of the barriers that are there," Kelsey said, adding that children need access to exercise activities that aren't just competitive team sports. "It is important to teach kids lifetime activities, ways to change their activities in their everyday lifestyles rather than hard-core sports that may be intimidating to kids and their families."
As for Jacklyn, she knew she had to take her situation into her own hands.
"I am so much more motivated now," she said in a telephone interview. "School has been a lot better. I didn't even think I was going to graduate on time." She is now on schedule to finish in spring and plans to continue her education with courses in tattoo removal.