The astronomical rise in kids who are physically dependent on the high levels of nicotine found in e-cigarettes has addiction experts concerned that existing treatments aren't enough.
Doctors say the way electronic cigarettes deliver nicotine to the body and brain makes them more addictive than traditional cigarettes.
"In vaping, because the nicotine is so highly concentrated, you can get it into your body much faster and at much higher doses that you would with a typical cigarette," said Dr. Sharon Levy, director of the adolescent substance use and addiction program at Boston Children's Hospital.
Levy told NBC News that experts are using medications to help with nicotine cravings and reduce withdrawal symptoms. But effective counseling is also crucial for kids who vape.
"We're seeing kids coming into the clinic with their lives falling apart around them," Levy said.
Many of her young patients are having trouble concentrating in school. Many are also unusually irritable and have trouble keeping their temper under control.
"Treating vaping problems is difficult," Levy said. "There's no research how to do it." Her teen addiction program now has three to four times the call volume it had a year ago.
Kids may also find it difficult to avoid high-risk situations now that they're back in school.
"One kid referred to a Juul lounge at school," Levy said. "We used to call it a bathroom."
On Wednesday, the Trump administration announced plans to ban flavored e-cigarettes, which studies have shown are highly favored by youth.
The move comes amid growing reports of severe lung illnesses linked to vaping.
More than 500 cases are now either confirmed or under investigation across the country, as state and federal health investigators continue to try to figure out exactly what in vaping devices is responsible.
Altogether, 42 state health departments have told NBC News they're investigating 519 cases. Most are otherwise healthy people — from teenagers to people in their 70s — who suddenly develop severe trouble breathing, cough, fever and chest pain.
Some experts suspect the overall case count may be an underestimate, as it doesn't capture people who feel ill after vaping, but not sick enough to see a doctor.
"I think for every one of these cases, there's probably dozens of minor cases," said Dr. Lee Norman, secretary of the Kansas Department of Health and Environment. His state has seen one death from the vaping-related pulmonary illness.
Five other people have died from the illnesses, in California, Indiana, Illinois, Minnesota and Oregon.
The Food and Drug Administration is testing vape products provided by patients to look for any common link to the illnesses. Some patients have reported inhaling nicotine only, while many others said they'd vaped both nicotine and THC, the marijuana ingredient that gives people a high, according to the FDA.
It's those THC vapes and their interchangeable oil-based cartridges that have been strongly implicated in the investigations so far, though no one ingredient has been singled out as the culprit.
As investigators work, hundreds of families across the country have been dealing with the life-threatening lung illnesses.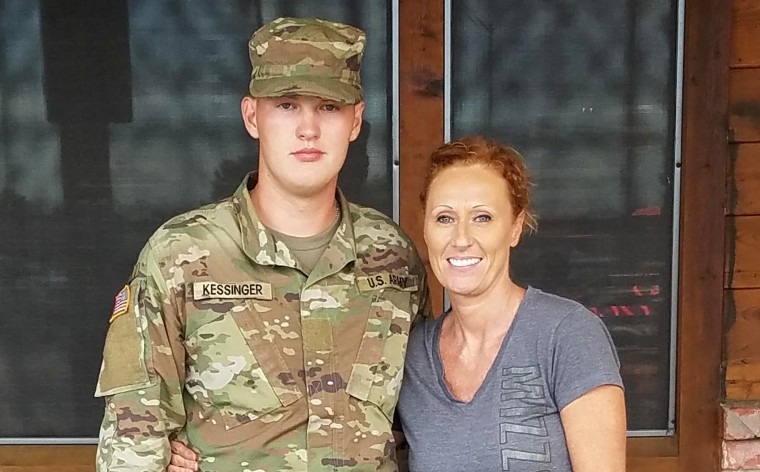 Kris Trimble of Blue Springs, Missouri, knew her son, Dylon, 21, began Juuling when he joined the military a few years ago, referring to the most popular brand of e-cigarettes on the market.
Juuls are available in a number of flavors and contain high levels of nicotine, but no THC.
Trimble told NBC News that when her son came home this year, he started using other forms of vaping devices, including ones he said contained THC and were purchased in Colorado, where recreational marijuana is legal.
It's very scary to see your only child basically suffocating.
Last month, Trimble said Dylon started having trouble breathing, and his condition deteriorated rapidly.
"It's very scary to see your only child basically suffocating," Trimble said.
Dylon is now recovering at home after spending nine days in the hospital.
Trimble said the experience was frustrating both as a mother — and a veteran nurse.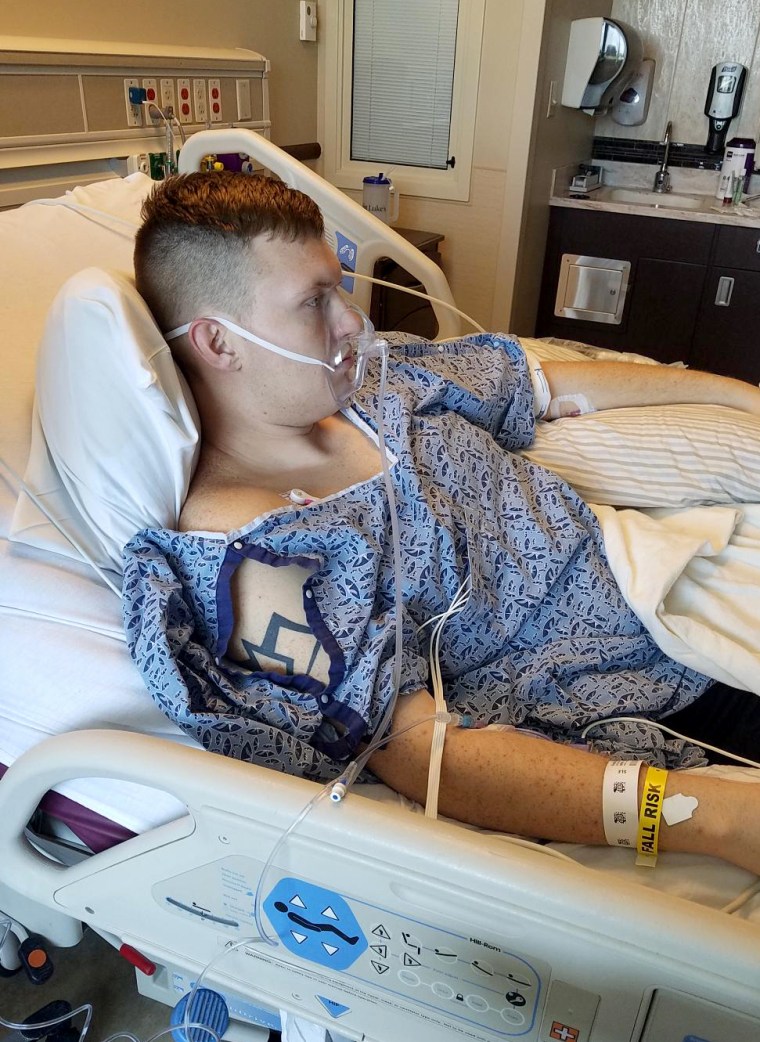 "I've worked in the emergency room and trauma for almost 18 years, and I've never seen something so terrifying," she said.
Like nicotine addictions in kids who vape, the new and evolving spate of vaping-related illnesses come with no textbook, no history of standard of care.
"This is so new that none of that is at play, which is scary," Trimble said.
And with cold and flu season approaching, experts warn that symptoms related to vaping illnesses are similar to common viruses that start circulating this time of year.
"I would hate to have somebody come in with influenza and not get proper treatment," said Norman.
Alternatively, physicians are worried that patients whose lungs have been damaged by vaping may more susceptible to viruses.
It's a concern shared by Kris Trimble about Dylon.
"His lungs are very compromised," she said. "There's no way he could fight off anything right now."
Follow NBC HEALTH on Twitter & Facebook.