A Canadian teen developed a dangerous vaping illness that doesn't look like lung illnesses seen in patients across the U.S. Instead, it resembles the kind of lung damage workers at a microwave popcorn factory developed years ago from breathing in a buttery flavoring.
Doctors said the previously healthy 17-year-old had been vaping heavily for months and was using several products he purchased online through a Canadian retailer before falling ill this past spring. The products came with different flavors: "green apple," "dew mountain" and "cotton candy."
The boy's family said he had been inhaling deeply when vaping, and had regularly added THC, the main marijuana ingredient that gives users a high, to his devices.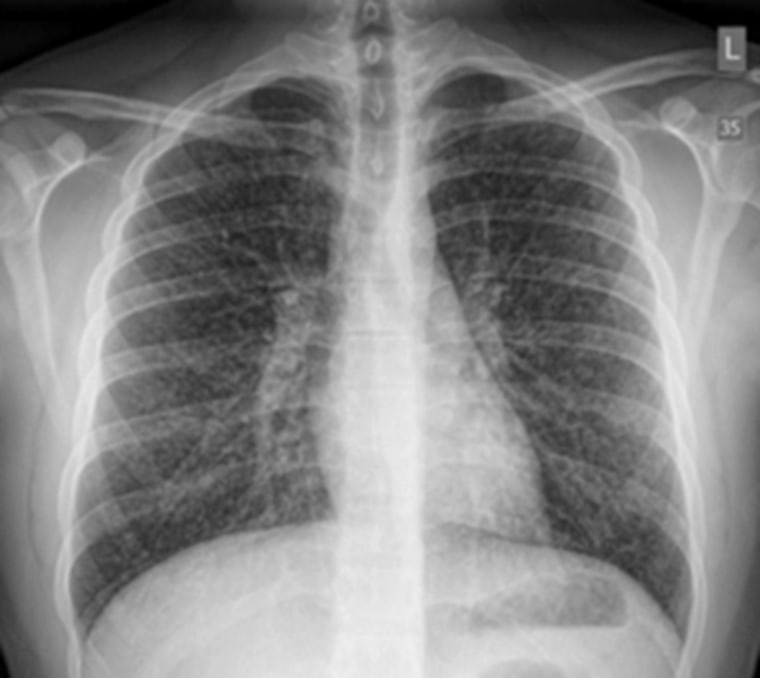 "Our patient and his family want the public to be aware that what happened to him could happen to anyone," said Dr. Karen Bosma, lead author of the report and a critical care physician at the London Health Sciences Centre in Ontario, Canada. She is also an associate scientist at Lawson Health Research Institute.
Bosma and colleagues reported on the boy's case Thursday in CMAJ (Canadian Medical Association Journal).
The young man was admitted to the hospital a week after developing a cough that he couldn't shake, along with a fever and trouble breathing. His lung function quickly deteriorated, and he ended up on life support temporarily.
He narrowly avoided the need for a double lung transplant, doctors said, but appears to be left with chronic lung damage.
Bosma told NBC News that a CT scan of the young man's lungs showed injury to his airways, and he had difficulty exhaling carbon dioxide.
Despite similarities in symptoms, the young man's lung illness appears to be slightly different from the more than 2,000 cases in the U.S.
Many patients in the U.S. have damage in the tiny air sacs responsible for passing oxygen and carbon dioxide in and out of the lungs.
Doctors in the Canadian case were unable to find that kind of damage. Instead, they saw a different kind that looks like what's commonly known as "popcorn lung."
The term "popcorn lung" comes from an illness workers at a microwave popcorn factory developed nearly two decades ago: a condition called bronchiolitis obliterans. Several were so ill they were referred for lung transplants.
A lengthy investigation revealed that the cause of the illness was inhaling diacetyl, a buttery flavoring. It's no longer used by most major companies that make microwave popcorn.
It's unclear if the same chemical was found in the Canadian boy's e-liquids. The products he vaped were thrown away.
Over the summer, the Food and Drug Administration announced that it was considering adding diacetyl to the list of chemicals found in tobacco products that are known to be harmful. The chemical flavoring is approved for use in food, but not in aerosol products.
Teen addiction experts say it's e-cigarette flavors that are so enticing to young people. The Trump administration appears to have backed away from a proposed flavor ban, though the FDA has the authority to move forward with such a restriction.
The Centers for Disease Control and Prevention is scheduled to update its weekly tally of vaping-related illnesses nationwide later Thursday.
Follow NBC HEALTH on Twitter & Facebook.