A majority of patients with life-threatening lung illnesses linked to vaping say they used products containing THC, and many say they got those products from friends, dealers or elsewhere off the street.
THC is the ingredient in marijuana that produces the drug's high.
The Centers for Disease Control and Prevention, along with public health officials in Illinois and Wisconsin, published details from their investigations into the mysterious illnesses Friday.
The CDC has confirmed 805 cases nationwide, and NBC News has confirmed that hundreds more are under investigation in a total of 47 states.
Interviews with 514 patients reviewed by the CDC revealed some similarities among the cases, but not enough to link any single product, substance or vape brand to the illnesses.
According to the CDC's findings:
77 percent used THC products
57 percent used nicotine products
36 percent used only THC products
16 percent used only nicotine products.
That 16 percent reported vaping only nicotine means investigators cannot say for sure that THC products are behind the illnesses. However, they say some patients may be hesitant to admit using illicit drugs like THC, especially if they live in states where marijuana is illegal.
A closer analysis of 86 patients in Illinois and Wisconsin showed that 87 percent vaped THC. Almost all of those vapes were packaged, pre-filled cartridges that people got from friends, family members or drug dealers.
Meanwhile, the vast majority of those who reported vaping nicotine said they purchased those products from commercial vendors.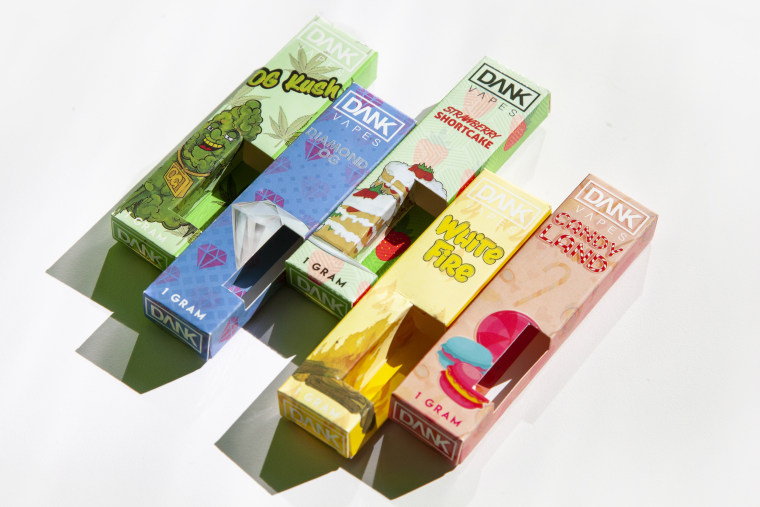 The number of products under investigation illustrates why it's been so difficult for health officials to zero in on any one culprit.
"Among all 86 patients in our study, 234 unique e-cigarette or vaping products across 87 different brands were reported," Dr. Jennifer Layden, Illinois' chief medical officer, said.
No single brand was reported by all patients, but one did stand out: Dank Vapes. Sixty-six percent of patients in Wisconsin and Illinois said they'd used that brand.
Public health officials in Wisconsin said two groups of friends who got sick specifically reported using Dank Vapes.
"Dank Vapes appears to be the most prominent in a class of largely counterfeit brands, with common packaging that is easily available online and that is used by distributors to market THC-containing cartridges with no obvious centralized production or distribution," the researchers reported Friday.
Indeed, NBC News has been unable to make contact with any companies under the name "Dank Vapes."
Until the investigation is complete, the CDC and public health officials elsewhere urge the public not to vape any product.
"This may be more complicated even than we think in terms of more than one product being risky, more than one label on the product, and more than one substance within the product," Dr. Anne Schuchat, the CDC's principal deputy director, said on a call with reporters Friday.
"We have to have a very open mind and recognize how dynamic this marketplace is," she said.
On Thursday, the CDC confirmed there have been 12 deaths from lung illnesses linked to vaping. Since then, two more deaths in Oregon and North Carolina were reported, bringing the total to 14.
An analysis of the deaths the CDC has investigated so far shows 58 percent were men. And although the median age was 50, at least one death reported was of a person as young as 27.
"I don't think we can say with confidence that a young healthy person is immune to the risk of death from this condition," Schuchat said.
In fact, most e-cigarette users are young. The CDC reports that in 2018, just 3.2 percent of adults used e-cigarettes.
Vaping among youth has been skyrocketing. Last week, research showed e-cigarette use among kids and teens doubled within the past two years. More than a quarter of high school seniors said they'd vaped within the past month.
The data have prompted several states to take action and ban e-cigarette flavors favored by young people. Washington state joined Michigan, New York and Rhode Island on Friday in banning the flavored e-cigarettes. Massachusetts has banned all vaping products for four months.
The CDC said reports of illnesses linked to vaping have not slowed.
"We encourage you to talk to your family, friends, children to make sure they're aware of the risk," Schucat said.
Patients are reporting cough, fever, trouble breathing, chest pain, and many times gastrointestinal problems such as vomiting and diarrhea.
Doctors urge anyone with those symptoms to seek medical care, especially if they've been vaping.
Follow NBC HEALTH on Twitter & Facebook.