Toxic chemical burns may be behind the hundreds of vaping-linked illnesses spiking across the country, according to new images of lung tissue taken from people who got sick after vaping.
The images and resulting analysis from pathologists were published Wednesday in the New England Journal of Medicine.
The findings provide a better understanding of what's actually happening to the lungs in these cases. They're also meant to give other doctors a frame of reference for what the vaping-related lung injuries look like under a microscope, as well as help in diagnosis.
It looks like the kind of injury that we normally see when a person is exposed to a spilled drum of toxic chemicals at their workplace.
"It looks like the kind of injury that we normally see when a person is exposed to a spilled drum of toxic chemicals at their workplace," said Dr. Brandon Larsen, an author of the study and a surgical pathologist at the Mayo Clinic in Scottsdale, Arizona. He and his team are often called upon to examine lung tissue for a second opinion, or in cases that have perplexed other physicians.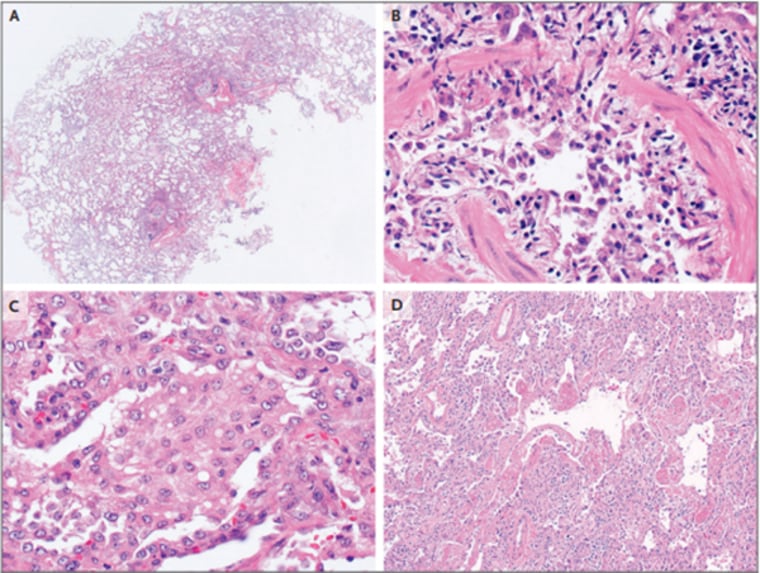 Larsen and colleagues examined lung biopsy samples from 17 patients with lung illnesses linked to vaping, a small portion of the 805 cases confirmed by the Centers for Disease Control and Prevention.
But their sample is similar to what's seen nationwide: Most of the patients in the Mayo Clinic study were men, between the ages of 19 and 67. And nearly three-quarters had vaped marijuana or cannabis oil.
Previous investigations suggested that an accumulation of oil in the lungs was to blame, and many patients were diagnosed with a condition called lipoid pneumonia. That occurs when inflammatory cells with abnormally high levels of fatty substances, called lipids, collect in the lungs.
But the Mayo researchers found no evidence to suggest lipoid pneumonia, at least in those 17 cases.
"What appears to be going on in the lung itself is a direct toxic chemical injury, like a chemical fume injury or a poisonous gas injury," Larsen told NBC News.
Public health investigators looking into the cases nationwide haven't been able to pinpoint any single ingredient that would explain the type of chemical injury shown in the Mayo study.
However, the CDC has reported that a majority of patients said they used products containing THC (marijuana's psychoactive ingredient), and many said they got those products from friends, dealers or elsewhere off the street. Many investigators suspect that counterfeit vapes play a role in the problem.
Doctors are learning more about the mysterious illnesses in real time, as patients arrive at the hospital with symptoms: difficulty breathing, cough, fever, fatigue and sometimes vomiting and diarrhea.
But although there's been a surge in cases in recent months, some clinicians say they've seen such illnesses in the past.
Indeed, two of the patients in the Mayo study had fallen ill before 2019.
"We've seen this before," said Larsen. "We just had so little experience with it before that we weren't sure what we were looking at."
Long-term consequences
Most patients with vaping-related lung injuries are able to recover with steroids and/or supplemental oxygen.
But some have succumbed to the illness. On Wednesday, Alabama health officials confirmed that a resident died from a vaping-related lung illness, the first in that state. That brings the total number of deaths so far to 17, nationwide.
Deaths have also been reported in California, Florida, Georgia, Illinois, Indiana, Kansas, Minnesota, Mississippi, Missouri, Nebraska, North Carolina and Oregon. The person who died in North Carolina was actually a resident of Virginia, health officials said Tuesday.
For those who survive the illness, it's unclear whether they will continue to have breathing difficulties.
"We don't know what the long-term consequences will be," Larsen said.
"But I will not be shocked when we discover 20 years from now that some patients have chronic lung disease because they've been vaping."
Follow NBC HEALTH on Twitter & Facebook.