Doctors have discovered yet another way that vaping — and vaping THC, in particular — can damage the lungs: when the metal coils of electronic cigarettes heat up to turn e-liquids into aerosols, toxic metals can leach into the liquid, leading to a rare condition usually only seen in industrial metal workers.
A case report published Wednesday in the European Respiratory Journal describes a 49-year-old California woman who had symptoms now known to be associated with the more than 2,000 cases of vaping illnesses nationwide: shortness of breath, coughing and wheezing.
But when pathologists took a close look at the woman's lung tissue, it didn't look like a typical case of EVALI, or e-cigarette, or vaping, product use associated lung injury. Instead, they saw damaged cells that had engulfed other lung cells, creating giant cells — a pattern that's typically found in an illness called hard-metal lung disease.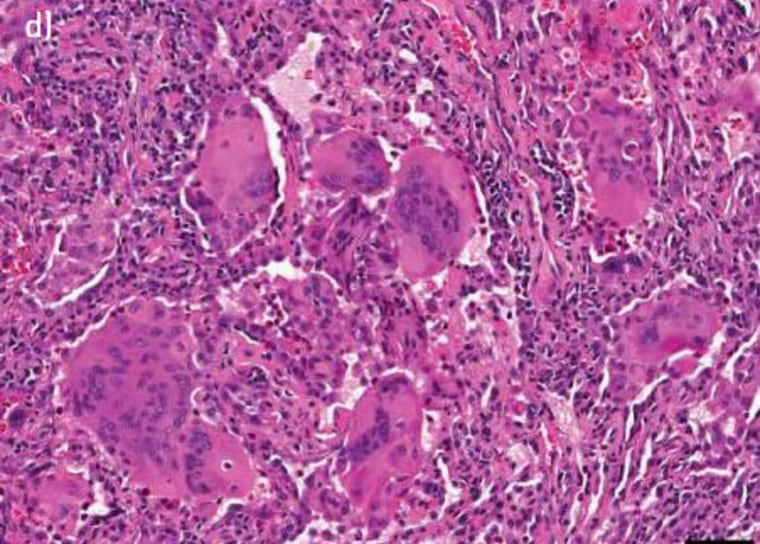 "It has a distinctive and unusual appearance that is not observed in other diseases," said case report co-author Dr. Kirk Jones, a professor of pathology at the University of California, San Francisco. "When we diagnose it, we are looking for occupational exposure to metal dust or vapor, usually cobalt, as a cause."
The patient — a dog walker by trade — had no such exposure. What she did have was the ZenPen brand vape pen she'd been using for six months prior to getting sick. ZenPens do not come with pre-filled cartridges, so users must purchase their e-liquid elsewhere.
ZenPen did not respond to NBC News' request for comment.
When the doctors tested the e-liquid left in the device, they found several metals: nickel, aluminum, manganese, lead, cobalt and chromium.
Inhalation of cobalt in particular has been implicated in the kind of lung damage seen in the California case, Jones said. He'd treated a similar case in a mill worker several years before.
Jones and his co-authors hypothesize that the metals found in the e-liquid leached from the heating coil in the vape pen. Vaping marijuana raises the risk of this leaching, because the devices must be heated to much higher temperatures to aerosolize THC than to aerosolize nicotine. Previous research has shown that a greater amount of toxic substances are released as the voltage needed to heat vape devices increases.
The authors said their case report illustrates an urgent need for regulation of vaping devices. "The public health implications of this are substantial given the increasing trend towards legalization of cannabis for recreational and medical purposes," they wrote.
The California woman's lung damage is likely permanent, her doctors said, although her lung function may improve.
The case report adds to the growing evidence that vaping can damage the lungs in a variety of ways. The addition of vitamin E acetate to e-liquids has been implicated in many of the EVALI cases, especially cases that involved THC. Doctors did not test the California woman's device for vitamin E acetate.
Doctors around the country have reported different forms of lung tissue injury in patients who vape THC.
An analysis of lung tissue at the Mayo Clinic in Scottsdale, Arizona, for example, revealed the kind of burns normally seen when a person is exposed to a spilled drum of toxic chemicals.
And when Cleveland Clinic doctors looked at the lung tissue from vaping patients, they found two different patterns of lung injury. One is called organizing pneumonia, which is when the tiny airways and air sacs become inflamed. Others had damaged alveoli, the tiny air sacs responsible for allowing oxygen into the blood and carbon dioxide out.
EVALI cases have been diagnosed in all 50 states. Alaska reported its first case Tuesday.
Follow NBC HEALTH on Twitter & Facebook.