The Centers for Disease Control and Prevention has identified 1,080 cases of lung illnesses linked to vaping, an increase of 275 since last week.
The numbers are likely to continue to increase, as state health departments have confirmed to NBC News that they're investigating more than 1,300 cases.
"The data that we're getting does not suggest this has peaked," Dr. Anne Schuchat, the CDC's principal deputy director, said on a call with reporters.
Forty-eights states have been affected, with only Alaska and New Hampshire not reporting any cases so far.
Patients report a history of vaping and develop what looks like pneumonia over a period of days or weeks. They arrive at the hospital struggling to get enough air into their lungs. Many have required intensive care and extra oxygen.
At least 19 people have died. On Thursday, both the Connecticut Department of Public Health and the Delaware Division of Public Health announced vaping-related deaths.
"This death is a harsh reminder that these illnesses are serious and life-threatening," Dr. Karyl Rattay, director of the Delaware Division of Public Health, said in a statement.
The median age for the people who died nationwide has been 49 and a half years old, but at least one was in their 20s.
Schuchat said that additional deaths are under investigation.
Many of the severe lung injuries have been associated with THC vapes that may be counterfeit, especially ones that go by the name Dank Vapes. (THC is the main ingredient in marijuana that provides a high.) Some people, however, said that they only vaped nicotine, not THC.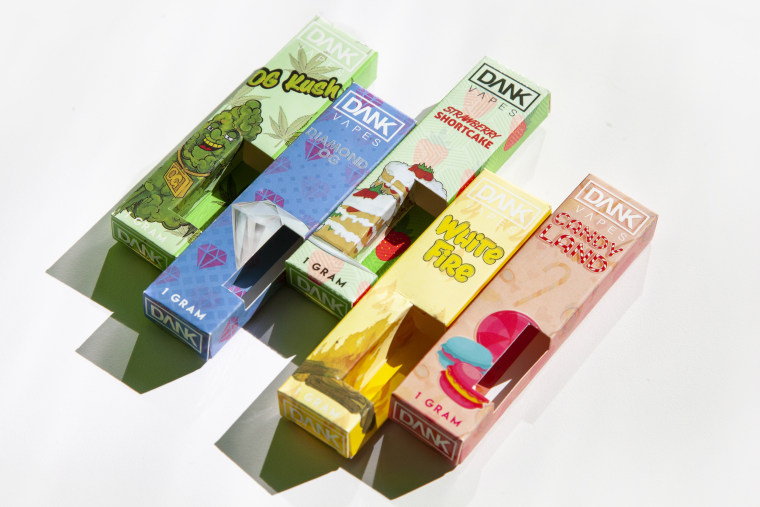 A group of pathologists on Wednesday published images of lung tissue damaged by vaping, comparing it to being exposed to poisonous or toxic fumes.
As the investigation remains open, the CDC has strongly recommended that people avoid all forms of vaping until the source of the life-threatening illnesses is found.
The Food and Drug Administration has tested more than 440 vape product samples obtained from patients. Preliminary results suggest that the levels of both THC and vitamin E acetate — two compounds possibly implicated in the illnesses — vary widely in the products.
However, officials stressed that there has been no one substance linking all of the cases. Some products sent to the FDA for testing contained little to no e-liquid.
"It is pretty much impossible for you to know what's in the e-cigarette or vape product that you're getting," Schuchat said.
She added there's no evidence one device or vape product is any less harmful than another.
"Personally, with all the data that I've been seeing, I don't know what safe is right now," Schuchat said.
Nicotine vapes, in particular, have surged in popularity among young people in recent years. Earlier this month, research showed the number of kids vaping nicotine doubled from 2017 to 2019.
Addiction experts say it's the fruity and minty flavors that entice young users to try them in the first place.
Indeed, new research published Thursday from the CDC and FDA show an increase in teens using flavored electronic cigarettes from 2014 to 2018.
The new data is from National Youth Tobacco Survey, which is taken on a yearly basis.
In 2018, 68 percent of high school students who used a flavored tobacco product used flavored e-cigarettes. Four years earlier, it was 65 percent.
Among middle schoolers, there was little change during the study period. Researchers reported a dip in flavored e-cigarette use from 2014 to 2015, but then subsequent increases through 2018.
Alarmed by the growing number of young people who vape, some states have banned flavored e-cigarettes, at least temporarily. Michigan, New York, Rhode Island and Washington have passed such bans. Massachusetts has banned all vaping products for four months.
Follow NBC HEALTH on Twitter & Facebook.