Vitamin E acetate is now a focus of the investigation into vaping-related respiratory illnesses that have sickened 34 people in New York, state health officials say.
As of Thursday afternoon, there have been 361 confirmed or suspected cases reported by state health departments nationwide. Two people have died, one in Illinois and the other in Oregon.
On Thursday, the New York State Department of Health said lab tests showed extremely high levels of vitamin E acetate in nearly all of the analyzed samples of products that contained cannabis.
Vitamin E acetate was not found in the nicotine products tested.
Download the NBC News app for breaking news
The compound is a commonly available nutritional supplement that is not known to be harmful when taken as a vitamin or applied to skin, according to the New York State Department of Health.
"We urge the public to be vigilant about any vaping products that they or any family members may be using and to immediately contact their health care provider if they develop any unusual symptoms," New York Health Commissioner Dr. Howard Zucker wrote in a news release. "Vaping of unknown substances is dangerous, and we continue to explore all options to combat this public health issue."
The Food and Drug Administration is now testing more than 100 samples from states, and has not ruled out other contaminants that may be at play, including nicotine, THC and other cannabinoids, along with cutting agents/diluents and other additives, pesticides, opioids, poisons and toxins.
"No one substance, including vitamin E acetate, has been identified in all of the samples tested," an FDA spokesman wrote in an email to NBC News. "Importantly, identifying any compounds that are present in the samples will be one piece of the puzzle but will not necessarily answer questions about causality."
Zeroing in on a diagnosis
A number of the recent lung illnesses have been diagnosed as lipoid pneumonia, a condition that occurs when inflammatory cells with abnormally high levels of fatty substances called lipids collect in the lungs.
"We certainly know what causes lipoid pneumonia, which is oil inhalation," said Thomas Eissenberg, a co-director of the Center for the Study of Tobacco Products at Virginia Commonwealth University.
Eissenberg has been studying alternative tobacco products, including e-cigarettes, since the late 1990s, and recently worked toward developing methods for evaluating new tobacco products under a grant from the FDA and National Institute on Drug Abuse.
He said there are two ways for a person to develop lipoid pneumonia.
"You can get it because you've had some physical injury to your lung whereas your own body fat enters the lung, gets treated as a foreign invader and an immune response is mounted," he said.
"Or you inhale oil."
Inhaling oil
This is not the first time vitamin E oil has been implicated in a vaping-related lung illness.
In 2000, Dr. Dilini Vethanayagam was a resident physician at McMaster University Medical Center in Ontario, Canada. One of her patients was a 30-year-old woman who appeared to have a bad infection. She was having trouble breathing, and was coughing, fatigued and vomiting, and had a fever and diarrhea.
Tests revealed the woman had lipoid pneumonia. But there was no explanation as to what caused it.
That's when Vethanayagam dug deeper into the woman's history. The woman admitted to inhaling home brews of marijuana oil made with either petroleum jelly or vitamin E oil.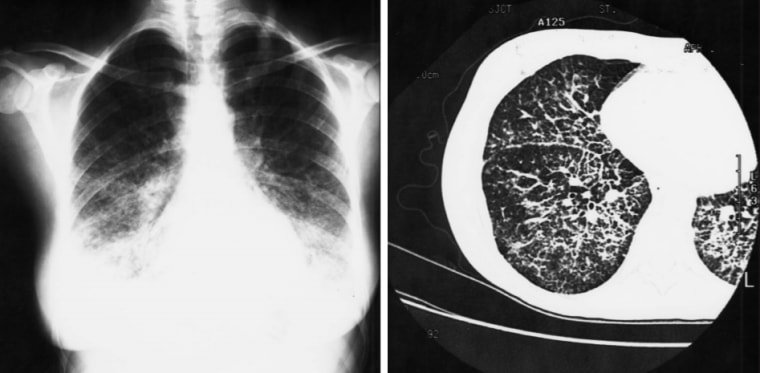 Vethanayagam, now an associate professor of respirology at the University of Alberta, said she was fascinated by the case. "She didn't have to have this happen. It was just from inhaling this [oil] repeatedly," Vethanayagam told NBC News.
She and fellow physicians published the case report in the Canadian Respiratory Journal in the summer of 2000.
Twelve years later, the first vaping-related pneumonia case showed up in the medical literature in the U.S.
In 2012, Dr. Lindsay Leither, then a resident at Legacy Good Samaritan Medical Center in Portland, Oregon, treated a 42-year-old woman with symptoms similar to the Canadian case: shortness of breath, cough and fever.
The woman had been to the emergency room several times before with the same symptoms, and had been treated with antibiotics.
But her illness didn't go away. Tests for viral and bacterial infections came back negative, leaving Leither stumped.
Imaging and samples taken from the woman's lungs revealed lipoid pneumonia.
"Lipoid pneumonia was mostly found in the pediatric population from little kids accidentally aspirating petroleum jelly that parents were putting around noses or the mouth," Leither, who is now a pulmonary and critical care physician with Intermountain Healthcare in Salt Lake City, told NBC News.
"It wasn't very commonly seen in adults, so that's what got us thinking: What was this person's exposure that could have contributed?" she recalled.
A dive into the patient's history revealed her symptoms began seven months before, about the same time she began using nicotine e-cigarettes. The woman had not vaped marijuana products.
These cases may just be the tip of the iceberg
Four other cases have been documented before the current spate of illnesses — all seemingly rare cases that concerned physicians enough to write about them in medical journals.
"These cases may just be the tip of the iceberg," Eissenberg said. "There could be many unreported cases that have passed below the clinical radar simply because the person treated themselves by abstaining from e-cigarettes and never went to the hospital."
A surge in vaping
It may also be that the current surge in cases simply correlates with a recent surge in vaping overall.
Electronic cigarettes were introduced in the U.S. in 2006, according to the Consumer Advocates for Smoke Free Alternatives Association, an advocacy group that works to protect access to e-cigarettes.
Within a decade, millions of people were using them. A study conducted in 2016 and published last year in the Annals of Internal Health found nearly 11 million adults used e-cigarettes.
Among kids, the popularity of vaping skyrocketed.
"E-cigarette use has increased considerably in recent years, growing an astounding 900 percent among high school students from 2011 to 2015," wrote then-Surgeon General Vivek Murthy in the 2016 report.
From 2017 to 2018, the CDC reported e-cigarette use among high school students soared 78 percent.
By 2018, 3.6 million kids under age 17 were using e-cigarettes, according to the FDA.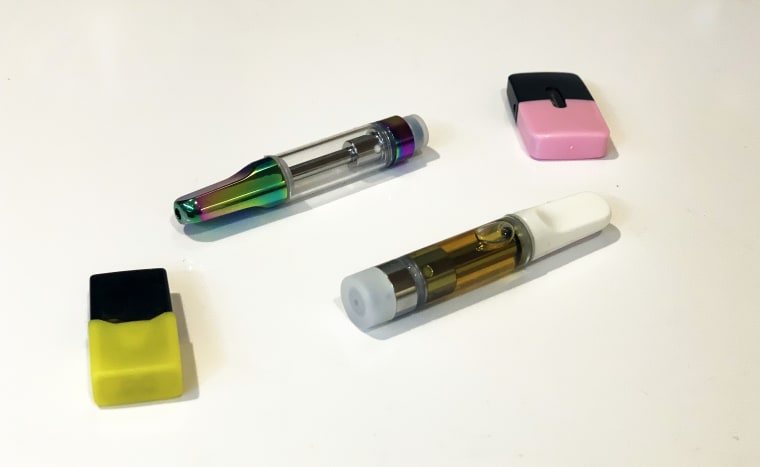 Physicians who have been treating vaping-related lung diseases both now and nearly 20 years ago are urging the public against vaping any kind of product, regardless of whether it contains nicotine, THC or some other substance.
"We want the public to know that this is a real danger," said Dr. Ann Thomas, a public health physician at the Oregon Health Authority. Health officials there are now combing through recent cases of severe respiratory distress and have linked one death that occurred in July with a history of vaping.
Vethanayagam called for more government oversight of electronic cigarettes both in Canada and the U.S.
"It's the tobacco story 50 years later," she said. "I do believe this is just the start of a broader array of syndromes that will present."
Doctors say anyone vaping who develops respiratory distress, including coughing, difficulty breathing and chest pain, should consult a clinician.
Follow NBC HEALTH on Twitter & Facebook.