A white Ohio mom is suing a sperm bank for sending her vials from a black donor, saying her biracial 2-year-old daughter will be stigmatized by her family and the "intolerant" town where they live and has to travel to get her hair done.
Jennifer Cramblett thought she was being inseminated with a white man's sperm in 2011 and only discovered after she was pregnant that the Midwest Sperm Bank sent the wrong batch, according to the lawsuit filed in Cook County Circuit Court.
The child, Payton, is now 2 years old and already experiencing prejudice in Uniontown, where 98 percent of the residents are white, court papers say.
"I am happy that I have a healthy child," Cramblett told NBC News. "But I'm not going to let them get away with not being held accountable."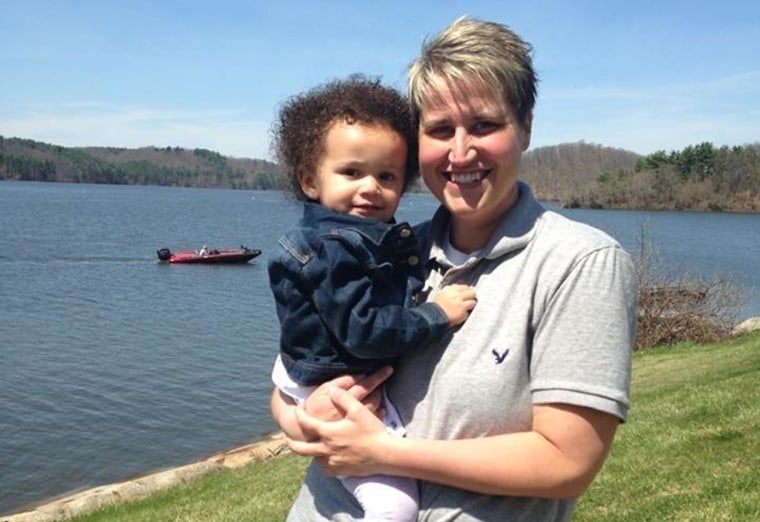 Cramlett's lawyer, Thomas Intili, told NBC News his client "lives in an all-white community in eastern Ohio. She did not encounter any African-American people until she entered college. Not all her friends and family members are racially sensitive."
As an example of the difficulties the family faces, the suit cited hair care for the toddler.
"Getting a young daughter's hair cut is not particularly stressful for most mothers, but to Jennifer it is not a routine matter, because Payton has hair typical of an African American girl," the suit says. "To get a decent cut, Jennifer must travel to a black neighborhood, far from where she lives, where she is obviously different in appearance, and not overtly welcome."
"I don't want her to ever feel like she's an outcast," Cramblett told NBC News.
Midwest Sperm Bank — which touts "the highest standards of quality control" on its website — declined to comment.
The suit says that when Midwest took her phone order for vials for Donor No. 380, someone in the office misread the handwritten number as 330 and sent that donor's sperm to the fertility clinic.
"They've made the one mistake a sperm bank can't make. It's not like she was ordering pizza."
After she got pregnant, Cramblett called to order eight more vials that her partner, Amanda, would use to try to get pregnant with a sibling for Payton.
It was during that conversation that she learned the bank had previously sent No. 330 to her doctor, who then confirmed that donor had been used.
"Jennifer was crying, confused and upset. All of the thought, care and planning that she and Amanda had undertaken to control their baby's parentage had been rendered meaningless. In an instant, Jennifer's excitement and anticipation of her pregnancy was replaced with anger, disappointment and fear," the court papers say.
Intili said the sperm bank quickly cut off contact with Cramblett and sent her only an apology and a refund check for six vials.
"I was floored," Cramblett said Wednesday. "I couldn't believe somebody just had the lack of compassion that they had."
Cramblett said she wants to move somewhere with more cultural diversity and good schools. Her suit does not specify damages, but Intili said she needs enough money to leave Uniontown.
"Many people could have already had this happen to them," she told NBC News. "It's disheartening, and I would never want somebody else to be scared to go through this process."
Intili said: "They've made the one mistake a sperm bank can't make. It's not like she was ordering pizza."
M. Alex Johnson and Becky Bratu of NBC News contributed to this report.