New technologies could help resolve some of the controversy around breast-cancer screening — potentially improving the accuracy of scans that detect the cancer.
At the heart of confusion over when women should be screened is the question of whether mammography could be doing more harm than good because of the many false positives that send women for biopsies of lesions that often turn out to be harmless.
But researchers now say a new screening method, which employs 3-D mammography, resulted in 15 percent fewer call-backs for additional imaging while at the same time spotting more tiny, aggressive and potentially fatal tumors, according to a study published Tuesday in the Journal of the American Medical Association.
Sign up for top Health news direct to your inbox.
And in potentially better news for women, other research published Tuesday suggests that doctors might one day be able to differentiate between benign and malignant lesions — and maybe even between aggressive and slowly developing growths — without the need for a biopsy. That research was published in the journal Clinical Cancer Research.
The JAMA study scrutinized data from 13 medical centers that had switched to 3-D imaging, or tomosynthesis. Mammograms are fairly ordinary X-rays. Tomosynthesis is similar to a CT scan.
The researchers compared results from the years when the centers were using mammography alone to those from more recent years when doctors were using mammograms along with tomosynthesis.
Along with a 15 percent reduction in recall rates with tomosynthesis, the researchers also found a 41 percent increase in the detection of potentially lethal cancers.
"You can think of regular mammography as showing a closed book. With 3-D you are able to page through the book one page at a time without other information superimposed."
The 3-D view also allows researchers to spot tiny lesions they might have missed otherwise — lesions like one tomosynthesis found in Edna Podell.
The 46-year-old from Plano, Texas, went into her breast exam expecting to get a clean bill of health. She felt good and hadn't felt anything was amiss on self exams.
But in her case a regular mammogram found a tiny spot that turned out to be an invasive cancer.
"It was tiny, tiny, tiny," Podell said. "So tiny that my surgeon as well as the radiation oncologist couldn't get over the fact that it had been caught. They didn't want to panic me, but they were very clear that it needed to be taken care of right away."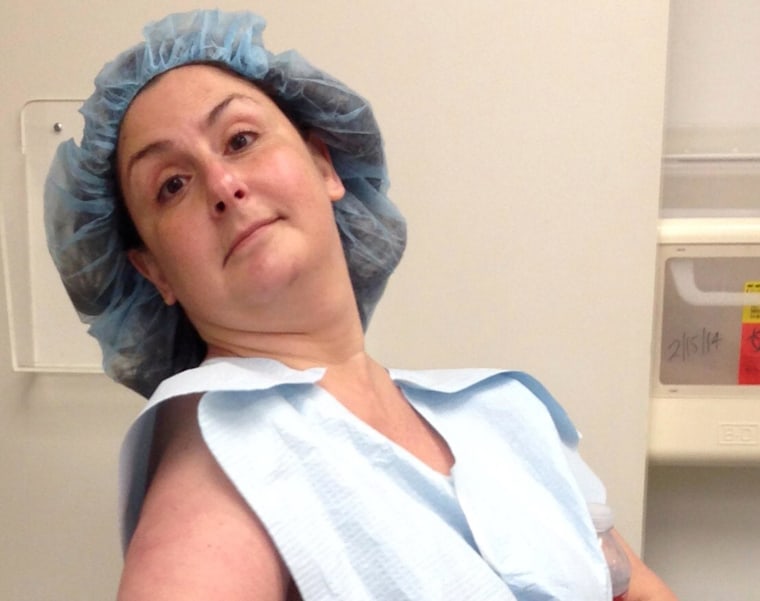 Because it was spotted so early, Podell's treatment consisted of removal and then a week of targeted radiation therapy.
"Had it been bigger or had I waited even three months, I probably would have ended up with traditional radiation that takes longer and comes with more side-effects," Podell said.
The reason for the improvements is in the ability to see the breast in 1-millimeter slices, said the study's lead author, Dr. Sarah Friedewald, co-medical director of the Caldwell Breast Center and section chief of breast imaging at the Advocate Lutheran General Hospital in Park Ridge, Illinois.
"It allows us to peel away the layers and see underlying lesions that might be obscured by other tissue. You can think of regular mammography as showing a closed book. With 3-D you are able to page through the book one page at a time without other information superimposed."
Bright spots on a mammogram that look like potential tumors could turn out to be overlapping tissues or a blood vessel folding over on itself, Friedewald said. "On 3-D you can just see that it's turned over on itself," she said.
While 3-D imaging can lower the rates of callbacks and detect more invasive cancers, it does little to reduce the rate of biopsies.
But that may change if researchers manage to refine a technique, based on combining multiple screening technologies, that seems to be able to distinguish between cancerous and benign tumors.
The new imaging technique, called multiparametric 18FDG PET-MRI, showed a 96 percent accuracy in distinguishing malignant breast tumors from benign ones, according to a report published in Clinical Cancer Research. The European researchers estimated that it could cut the biopsy rate by 50 percent.
By adding other types of imaging, such as PET, doctors can see tumors on the cellular level, said Dr. Katja Pinker, lead author of the new study and an associate professor of radiology at the Medical University of Vienna.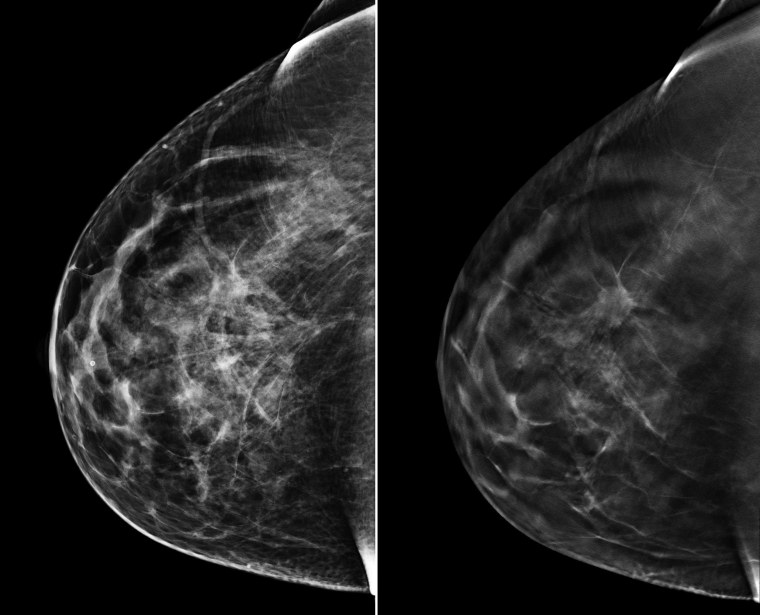 Cancerous lesions tend to pack cells in more densely than benign growths, Pinker explained. They also tend to use up glucose more quickly. PET scans spot this action, while the MRI gets a more accurate picture of the structure than an x-ray can.
"With normal imaging you just see structure," Pinker said. "This goes beyond that to the functional level where you can see how much sugar the tumor is consuming and how fast it's proliferating. In a benign growth, cells are more loosely grouped together. In a fast-growing tumor, it's like the subway at rush hour with people squeezed into each [car]."
Pinker suspects that the technique will also be able to distinguish between slow growing and aggressive tumors.
The new studies are a big leap ahead, said Dr. Margarita Zuley, an associate professor of radiology at the University of Pittsburgh and medical director of breast imaging at the Magee Women's Hospital of the University of Pittsburgh Medical center.
"The significance of the tomosynthesis study is that it fundamentally changes the discussion about mammography," Zuley said. "The controversy started roaring over the last two years. But now the risk-benefit ratio has shifted. I think this is a real game-changer in the discussion."
The second study is highlighting an area that specialists are "really, really interested in for the future," Zuley said. "It's not here yet. But it's a window into where we're going with this."