A seemingly well-meaning warning from the federal government about the risks of drinking and pregnancy has set off a firestorm of outrage.
The Centers for Disease Control and Prevention simply meant to caution women who may plan to get pregnant, or who might accidentally get pregnant, about drinking alcohol. What many women heard was a patronizing and condescending lecture that suggested they were not in charge of their own bodies.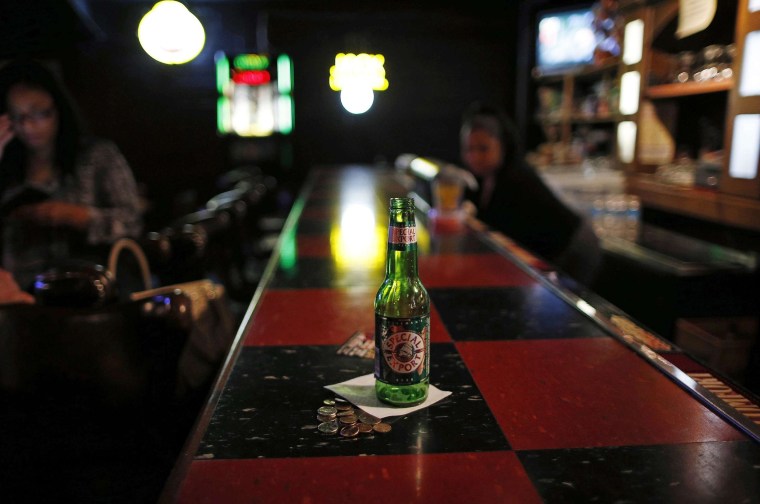 What CDC said seemed dry enough: "About half of all U.S. pregnancies are unplanned and, even if planned, most women do not know they are pregnant until they are 4-6 weeks into the pregnancy. This means a woman might be drinking and exposing her developing baby to alcohol without knowing it," the agency said in a "Vital Signs" report released Tuesday.
But another line, which evokes some wild partying, appears to have gone over the line for a number of women: "More than 3 million US women are at risk of exposing their developing baby to alcohol because they are drinking, having sex, and not using birth control to prevent pregnancy."
This was too much for Washington Post commentator Alexandra Petri.
In an opinion piece headlined "The CDC's incredibly condescending warning to young women," Petri writes: "No alcohol for you, young women! The most important fact about you is not that you are people but that you might potentially contain people one day."
Petri takes offense at the CDC's warning that alcohol lower inhibitions — so people may be more likely to engage in unprotected sex. "Also, your drinking is a type of witchery that can whip babies into existence out of nowhere," she writes.
The CDC's Dr. Anne Schuchat, a veteran of news briefings and media coverage, made it clear that the agency was not talking about women alone.
"We recommend that everybody, all adults, be screened for alcohol and counseled about reducing their alcohol consumption if they have problems with it," Schuchat said in a call with reporters Tuesday.
"We urge women and their partners and their friends to be supportive of that idea ... 'I'm not going to drink for a while, because I'm thinking about getting pregnant.'"
The recommendation is based on plenty of science. Studies show there's no known safe level of alcohol use during pregnancy and one in 10 pregnant women in the U.S. admit to drinking alcohol at least every now and then. Fetal alcohol syndrome is a serious and permanently disabling condition and can include microcephaly — the very condition that prompted the World Health Organization to declare Zika's spread a global health emergency.
The CDC has no regulatory powers. All it can do is issue advice. But that advice hit a sore spot.
"Whether a woman should drink (small) amounts of alcohol during pregnancy is a fraught and much-discussed topic, but this report is stretching the responsibility of preventing fetal alcohol syndrome onto women who are not yet pregnant," the Atlantic says in a piece headlined "Protect Your Womb From the Devil Drink".
"CDC Says Women Shouldn't Drink Unless They're on Birth Control. Is It Drunk?!?" wonders Slate's admittedly edgy Double X columnist. (Double X refers to women's two X chromosomes).
"It's the kind of swath-yourself-in-bubble-wrap thinking that has turned modern pregnancy into a nine-month slog of joyless paranoia," Ruth Graham writes.
The ThinkProgress blog says the CDC is buying into thinking that also blames women for dressing provocatively and wearing too much makeup. "The CDC Has Some Insulting Advice For Women Who Drink", it says.
"The assumption that women should avoid drinking so they don't become the subject of unwanted sexual attention — which can lead to an unintended pregnancy or an STD — is one of the many victim-blaming pieces of advice that women regularly hear about how they should avoid being raped," it says.
The Daily Caller sticks up for the CDC.
Its piece is headlined "Women Freak Out When CDC Recommends Not Poisoning Their Babies"