Meghan Tyrell thought she was just having a heavy period. But by the time she got to the hospital, she was having a miscarriage and fighting for her life.
"I didn't even know I was pregnant," said Tyrell, 26 and a third-grade teacher from Long Island. "I was hemorrhaging."
Miscarriage, the loss of a pregnancy before 20 weeks, is a common event, occurring in an estimated 15 percent of all pregnancies, according to the American College of Obstetricians and Gynecologists.
But it also can be deadly, according to medical experts, and the grief is two-fold, worrying about the loss of an unborn child and the mother. And for those who survive a dangerous miscarriage, there can be untold complications afterward, including infertility.
"I was close to sepsis and if I hadn't gone to the hospital, I would have bled to death," Tyrell told NBC News.
Tyrell had polycystic ovary syndrome, a common endocrine system disorder among women of reproductive age. When a cyst burst, doctors had trouble controlling the bleeding. She had two blood transfusions and four blood vessels in the uterus cauterized.
In Tyrell's case, the 2010 miscarriage resulted in infertility. Doctors said she has less than 1 percent chance of getting pregnant again — even with in vitro fertilization.
"Losing a pregnancy, whether you are going through infertility or not, is devastating," said Barbara Collura, president and CEO of RESOLVE, The National Infertility Association.
"And if that miscarriage has complications, you are now faced with the fear of getting pregnant again," she told NBC News. "It's a terrible place to be and the emotional toll can result in women experiencing depression."
Life-threatening conditions associated with miscarriage are not rare, according to Dr Katharine Wenstrom, professor of obstetrics and gynecology at Brown University and a maternal-fetal specialist at its Women and Infants Hospital.
"Infection was very common before Roe v Wade when women had illegal abortions, but it still happens today when a woman doesn't realize the pregnancy is over. Infection can become system-wide and affect all the tissues," she told NBC News.
Serious problems can also arise anytime a pregnancy occurs outside the uterus.
"Most typically, in an ectopic pregnancy (when the egg is fertilized in the fallopian tubes), the fetus can't can't grow before bursting," she said. Tubal scarring caused by a sexually transmitted disease like chlamydia, which often has no symptoms, can also increase the likelihood of an ectopic pregnancy.
"It's pretty common," said Wenstrom. "We have several women every day come into the ER."
Rarely, embryos can also attach to other blood-rich organs, like the abdomen. In a recent case in India, an elderly woman reportedly had a miscarriage because of an ectopic pregnancy at age 24, but 36 years later, doctors found a calcified skeleton after she complained of pain.
"I actually had a case like that," said Wenstrom. "The baby was growing under the liver."
Recently, several celebrities have reported life-threatening miscarriages. Actress Gwyneth Paltrow revealed to the British press that she "nearly died" during a miscarriage in 2013, which helped make the decision not to have a third child.
And in February, 28-year-old reality show "Bachelor" winner Shayne Lamas said she nearly died after a pregnancy complication that caused a miscarriage. She is now expecting a child through a surrogate.
Carrie Burdy, an office manager from Pittsburgh, was nearly three months pregnant in 2011 when she began cramping and an ultrasound showed no fetal heartbeat. Her doctors performed a D&C (dilation and curettage) to remove the fetus, but she said their manner was callous and uncaring.
"It was medically uneventful, although emotionally devastating," Burdy, 36, told NBC News. "That pregnancy was the result of our third IVF."
But five days later, she began hemorrhaging and had a repeat emergency D&C so aggressive that she said she has been unable to get pregnant since. Ultimately doctors determined the fetus had a genetic abnormality, Trisomy 18, and would not have survived.
While she says the doctors could have done nothing to save her pregnancy, "they could have offered me compassion and good comprehensive medical care, but they didn't. They really failed me."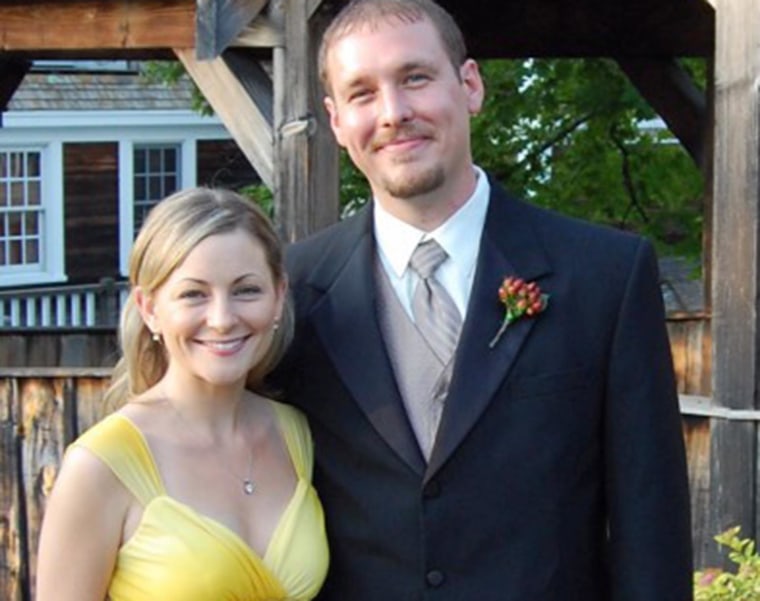 After 10 cycles of assisted reproductive technology, the "finality" of not ever being able to have a child again hit Burdy hard.
"Miscarriage is inherently private, and so we never talk about, and so the stigma persists," she said.
"There are many old anecdotes that people trot out when you've had a miscarriage: 'It wasn't meant to be,' 'Your baby is an angel now,'" said Burdy. "I knew the loss of that pregnancy meant the end of my husband and my dream to ever have a biological child. It was a lot of sadness to overcome, and there are days when I still struggle mightily."
As for Tyrell, she said she faced similar disbelief at the reaction to the trauma she suffered. "No one ever thinks it's life-threatening," she said.
"It's surreal," she said. "The year after, I lost my father, so it was kind of like a one-two punch."
"People always say you can try again," Tyrell said. "But I don't want to go through pain like that and losing a child again."