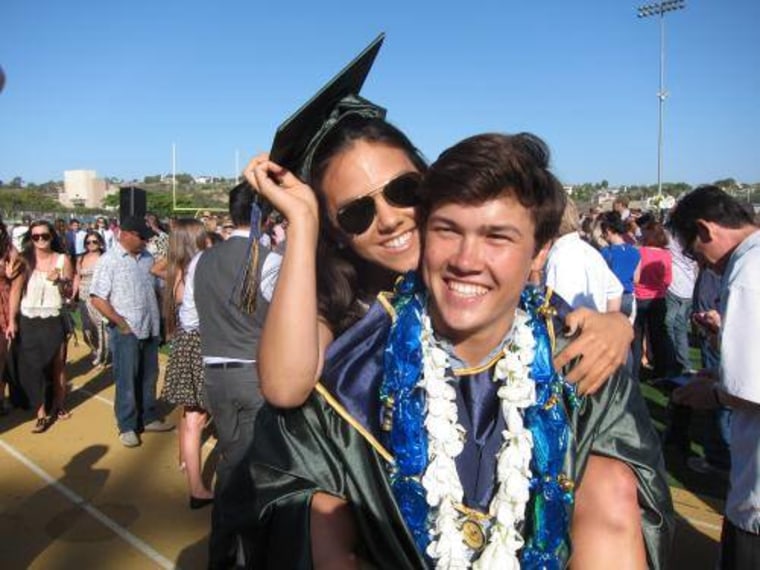 Anxious parents of University of California, Santa Barbara, students are demanding their kids get access to an emergency meningitis vaccine being offered this week at Princeton University.
As of Tuesday, some 3,355 Princeton students had received a vaccine imported from Europe to protect against the B strain of meningitis that has sickened eight in an unusual outbreak since March. 
There's a similar outbreak of a slightly different B strain at UCSB — but federal officials say students there are not yet being offered the shots. 
"I have to wonder what in the world they are waiting for in getting this vaccine available to the student body," said Nancy Gorman, 47, a Murphys, Calif., teacher's aide whose son Sean is a UCSB freshman. "I really don't care to be playing Russian roulette with my child's well-being."
Gorman is among growing numbers of UCSB parents who have flooded school and public health officials with emails and calls urging them to offer the vaccine to halt the outbreak that has sickened four local students — including an 18-year-old, Aaron Loy, whose feet had to be amputated after complications.
"We have had a number of parents contact us for information," said Susan Klein-Rothschild, deputy director for the Santa Barbara Public Health Department. "Some are asking about the vaccine. Some are asking about signs and symptoms and risk."
Parents say their outrage is rising even as Princeton enters its third day of vaccinations aimed to protect an estimated 6,000 students and others against the B strain of meningitis. Meningitis vaccines licensed in the U.S. protect against four strains of meningitis — but not B.
"The government's response at USCB versus their response to the Princeton outbreak is baffling," said Dr. Cristina Lete, 46, a Massachusetts obstetrician whose 18-year-old son, Jacob, is a UCSB freshman. "That's just not acceptable when this vaccine, though it's not licensed in the U.S., is a proven vaccine."
The Centers for Disease Control and Prevention rushed to get access for Princeton students to the vaccine approved in Europe, Australia and, just recently, Canada — but not in the U.S. The UCSB parents are demanding to know why the same process isn't being implemented at the campus nearly 3,000 miles away.  
"That's irresponsible," said Gorman. "The risk is small, but risk is risk. Do the right thing."
Dr. Thomas Clark, a CDC meningitis expert, says he understands the parents' alarm over a rare but serious infection that kills one in 10 young people who contract it — and leaves 20 percent of those who survive with permanent disabilities.
But he said each outbreak is unique and the UCSB situation doesn't yet warrant the public health response of using an unapproved vaccine — or using it unwisely.
"Part of it is, you want to use the vaccine in the most judicious way you can to prevent cases," he said.
Bacterial meningitis is a dangerous infection of the protective membranes that cover the brain and spinal cord. It is carried on respiratory droplets or secretions spread through close contact such as coughing or kissing. Teens and young adults ages 16 to 23 are most vulnerable to infection, Clark said. 
Meningitis cases have dropped sharply in the U.S. in recent years, with only about 500 reported last year, CDC officials said.
Those facts are similar, but there are several differences in the situations on the two campuses, Clark said. Princeton has had eight cases since March in a relatively small student body of about 6,000. UCSB had four cases in less than a month in a student body of nearly 22,000. The Princeton cases continued even after summer break, when transmission should have been halted.
In addition, Princeton was willing to foot the bill for the vaccine and the school had a process for delivering the doses in place because officials offer a flu shot clinic every year.
"It's still best viewed as a process," Clark said. "It has to be everybody on board: the university, public health officials, state public health officials."
The bacteria behind the outbreaks at the two schools are both B strains, but with different genetic fingerprints. There's no doubt that the vaccine, Bexsero, made by Novartis, will protect against them both, Clark said.
He can't say what the trigger for offering vaccines at UCSB might be, but he said that officials are poised to act within weeks, if necessary. Of 13 recent outbreaks of B strain meningitis, 11 have stopped after four or fewer cases, he added.
"I feel confident that we're at the right place at this given moment," he said. "I think it's unknown whether it will be needed, but everything is set up should it be needed."
That's little comfort to Nancy Gorman, who has been asking her son to text his temperature to her every day.
"I feel powerless," she said. "At least he's finishing finals this week and then he comes home."
JoNel Aleccia is a senior health reporter at NBC News. Follow her on Twitter at @JoNel_Aleccia or send her an email.