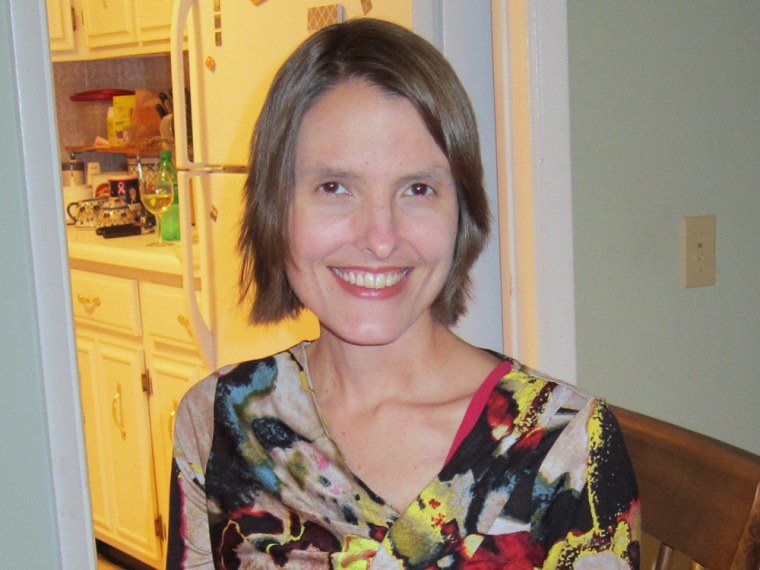 More young women are being diagnosed with advanced breast cancer, doctors reported on Tuesday. It is a very small increase in a group of people who only rarely develop cancer, but it's significant enough to have experts asking why.
The biggest increase was seen in women aged 25 to 34. It's bad news because when women are diagnosed this young, usually the cancer is more aggressive, there's no good way to screen for it and because there is no cure, even if the women can control it they face decades of life as breast cancer patients.
Stephanie Carson is one of them. Diagnosed at age 29, she's now 38 and on disability from her job as a software engineer. Breast cancer robbed her and her husband of all hope of having a family.
"At the time it was definitely a shock. The cancer tumor was literally growing before my eyes," Carson told NBC News. "Every day it was getting bigger, so it was very aggressive." She had a double mastectomy, but the cancer had already spread to both her lungs.
This is what doctors believe is typical of breast cancer in younger women: It grows faster, spreads more quickly, and is harder to treat. While the five-year survival rate for breast cancer that has not spread is 93 percent, for women 39 and under whose cancer has spread, it's only 31 percent.
Dr. Rebecca Johnson of Seattle Children's Hospital and University of Washington in Seattle was working with a cancer nonprofit, Critical Mass: The Young Adult Cancer Alliance and wanted to see if there were any differences in rates of cancer for young adults.
Johnson, a pediatric oncologist and breast cancer survivor herself, looked at National Cancer Institute data from 1973 to 2009. She and colleagues broke it down by age, ethinic group, diagnosis and other factors.
They found a steady increase starting in 1976 of breast cancer that had spread out of the breast among 25- to 39-year-old women. The rate went from 1.53 per 100,000 women in 1976 to 2.9 per 100,000 women in 2009, Johnson and colleagues wrote in their report in the Journal of the American Medical Association. That represents an average increase of just 2.07 percent per year, a relatively small rise, but it shows no signs of abating, the authors noted.
"This change translates into a tripling of the incidence of metastatic breast cancer over the 34-year period," Johnson told NBC News. "In 1975, our projections show there were about 250 cases per year of metastatic breast cancer in young adult women. In 2009, it was about 800."
The study looks only at data, and Johnson isn't sure of why the cases might be increasing. It's not more or better screening --women this young are not routinely screened for breast cancer. She also doesn't believe doctors are finding more cases because they are trying harder to see if the cancer has spread in these young women.
"If that was the case, then it would be like a pie, with a larger piece of the pie being distal disease," Johnson said. "But there's been no decrease in any other stage of breast cancer.'
Obesity is a risk factor for breast cancer in middle-aged women and that's worth more study, Johnson says. But she notes that obesity actually lowers the risk of breast cancer among the youngest women. Some studies have suggested a combination of obesity, a lack of exercise and overeating may raise the risk and that's worth looking at, she says.
It is possible chemicals could somehow be a cause. There are also theories that viruses may be involved -- a virus causes cervical cancer and head and neck cancer, for instance.
Dr. Sandra Swain, a breast cancer specialist at Washington Hospital Center in Washington D.C. and president of the American Society of Clinical Oncology, says women are putting off pregnancy longer and that could have an effect.  "Having kids younger decreases the risk of breast cancer by half," she says.
Swain also believes higher rates of obesity may be a factor. She stresses that the results should be confirmed in larger studies, and says even if they are confirmed, the findings are not a cause for panic.
"There's actually a decrease in mortality, especially in younger women, probably because our treatments are better," Swain says.
Carson's a living example of this. She's had surgery, radiotherapy, several types of chemotherapy and treatment with new "smart bomb" drugs. She's about to start a new round of treatment with a drug the Food and Drug Administration approved just last week – Kadcyla -- which combines a strong chemotherapy drug with Herceptin, a genetically engineered immune system protein that homes in on tumor cells.
"Hopefully it will knock things out again," Carson says cheerfully. She's covered by her husband's health insurance -- he's a software engineer, too.
All the therapy has taken a toll.
"The side-effect that hurt me the most recently -- I was in a clinical trial in Seattle three years ago, an immune therapy trial, and it gave me headaches," Carson says. "I have had a headache every day since since then. I have had a headache for three years. That is one reason I had to stop working."
Carson uses some alternative approaches to cope, like qigong, a meditative version of a Chinese martial art. And she works with other young women with breast cancer through the Young Survival Coalition.
"I can help them deal with some of the feelings of isolation," Carson says. "It is strange to be this age and on disability. You feel kind of retired, but your peers are all raising families and working full time," she adds. "I can relate to the feeling of not being able to have children."
Young cancer patients also have higher rates of other cancers, such as leukemia, that are caused by the chemotherapy and radiation. They also risk heart disease, for the same reasons.
Breast cancer is the biggest cancer killer of U.S. women, after lung cancer. It will be diagnosed in about 235,000 U.S. men and women this year and will kill 40,000, according to the American Cancer Society.
The risk goes up with age. About one in eight cases of invasive breast cancer are found in women under 45. Less than 1 percent -- 0.43 percent -- of women aged 30 will develop breast cancer within the next 10 years, and only 4 percent will get it by age 70. About 35 out of every 1,000 women now aged 60 will develop breast cancer over the next 10 years, according to the Centers for Disease Control and Prevention.
Johnson, the researcher, is now 44. She was one of the luckier young survivors of breast cancer. She was diagnosed at 27 and her tumor had not spread beyond the breast. She found a lump by chance and waited several months before she had it checked. "I was super-busy," she said. So her advice to young women? "If there's a general take-home message it would just be for awareness. If you find a breast lump, you need to know that breast cancer can happen," she said.
Related: