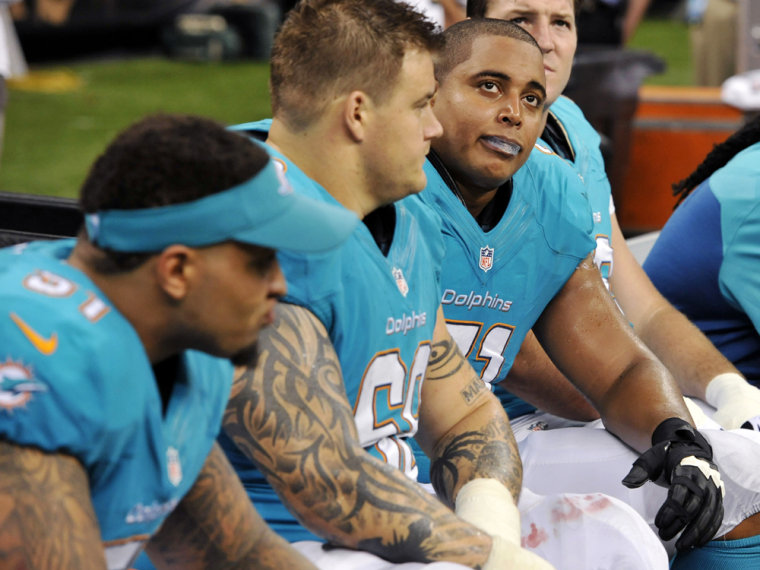 At 6 feet, 5 inches and 312 pounds, Miami Dolphins lineman Jonathan Martin knows how to take a hit. And that's exactly why emerging allegations of schoolyard-style bullying against the brawny football player show there's no such thing as a stereotypical victim, psychologists say.
Martin, 24, abruptly left his team last week to seek help for emotional issues after a reported incident that proves high school really never does end: In the team cafeteria, his fellow Dolphins refused to sit with him, according to FOX Sports. Martin reportedly "flipped out," threw his tray to the ground and left. He didn't play in Thursday night's game against the Cincinnati Bengals, and he's now on an extended leave of absence from the team.
The cafeteria prank appears to have been a sort of final straw for Martin: Reports are now circling about a series of allegedly threatening and racially charged text messages and voicemails, and Martin's fellow offensive lineman Richie Incognito, 30, has been suspended for what the Dolphins called "conduct detrimental to the team." Incognito also may have pushed Martin into paying $15,000 for a trip to Las Vegas, then didn't invite Martin along, the Miami Herald reported on Monday.
When you think of bullying, "you usually think of one bigger than the other, taking advantage," as Matt Lauer phrased it while discussing the case Monday morning on TODAY. But there really is no "typical" victim of bullying, experts say.
"When we look at the definition of bullying, the stereotype we've thought of for years is that person who's much bigger than the other person, picking on the smaller person," says Julie Hertzog, director of the National Bullying Prevention Center.
That's why it's important, Hertzog says, to remember the definition of bullying: It's an imbalance of power, achieved through either physical or emotional abuse. 
"We think about the physically larger person, but it could be a person who has a higher social status," Hertzog says. 
While it is not yet clear what happened between the Miami players, it's worth noting that Martin was relatively new to the team — it was his second year with the Dolphins, and with the NFL, after being selected in the second round of the 2012 NFL Draft.
Hazing isn't exactly unheard of in professional sports. But most of the incidents we hear about are a little more light-hearted — like the Tennessee Titans making their rookies dizzily race each other after spinning around baseball bats.
It would be easy to dismiss Martin's story as standard locker room behavior but, as Hertzog points out, until recently, bullying in schools was dismissed as being just "part of growing up." Now, experts say that kids who were bullied in childhood feel the effects long into adulthood: They're more likely to suffer serious illnesses, and they tend to have a harder time holding down a job or maintaining relationships, a study published earlier this year in the journal Psychological Science found. 
In the workplace, bullying can turn any person's dream job into a living nightmare — and there's some evidence that employees who say they are bullied tend to take more sick days due to the increased stress.
"As far as this happening in a sports environment, it doesn't surprise me," says Rick Van Haveren, an Atlanta sport psychologist who has worked with pro-football players, including members of the Dallas Cowboys. "It surprises me a little bit that it was to the point where he stepped away from the team."
It's not clear whether Martin walked away from the Dolphins because the alleged bullying was especially egregious, or if it was because, as a culture, people are now more aware of the seriousness of bullying. Martin may have simply realized that this was aggression that he didn't have to endure silently, Van Haveren says.
"I think in the past, people in general, but especially athletes, would think you had to take it and if you didn't, it would mean you were weak, and not a man. And I think things are a little different now," Van Haveren says. "You can now say, I'm not going to take this."
And the model of a pro-football player refusing to put up with bullying may certainly give some hope to kids in school who may be afraid to speak up, because their experiences don't fit the stereotypical bullying story, either.
"You're going to have kids who are not afraid to talk to their parents or their teacher," says John F. Murray, a clinical and sport psychologist in Palm Beach, Fla. "Because Jon Martin did it — look at that guy, he's big, he's strong — if it can happen to him, it can happen to me."
Reuters contributed to this report.