The Obama administration may be in hot water over its jammed-up health insurance websites, but the federal government did plan for some trouble, paying for thousands of specially trained guides called navigators to help people negotiate the treacherous waters of health insurance.
But, three weeks into the most important phase of health reform, these experts aren't faring much better than average civilians in getting the sites to work. And it's not just the federal website -- some state-run sites are struggling just as badly.
"Can we just see if it works?" Amine Ashkar pleads as he tries to sign up for health insurance at the Community Clinic, Inc. in Wheaton Md. on Wednesday afternoon. "We can try," answers Martha Lopez, a former insurance agent who's helping people enroll.
The screen gets stuck as she tries to set up an account for Ashkar, a 32-year-old bus driver who's looking for a better deal on his insurance.
Lopez and her team of fellow navigators employed through the nonprofit clinic have been unable to complete a single enrollment online.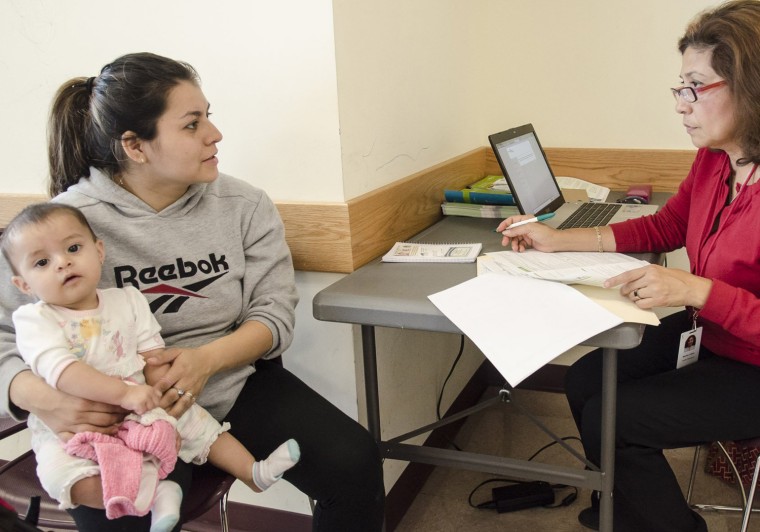 "Why don't we try next week?" Lopez asks Ashkar. It's not the first time Lopez has sent a client away. The day before she thought she got one couple signed up before the website fizzled. "I told them to call back in 10 to 12 days."
The main goal of the 2010 Patient Protection and Affordable Care Act was to help get health insurance to the estimated 47 million Americans who don't have it, either by extending Medicaid or by giving them access to commercial, private insurance sold through health insurance marketplaces called exchanges.

Customers must sign up by Dec. 15 in order to get care that begins Jan. 1. But people have until March 31 to enroll for insurance that starts in 2014.
Still, consumers trying to enroll on their own online have been complaining loudly about how difficult it is. But even the pros are having trouble.
"The IT system is so messed up at the moment," says Wendy Korrick, who leads the team of in-person navigators working through the clinic's network.
The federal government promised easy, Expedia-style websites where people were supposed to be able to sign up in a single online session, pick a plan, find a premium, figure out if they could get a subsidy. That's what Ashkar is hoping for. He has health insurance through the state, but he estimates he pays $250 a month for a plan that covers himself, his wife and his two children, and he has heard he might do better with a federally subsidized plan.
But the federally run sites in 34 states have been balky at best. Website signups have been almost as bad in some of the states running their own exchanges, too. 

On Monday, President Barack Obama admitted the sites weren't working as planned and promised to fix them. In the meantime, Obama advised people to use call centers and get in-person help from navigators and non-certified workers called helpers at community clinics nationwide. But for some, that's a dead end for now.

The navigators and helpers go through 30 hours of training and take a federally administered test. They receive instruction on privacy, and must promise to stay free of conflicts of interest.

The administration awarded $67 million last August to train and pay navigators around the country. Maryland gave $24 million in grant funds to six organizations like Community Clinic, Inc., to get the word out about the exchanges, encourage and help people enroll. The state has trained about 5,000 people total, including navigators, insurance brokers and social workers, to help people sign up.
Across the Potomac River in Virginia, there are far fewer navigators. Virginia opted to let the federal government run its exchange, and much of the work has fallen to non-profit groups.
After complaints by Republicans that navigators might not have enough training, or might have access to personal information, states including Utah, Nevada and Georgia passed law calling for stricter certification and licensing.

At Healthworks, a system of community health centers in Virginia, trained navigators have been able to get a few people signed up on the federal website. But navigators there have also turned to paper, says Carol Jameson, associate CEO for the clinics. 
"We were going to wait until the website was up," Jameson says. "Then, when that wasn't happening, we decided to mail the applications in."

The team at Community Clinic, Inc., a network of low-cost medical clinics, has talked with 1,300 people so far, Korrick estimated.

But not a single one has made it through the entire enrollment process online. Maryland's website, modeled on the federal website, keeps breaking down. 
One woman got angry at the delays, says Apoorva Srivastata, who's assigned to a clinic in nearby Takoma Park, Md. "She was, like, 'I have given up hope,'" Srivastata says. "She had taken public transport to get there, and she had her kids with her. I told her not to give up and that she has time."
Srivastata will call the woman when she is sure the website will work.
Alexandra Dixon, who spends her days at a folding table with a laptop computer inside one downtown Silver Spring clinic, has calmed some impatient customers, too. "I had one gentleman who got pretty upset," she says.
Maryland's case hasn't been a total failure. The Maryland Health Benefit Exchange says that as of last week, 2,300 households used the website to sign up for health insurance. About 260,000 have visited the website; Maryland has 800,000 residents without health insurance.

But it compares poorly to, for instance, the state of Washington, which says more than 35,000 people have successfully signed up on its online exchange.
For the time being, the navigators are telling people about the health care law and their options. Srivastata says she makes her "elevator pitches" whenever the clinic's waiting room fills up with patients, most of them recent immigrants from Latin America or Ethiopia.
"I say, 'Do you know about the new health care law?' and they are all blank," she says. "I'd say 90 percent of people are at point zero."
Asking people about the Affordable Care Act usually get a shrug, says Dixon. "But if you say Obamacare, they say "yeah, oh, yeah, Obamacare," she says.
She remains hopeful. "It's better than it was last week and I fully expect for it to get better next week," Dixon says, nodding. In the meantime, she's telling people to make appointments for two weeks from now.
Critics in Congress say they believe the Obama administration knew about the problems and didn't tell anyone. On Thursday, the Republican-controlled House Energy and Commerce Committee will hold a hearing on the technical problems and has summoned executives from several of the software contractors who helped build the federal exchange.