Editor's note: This story is the latest in NBC's series "Quest for Care", exploring the shortage of health-care providers as the Affordable Care Act rolls out.
From the outside, Mary's Center doesn't look like much. The cheerful yellow paint does little to make the small shabby building stand out from the other run-down shops and homes on the transitional fringes of Washington, D.C.'s Adams-Morgan neighborhood.
And, quite frankly, it doesn't look much better on the inside. The waiting room is clean but functional, half-full but not overflowing with families waiting for care. The examination rooms are cramped. Nothing surprising for a community health clinic that primarily serves people who don't have a way to pay for the service.
The surprise comes in watching Mable Dunn examine Franchesca Varela, a 19-year-old baker and college student who's in for a run-of-the-mill prescription renewal. It's an interaction that might take 10 minutes in a private physician's office, and it demonstrates just why the Obama administration and many health experts believe these grassroots centers that sprang up to help those in the greatest need just might be models for the future of the U.S. health-care system.
Dunn spends a good 20 minutes with Varela, double-checking her health history and asking careful questions to ferret out any health issues Varela may have failed to mention.
"Your blood pressure looks good," Dunn says, studying her laptop to check the vital statistics taken by a medical assistant who examined Varela a few moments before. She checks Varela's blood sugar and cholesterol levels. Varela's taking weight-loss medication, and Dunn decides to order a blood test to make sure her thyroid function is normal. Low thyroid hormone levels can cause weight gain.
Dunn renews two prescriptions, and then suggests a Mary's Center clinic closer to Varela's home. "I am just looking out for your transportation costs," she says. She chats about Varela's employment prospects and about school.
It's far more than many doctors would do in a single visit. But then, Dunn isn't a physician. She's a physician assistant, with the special training needed to enable her to examine patients and prescribe medications. And she's working not in an office where patients must be run through at a brisk pace to pay overheads, but at a nonprofit community health center where the focus is on the total well-being of the patients.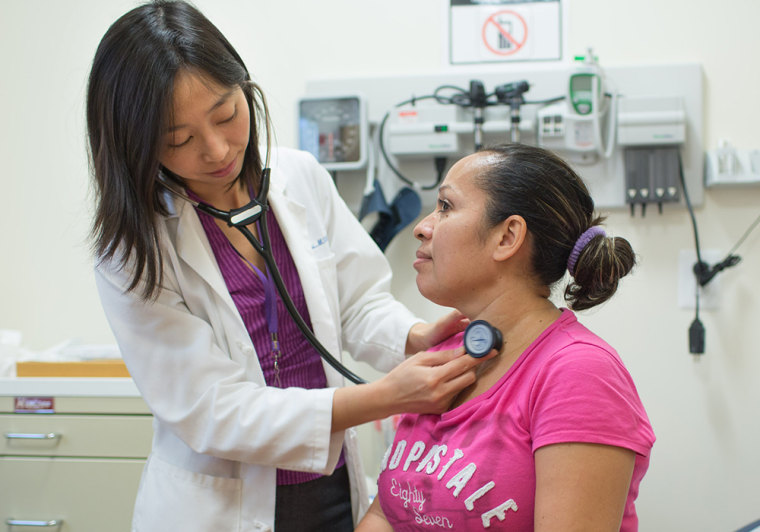 Quest for Care - Physician assistants fill gaps
"I like it. They are very attentive," says Varela. She left her primary care physician to try the clinic after a friend recommended it. "They don't do everything like they do here," she says.
Mary's Center is one of more than 1,100 federally qualified community health centers. The federal government started giving them money in 1965, when it became clear these grass-roots organizations were filling big gaps in the U.S. health-care system.
With the expansion of health insurance that's now underway due to the 2010 Affordable Care Act, these centers are gearing up to play an even bigger role. The Association of American Medical Colleges projects a shortage of 90,000 doctors over the next decade, just as millions of newly insured people start looking for them. The biggest need is for primary care physicians: the old-fashioned family doctors who do a little bit of everything and who typically make far less money than specialists.
Most clinics try to attract patients with Medicare, Medicaid and even private insurance, to bring in cash that can help pay for patients who don't have any insurance.
On the same street as Mary's Center, run-down row houses are being snapped up and spruced up by young professional families looking to live within walking distance of the city center. They are far wealthier than the mostly Hispanic clients who make up the bulk of the 30,000 patients Mary's Center treats each year, and the clinic aims to attract them as patients. "We call it get care to give care," Dunn says. Right now, just 4 percent of the clinic's clients have private health insurance, while 44 percent have Medicaid and 37 percent have no insurance at all.
Community health clinics had been ready for a windfall from the Affordable Care Act, commonly known as Obamacare. Not only did the law make it easier for people to buy health insurance, but it was supposed to expand Medicaid, the joint state-federal health insurance plan for the low-income, to cover about 16 million more people than are already covered.
Quest for Care -Nurse practitioners take on more
And millions will be covered in states like Maryland as well as the District of Columbia. "All of a sudden, all these people are going to be insured," says Maria Gomez, president and CEO of Mary's Center.
But the U.S. Supreme Court ruled in 2012 that the Medicaid expansion requirement went too far. Now, only 20 states have said for sure they'll expand Medicaid.
And because the law operated on the assumption that Medicaid would expand to cover everyone making up to 133 percent of the federal poverty level — $30,000 or so for a family of four — it leaves out the poorest of the poor in states that won't expand. The law provides generous federal subsidies for people making anything more than that, up for four times the federal poverty level or $94,000 for a family of four.
Fully a million people now being treated in community health centers who should have been able to go on Medicaid starting in January now will not, a team at George Washington University reported this week. 

"Our analysis shows that if you are poor and live in one of the 25 opt-out states, you are likely to have been left out when it comes to health reform," says Peter Shin, an associate professor of health policy who led the study. "Community health centers in the opt-out states will be faced with waiting rooms filled with uninsured patients, many with serious and costly health problems."
It's bad news for centers, which scramble to pay their bills and those of their patients with a combination of federal and state grants, donations and cash drummed up via fundraisers. It makes patients like Varela, who's covered under her mother's private Blue Cross policy, valued customers. The reimbursement the clinic gets from Varela's insurance will have to help pay for many of these left-out patients.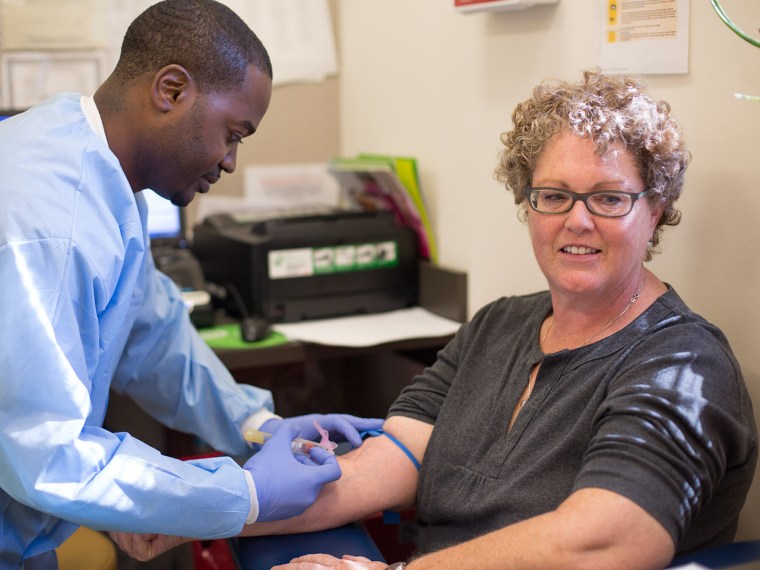 "We are ready to fill those gaps," says Randall Ellis, who handles government relations for Legacy Community Health Services in Houston. Texas is one of the states that will not be expanding Medicaid.
Despite the hardship, Legacy, like many community health centers, is flourishing. A sparkling new clinic went up in 2011 in Houston's Montrose neighborhood. It provides a convenient full continuum of care, from vaccines to vision and dental services, in a single building. With an on-site fitness center, it's so nice that Garnet Coleman, the state representative for that part of Houston, gets his health care there.
"We're getting ready to launch another campaign to build another clinic in southwest Houston and also a clinic on the east side of Houston," Ellis says.
Quest for Care - Nursing shortage double whammy
In fact, clinics like the Montrose Center look so good that large, commercial hospital systems are eyeing the model. It worries Gomez.
"We have a big corporate entity like MedStar, which runs a hospital, and they run an emergency room and now they are opening all these community health centers like ours in the same area where we are," says Gomez. MedStar is planning to build an urgent care clinic just blocks away from Mary's Center's Adams Morgan locations. Gomez fears they'll poach everyone with health insurance.
"I think competition is good," Gomez said. "But what I am afraid of is that people will be like, 'Wow this is a big institution, they have money, let me go over there instead'."