NBC News collected stories of people affected by Alzheimer's disease. Lauren Miller shares her story about the history of Alzheimer's in her family and her fight to spread awareness about the disease. Share your own stories on Twitter, Facebook or Google+ using the hashtag #AgeofAlz.
How has Alzheimer's disease had the greatest impact on your life?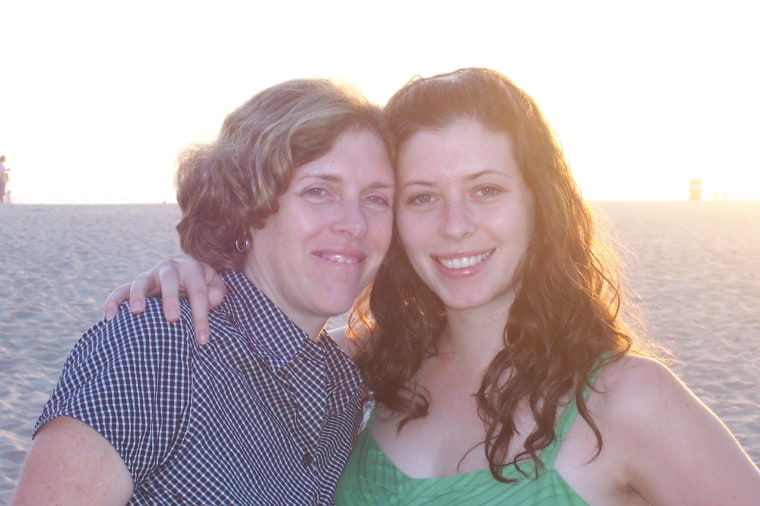 Alzheimer's has been in my life as long as I can remember. My grandfather passed away after a long battle with it when I was 12, my grandmother passed away from dementia when I was 18. But, it wasn't until my mom was diagnosed when I was 25 that I really started understand the impact a disease like Alzheimer's would have on my life. When I was very young, I was sad, and probably a little confused about what was happening to my grandfather. With my grandmother, I was old enough to notice the toll caring for her was taking on my mother, but my mother kept me as shielded as she could. But, when my mom was diagnosed, it changed everything.   
Most of my friends who are still lucky enough to have their mothers spent their 20s becoming best friends with their moms, whereas I spent mine watching my mom slowly slip away from us and herself. Growing into an adult, living my life in a way that I know would make her proud and not being able to share it with her, even though I'm sitting next to her and holding her hand, is at this point the cruelest part of this disease. Buying her clothes that fit over her diapers, instead of us going for lunch and shopping together is not something a daughter of any age wants to do. Especially when I so badly just want to talk to her about being a woman, a wife, and about one day perhaps starting a family of my own. 
What is the one thing about the disease you think people should know that they may not be aware of?  
Since bringing awareness of the fight against Alzheimer's to young people is a mission of mine, and our organization Hilarity For Charity, I've heard many misconceptions about Alzheimer's from people who luckily have not been affected by this disease. But, the one theme that often comes to my attention is the misconception of what it means to lose one's memory. So, yes, it means misplacing keys and forgetting what you ate for lunch. And yes, it means not knowing your love ones from Joe Schmoe on the street. But I think there's still a misconception about how deep it really goes. Losing your memory to Alzheimer's means forgetting everything it means to be a person. You lose your mind, your dignity, yourself when you forget how to walk, how to talk, how to brush your teeth, use the toilet, pull up your pants, and eventually, you forget how to chew and swallow food. And all this can happen while your body is perfectly, physically healthy. And it can happen younger than you thought. My mom was diagnosed at 55 years old, but she's far from the youngest. It can happen in one's 30s. And there's no treatment, and there will continue to be no treatment unless we do something about it. 
Lauren Miller is co-founder of Hilarity for Charity with husband and actor, Seth Rogen. Hilarity for Charity produces comedy fundraisers to attract young people to the Alzheimer's cause. Learn more about Lauren and Seth's work Tuesday on TODAY.