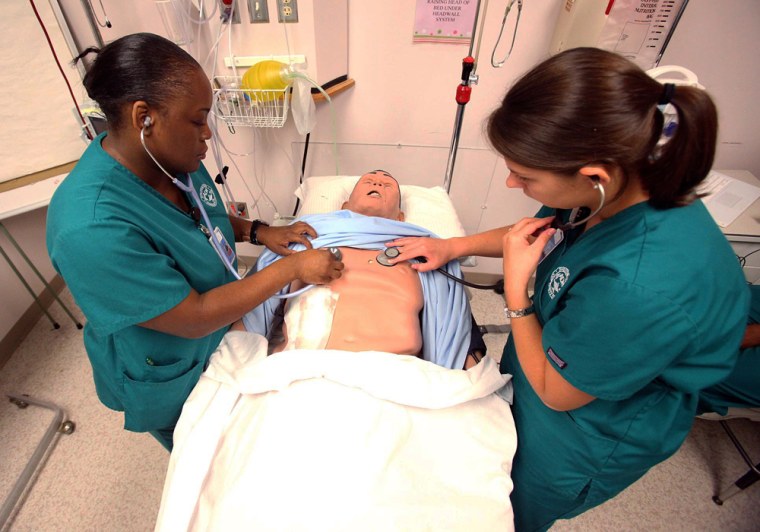 Editor's note: This is the next installment in NBC's series "Quest for Care" exploring the shortage of health care providers as the Affordable Care Act rolls out. 
Nurses may be the answer to some of the key health care and employment problems the U.S. is struggling with right now. They're being tapped to take on the lion's share of work as millions of Americans get health insurance for the first time in January, and they provide a rare bright spot in the U.S. unemployment picture as nursing graduates get snapped up even before they collect their diplomas.
But just as the country needs nurses the most, a shortage of professors is curbing the capacity of nursing schools to crank out graduates with advanced degrees.

"It's a double whammy -- we can't get enough nurses, or the faculty to train them," says Sarah Keating, a nursing professor at the University of Nevada, Reno. "It's so tough when you see these folks coming through and they do so well on the interviews and we have to turn away one in four," adds Keating.
It's too bad -- graduates with advanced nursing degrees are almost guaranteed jobs, experts say.
"We are graduating 240 undergraduates, baccalaureate-prepared nurses and around 50 to 75 with advanced practice degrees this year, and they all have jobs," says Jeannette Andrews, dean of the College of Nursing at the University of South Carolina.
Amanda Langford is one of them. She graduated two weeks ago with a doctorate, and has a new job lined up as a family nurse practitioner in Charlotte. But she'll get no break between school and starting her new position -- she's currently working as a registered nurse at Springs Memorial Hospital in Lancaster, S.C.
"I've had a job since I got my bachelor of science degree in nursing in 2008," Langford, 27, said in a telephone interview.
According to the American Association of Colleges of Nursing (AACN), U.S. nursing schools rejected 75,587 qualified applicants from baccalaureate and graduate nursing programs in 2011.
"We are probably turning away a couple hundred a year," Andrews says.
AACN says a lack of faculty is to blame in most cases, and officials point to another study showing 1,181 faculty jobs open at 662 nursing schools.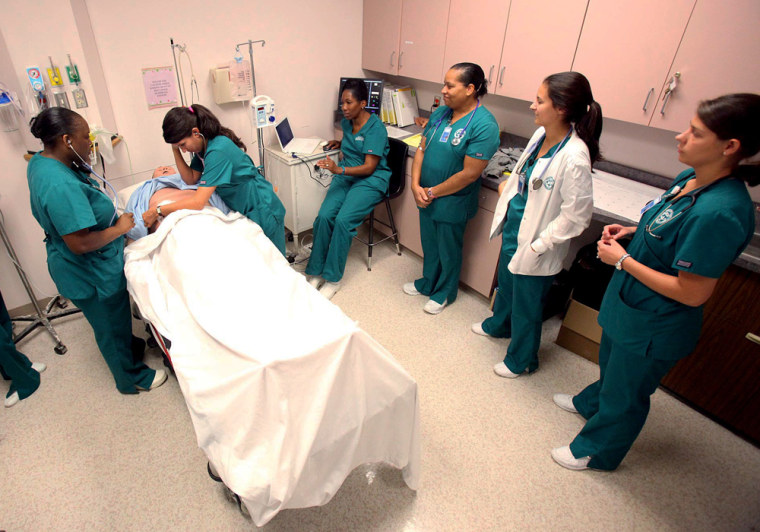 The United States has more than 3 million nurses. They already deliver much of the front line health care that Americans need, from giving vaccinations to delivering babies.
The Institute of Medicine, which advises the federal government on health matters, says nurses can do more than they already do and can help meet ballooning demands as the population ages and as more people get health insurance under the 2010 health reform law – 27 million by 2017, by latest estimate. 
"With healthcare reform, we expect 800,000 South Carolina residents to have new access to primary care," says Andrews. "We do not have enough providers. There is a family practice physician shortage, as well."

So clinical practices and hospitals are competing for the very same skilled nurses that the nursing schools need and want.
"I have five faculty positions open right now," Andrews said. "It is really hard to find qualified, doctorally prepared faculty who are willing to relocate or to move out of a higher-paying salary in the field."
Beatrice Kalisch, a distinguished professor at the University of Michigan, says her salary was cut in half when she moved from consulting back into teaching. "Money is not in academia," Kalisch said in a telephone interview.
Kalisch, who's also been a staff nurse and a manager, is leaving teaching once again, to spend a year at the Institute of Medicine. She's a living example of the demand for well-educated nurses. "There are all kinds of professions that are seeking the same prepared people,' she said.
According to the American Association of Nurse Practitioners, nurse practitioners earn an average of $91,310 a year. Compare that to $72,000 a year for someone teaching with a master's degree.
"And with states cutting budgets, staff have to take furlough days, so that cuts their pay even more. And you have to go into huge debt to get your degree, so it's like, wow, why do all that?" Kalisch says.

Most nursing schools now want their instructors and professors to have doctoral degrees -- either a Ph.D or a Doctor of Nursing Practice (DNP) degree. Andrews says the University of South Carolina's program requires a 3.4 grade point average. "Our criteria are very rigid," she says. Yet the university has students from 41 states.
The struggle doesn't always end with admission to nursing school. Langford says students can wash out halfway through. "The way South Carolina does it, you do two years of pre-nursing. Then you reapply for the upper division. You have to reapply because there are not enough faculty to teach the upper courses," she says.
"My class size in 2006 went from over 100 to, I think we had 80 when we graduated. It wasn't because they dropped out or they failed. They put you on a list and they took the top 80."
Another factor hitting faculty numbers: age. "Nationally, the average age of our nurse faculty is 57," Andrews says. When they retire, the shortage will be even more acute.
Keating wants to retire. She's 78. "I keep trying," Keating says. She moved to Florida a few months ago but is still doing contract work for the university. "Hopefully by next year I will be really, really retired,' she says.
Young graduates feel the pressure, too. Kate Chappell, 33, is working as an assistant professor in USC's school of nursing while she starts her Ph.D. "I worked as a nurse through grad school when getting nurse practitioner training," she says. She started as a nursing professor as soon as she got her master's degree.
"I am teaching nurses and I am a student myself," she says.
Chappell wanted to work as a pediatric intensive care nurse, but when she graduated with honors, the academic dean of the nursing school pressed her to stay in teaching. 
The federal Health Resources and Services Administration (HRSA) has several programs aimed at helping students stay on an academic track. Judy Honig, associate dean of student affairs at the Columbia University School of Nursing in New York, says five to six students at her school graduate every year using a HRSA loan program that pays up to $40,000 of a student's loan debt if they go into teaching for two years.
Some critics ask why anyone would get a Ph.D in nursing when, for just about the same amount of time, money and with the similarly stringent academic requirements, they could get an M.D. and either teach in a medical school or become a physician, with indisputably higher salaries. The Association of American Medical Colleges says the average physician faculty at a U.S. medical school made $262,400 in 2011.
Yet Honig says there is no shortage of very smart, very qualified students wanting to go into nursing. "Many put into their personal statements that they have chosen nursing because of nursing's philosophy," says Honig, who herself has two doctorates – one in education and one in nursing practice.
"They are not defaulting to nursing. They are choosing it because it represents the direction they want to practice in: It isn't a condition. It isn't a disease. It's a person."
As for status, Honig doesn't see a difference. "I am very fast to say a Ph.D is a doctor, a DDS (doctor of dental surgery) is a doctor, and a nurse practitioner is a doctor," she says.
"They are all doctors and they are real."