The quest for clean water has become a life-or-death ordeal in the Philippines after Typhoon Haiyan's massive storm surge and high winds devastated the country, emergency aid workers said, and quick action needs to be taken to prevent further disease and dehydration.
International health officials rushed Tuesday to help the estimated 9.6 million people affected by the record storm that struck the region Saturday, wrecking the already-fragile water system and raising the risk of water-borne diseases such as dysentery, cholera and typhoid fever.
"Me and my fellow aid workers arrived safety in Tacloban, but the way we took last night looks like an endless path of misery," said Maryann Zamora, an emergency communications worker at World Vision, an international aid agency.
Access to water is key now, five days after the typhoon, added Holly Few, a spokeswoman for the agency, which has worked in the Philippines since 1955 and has 600 staffers responding to the disaster.

"We need to get people into shelter and get them clean water and food," she said.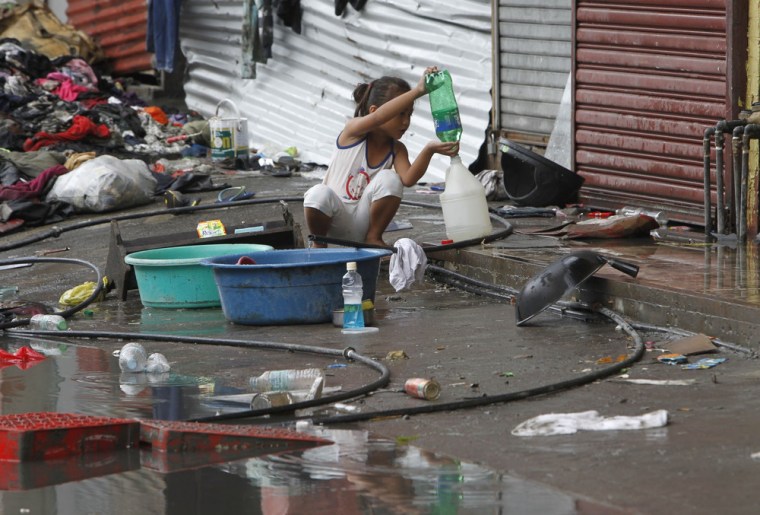 The very young and the very old are the most vulnerable and doctors say they've already have seen life-threatening cases of dehydration.

People are boiling their water and doctors are worried about dysentery in the storm-ravaged areas with no potable water supplies, Dr. Francis Visto told NBC News chief medical editor Dr. Nancy Snyderman in Tacloban. But that has not been enough to keep some of the most vulnerable citizens safe.

"We had cases of severely dehydrated children from dysentery," Visto told Snyderman. In addition to clean water, medical workers need basic supplies and electricity to do their job, the doctor said.

Some of the most obvious stop-gap solutions may only serve to make matters worse, experts said. Simply shipping in bottled water isn't a solution because it encourages looting and doesn't solve the larger problem, Tata Abella-Bolo, a project manager for OxFam International, told NBC News.
Instead, officials are working to install 20,000-gallon tanks in three central locations in Eastern Samar, Cebu and Leyte, 30 minutes outside Tacloban City. The water will be chlorinated and sent through local pipes for public use, Abella-Bolo said.
The effort came as emergency workers struggled to assess the scope of the humanitarian toll that has displaced more than 615,000 people, according to the Philippines National Disaster Risk Reduction and Management Council. The official death toll stood at 1,798 early Thursday. Officials warned the number of those lost could reach as high as 10,000, but President Benigno Aquino said the actual estimate was closer to 2,000 or 2,500.
"Just getting a handle on the exact devastation has taken four days now, which is a little unusual," said Dr. Thomas Kirsch, co-director for the Center for Refugee and Disaster Response for Johns Hopkins Medicine in Baltimore. "The emergency health care need is huge. It's an area that has a fragile health care system anyway."
But the need is for skilled, self-sufficient helpers, emphasized Kirsch and other experts. They urged people without specific disaster relief experience to stay away and leave room for those who know what they're doing.
"As of now, I would prefer experienced disaster teams that follow international humanitarian guidelines," Dr. Teodoro Herbosa, the undersecretary of the Philippines Department of Health said in an email to potential aid workers.
Emergency responders have been grappling with the devastating effects of the storm surge, which hit land in seven places, according to Philippine officials. There were drownings and also severe injuries caused by fast-moving debris tossed by the rushing water.
"It's a complex combination of both blunt and penetrating trauma," said Dr. Kristi Koenig, a disaster medicine expert at the University of California, Irvine, and a spokeswoman for the American College of Emergency Physicians.
Many of those who weren't physically hurt have been devastated by the emotional toll of losing their homes and not knowing the fate of loved ones, said Zamora.
"It's normal to see people tired and hungry here but what struck me is when I saw this one man sobbing, making use of his bag as a pillow and falling debris as his blanket," she said. "He sobs out of misery, 'I've been everywhere to look for my two children, my wife and my mother, but I can't find them.''"
This catastrophe comes on the heels of a magnitude 7.1 earthquake that struck the Philippines on Oct. 15.
"They're receiving a double disaster with this typhoon," said Frew, the World Vision spokeswoman. "Now there's news of a tropical storm approaching. They're just getting hit one after the other."
NBC News' Nancy Snyderman contributed to this report.

JoNel Aleccia is a senior health reporter with NBC News. Reach her on Twitter at @JoNel_Aleccia or send her an email.