When a neurosurgery patient died from a rare and fatal brain disorder at a New Hampshire hospital this summer, it sent a ripple of panic across the region, particularly for 15 people warned that they may have been exposed to Creutzfeldt-Jakob disease through contaminated hospital surgical equipment. Everyone wondered who might spread this dire bug, and who might be at risk.
But families of others who have suffered — and died — from the little-known but invariably deadly disease say that reaction is only the beginning of the fear, discrimination and rejection that CJD patients face.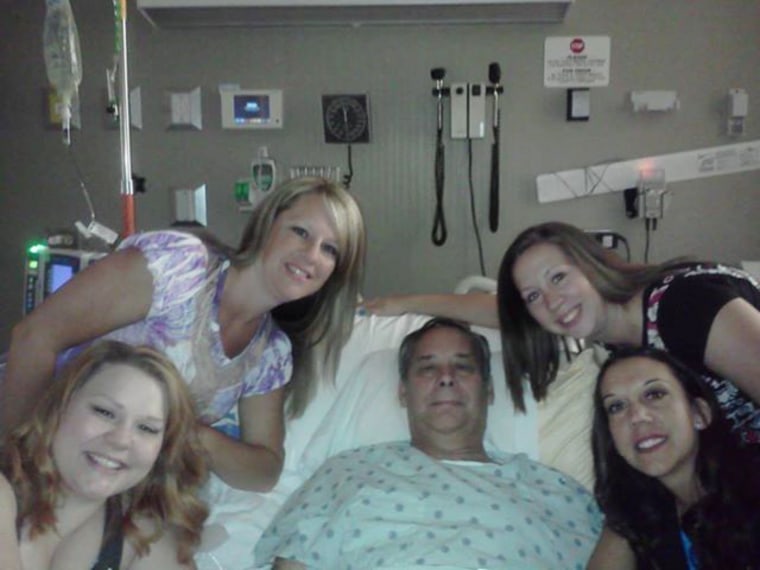 Across the country, funeral homes and crematoriums are routinely refusing to accept the bodies of CJD patients out of fear of infection, despite health guidelines that say that — with standard precautions — embalming and burial is perfectly safe. 
"It happens a lot," said Robert Kassai, a New Jersey funeral director who also sits on the board of the CJD Foundation, an advocacy group. "There are many, many instances where families call me saying they've been turned away."
Some families report that their loved ones who died from CJD were removed from the hospital, placed in double body bags and taken directly to a crematorium with no warning. Others tell NBC News that funeral workers forced pallbearers to wear medical gloves and told mourners to stand far back from the gravesite and to disperse quickly after the ceremony. 
"The funeral issue is the bane of our existence, basically," said Florence Kranitz, president of the CJD Foundation. "They get people at their most vulnerable, when they've been hit by the freight train of this disease."
CJD is very rare — with about one death per million people worldwide each year. But Kassai estimates that dozens of the estimated 300 people in the U.S. who annually die from the degenerative brain disease are rejected by the people in charge of final disposition.  
That was the case for Amanda Bailey of Ogden, Utah, whose 64-year-old father, Jerry Bailey, died Sept. 18, just four months after exhibiting the first signs of CJD. Typical symptoms include memory and cognitive problems, vision problems and, later, trouble walking and speaking.
After his devastating decline, Jerry Bailey's remains were rejected by four Salt Lake City funeral homes and a crematorium, she said.
"They wouldn't even cremate him because they worried that the spores would become airborne," said Bailey, 27. "They apologized and said they were sorry, but they didn't want to risk the health and the safety of the people there."
Never mind that CJD is caused not by spores but by prions, virus-like proteins that manage to transform other proteins into disease-causing shapes. Like most patients, Jerry Bailey had sporadic CJD, which occurs spontaneously, with no known cause or cure. It's not the variant form of the disease that causes a human form of "mad cow disease," associated with eating beef. 
And never mind that infectious disease experts say that the prions, though hard to kill, don't spread easily and not through the air or through ordinary skin contact. It takes injection, transplantation or even consumption of the tainted tissue to cause infection. 
"'There's no known actual risk. Morticians are in no more danger at all than anyone else," said Dr. Richard T. Johnson, a CJD expert and a neurology professor at Johns Hopkins Medicine, in Baltimore, Md.
In the case of the New Hampshire hospital patient who died of CJD, the problem arose because there was no evidence he had the disease when he underwent brain surgery last spring. It was only when the man died in August after showing signs of CJD that officials at Catholic Medical Center in Manchester realized that they'd used the same surgical tools to operate on eight other patients — and sent them to hospitals in Massachusetts and Connecticut, where seven other people were potentially infected. Standard sterilization wouldn't have killed the prion, leaving 15 patients open to potential infection.  
Funeral industry officials say their reluctance is warranted because of CJD's rarity and because most small, family-run funeral homes are not equipped with incinerators and autoclaves to kill an organism that is 100 percent fatal and can't be eradicated by typical sterilization techniques.
"CJD may be one of the rare conditions where a funeral home might refer a family to a better-equipped firm," said Jessica Koth, a spokeswoman for the National Funeral Directors Association. She said she was not aware of recent cases of funeral homes turning away CJD patients. 
The problem with that position, Kassai said, is that it gives funeral homes arbitrary permission to refuse CJD patients and to send families elsewhere. That can be a problem, especially in rural areas, where the next funeral home might be 70 miles away, he said.
And it contributes to discrimination reminiscent of start of the AIDS epidemic 30 years ago, when many funeral directors refused HIV-infected patients out of fear. Today, funeral homes routinely handle patients with all kinds of infectious diseases — including HIV and hepatitis C.
"I tell funeral directors that I fear hepatitis C more than CJD," Kassai said.
On a web page for funeral directors, CDC officials stress that the disease is no different than any other contagious agent. Standard infection control precautions and attention to detail can "both serve families and protect the health of the public," the agency says.
But that doesn't seem to sway some providers, said Dr. Pierluigi Gambetti, director of the National Prion Disease Pathology Surveillance Center, which tracks CJD cases in the U.S.
"Fear is actually propagated much more than prions," he said. "It's much more infectious." 
In the case of Amanda Bailey and her late father, the family finally had to turn to a crematorium that would accept her dad's body, even though his Latter-Day Saints religion prefers earth burial. There was no chance for another daughter, a cosmetologist, to trim her dad's hair, as they'd planned. There was no chance for his 10 grandchildren to view his body and offer a final farewell.
"Not only did we have to deal with the quick passing of my father, we then had to deal with not being able to have his remains properly cared for after his passing," she said.
That distresses Kassai, whose wife, Marie Kassai, an infection control nurse, lost her mother to CJD in 1991. The pair travels widely, offering educational seminars to funeral directors about CJD.
"You're dealing with the emotions of a grieving family," Kassai said. "The point I'm making is that you are not offering the families the opportunity to say goodbye."
JoNel Aleccia is a senior health reporter with NBC News. Reach her on Twitter at @JoNel_Aleccia or send her an email. 
Related stories: