Some do it with malice. Others, through a misguided notion that money or family heirlooms don't really matter to the person. Whatever the reason, the plight of the disinherited -- or those who may be cut out of the family wealth in the future --has been highlighted by a bitter legal battle between Australia's "richest mom," Gina Rinehart, and her three children.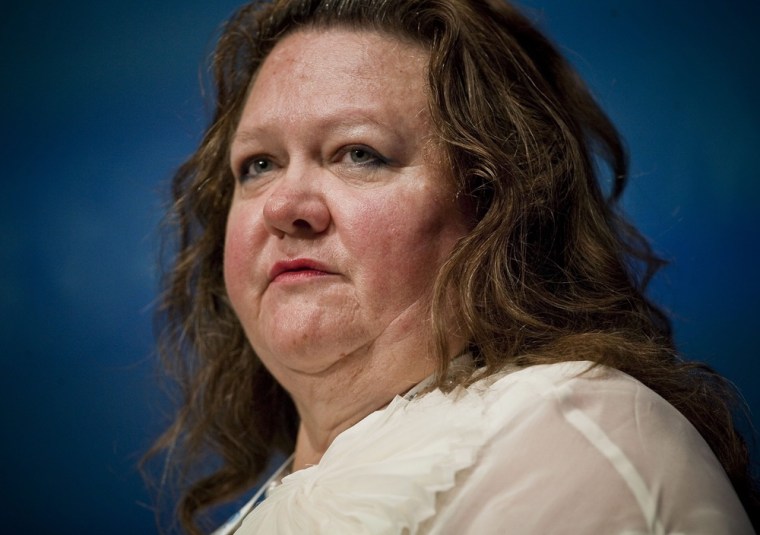 The billionaire says it would be in the "best interests of the beneficiaries to force them to go to work" rather than let them inherit her mining empire.
Then there's Mary Beth Caschetta, whose father cut her out of his will in dramatic movie star style.
"There was a line in my father's will similar to what Joan Crawford used when she disinherited her daughter," says the 45-year-old medical writer and author from Massachusetts. "'I leave no bequest to my daughter for reasons known to her.'"
Caschetta, who wrote about being disinherited in theNew York Times' Modern Love column last December is just one of many people who've felt the sting of a relative's reproach from beyond the grave, often for reasons that are only clear to the deceased.
Disinheriting children or a spouse -- or everyone in the family --  is not uncommon and not limited to the rich, either. It can be spurred by hurt, spite, fear, experts say, or because the head of the family feels the heirs are "manifestly unsuitable" to manage the estate, as billionaire Rinehart claimed in The Australian.
Baffling and unexpected
"I don't think there is one simple answer as to why people are disinherited," says Caschetta, who was so baffled by her father's act that she decided to write a book on the subject. "You don't have to be gay. You don't have to be estranged. You don't have to be a chronic disappointment to your parents. It can literally happen to anyone."
Psychotherapist Ken Clark, a certified financial planner from Little Rock, Ark., says the deceased often has some wound, such as abandonment or infidelity, that has never been resolved -- and cutting off the heirs is a kind of final payback.
"The person who gets cut out of the will get a taste of how the other person has been hurt," Clark says.
Even for those who understand why they're being disinherited, the act can be painful.
"I was an abused child and adolescent and was thrown out of my house when I was 15 years old," says Drew Stevens, a 50-year-old marketing and business development consultant from Eureka, Miss. "My father and I had an estranged relationship. I found out that he died via a Google alert."
Being intentionally disinherited left him feeling "absolutely awful."
"When I read the will, I was in shock," says Stevens, whose younger brother was also cut off. "To me, it felt like one more opportunity to kick me in the head."
Egotism also comes into play. The wealthy may worry their heirs will squander the "only monument" they've left behind -- the money they've spent their whole lives accumulating, says Clark. But totally cutting someone from a will isn't really necessary
"We can create trusts that have income-only provisions, so you can't spend the principle," Clark says. "Or you can name a trustee that monitors a child's behavior."
How commonly are people cut off?
New York attorney Jeffrey A. Asher says in the 16 years he's been practicing estate law, he's worked on hundreds of wills and that disinheritance comes up "quite often."
"Sometimes it's as simple as the client has life insurance set aside for one child over another," he says. "Or the client's child is part of the business and the other children or not."
Asher sees disagreements, anger, resentment and disparate treatment between children as common drivers for disinheritance. Or the heir is perceived as not needing the money.
"The shame and the reality is that the [person] may really need the inheritance and just hasn't been open about his situation," says Asher.
Not just about money
The pain of disinheritance can be even worse when the estate is distributed outside the family.
Tobi Kosanke, a 47-year-old geologist from Hempstead, Tex., says that when her uncle passed away, he left everything, including a slew of family heirlooms, to a stranger.
"Our uncle was our last close relative and my brother and I were cut out of his will," says Kosanke. "He left everything to his dog sitter. All of the family heirlooms, including my wedding silver, were left to a stranger. My mother would be spinning in her grave."
Caschetta has heard from about 100 disinherited people since her New York Times essay came out.
"When I was disinherited, it felt like a psychologically violent attack," she says. "I felt terrible and I know other people I've spoken to felt that way, too."
FAMOUS POSTHUMOUS SNUBS:
Joan Crawford,aka "Mommie Dearest," completely cut out Christina and Christopher, her two oldest adopted children, and left her other two adopted children $77,500 each.
Tony Curtis chose "not to provide" for his five children, including actress Jamie Lee Curtis, in his final will.
Bette Davis disinherited her daughter B.D. Hyman (and her children) after Hyman published a tell-all book about their relationship, "My Mother's Keeper."
Marlon Brando left behind a $30 million estate. However, none of it went to his grandson Tuki, the son of Brando's deceased daughter Cheyenne.
Michael Jackson left behind no provisions for his father, Joe Jackson, or any of his eight siblings, in his last will and testament. The estate, which exceeds $500 million, did place assets in a family trust to benefit Jackson's children (as well as a number of charities). Jackson's mother, Katherine, was named beneficiary of the trust and appointed guardian of his children.