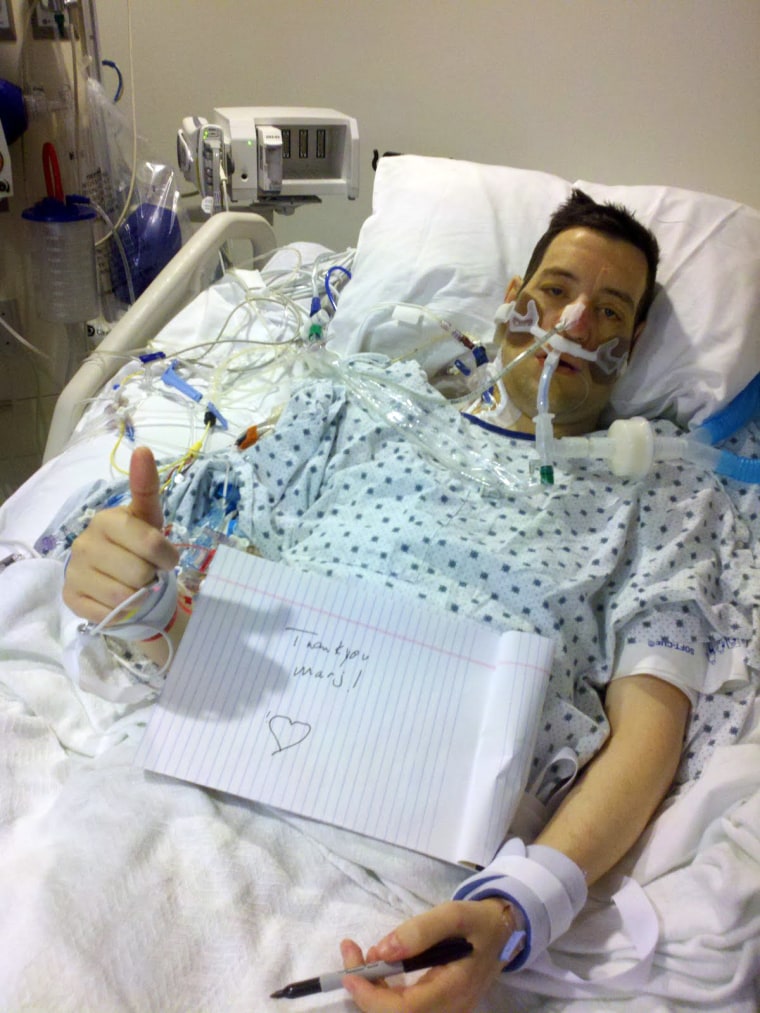 Still groggy from the 12-hour liver transplant surgery that saved his life, Thomas Dodds demanded a pen and paper to send a message to the adopted sister who made it possible.
"Thank you, Marj," the Pittsburgh man, 39, wrote in a wobbly but readable script last December. And then he added a shaky ink heart.
It was the first thing he could do, Dodds says, to repay his sibling Marj Kilcup for being both a rare live liver donor – and a perfect match.
Seven months later, sister and brother are recovering well from the swap that takes part of a liver from a live donor and transplants it into the body of a sick patient.

Doctors say the siblings -- who were a surprising match considering they aren't biologically related -- are an example of the success of the rare procedure that could help ease America's organ shortage crisis, which has left nearly 76,000 actively waiting for transplants each year, including nearly 16,000 who are hoping for livers.
"People who are healthy and willing should consider being tested to be living donors for a loved one or even a stranger," said Aisha Michel, spokeswoman for Donate Life America, an advocacy agency. "Today, living donors can donate kidneys, livers, lungs and intestines."
The trouble? "Many people don't know that this is a possibility," said Dr. Cristiano Quintini, the Cleveland Clinic transplant surgeon who supervised Kilcup's care.

For Dodds' adopted sister Marj Kilcup, 40, there was never any question that she'd step up for the operation to help her brother whose liver was being destroyed by a rare genetic disorder.
"It's like, life calls and you answer," said Kilcup, a dental hygienist from Puyallup, Wash. "I was just meant to do this."
Kilcup's selfless act is unusual. Indeed, when it comes to livers, only about 4 percent of the 6,200 organs transplanted in the U.S. each year come from living donors. The operation is so complicated and the availability of donors is so scarce that only 246 such procedures were performed in 2012, according to figures from the Organ Procurement and Transplantation Network, or OPTN.
"I've done transplants for more than 10 years and it's nowhere close to any other procedure we do in terms of difficulty," Quintini said.
Such operations are often the only answer for patients like Dodds, who was born with Alpha-1 antitrypsin deficiency, a rare condition in which the liver doesn't make a protein that protects the lungs. The international business consultant was fairly healthy until about six years ago, when his condition began deteriorating. In 2011, he developed a serious warning sign, spontaneous bacterial peritonitis, a potentially life-threatening infection.
"They said I might as well start looking down the road of a liver transplant," said Dodds, who was added to the transplant waiting list in September 2012.
But that list includes those nearly 16,000 people, all hoping for one of the 6,000 organs that come from deceased donors in the U.S. each year. Despite Dodds' declining condition, he knew he wasn't sick enough to get a liver within a year, the timeframe his doctors recommended.
"I could probably have survived 3.5 years, but my quality of life would have suffered," he explained. "They said your options are, 'Can you find a donor?'"
As he started to look, Dodds realized that he was fortunate to have landed at the Cleveland Clinic, one of only about 10 liver transplant centers in the country that performs 10 or more live liver donor operations a year. Although there are roughly 100 centers in the U.S. that do liver transplants, only half will accept living donors and most of them perform only one or two of the operations per year, Quintini said.
Dodds was also lucky to have a home-grown donor who turned out to be a surprisingly good match. Of his three adopted siblings, Kilcup had always said she'd be a donor if her brother needed it. But when the time actually came, doctors were skeptical.
There were blood tests to do, and tissue typing. In addition, Kilcup is 5-foot-4 and while Dodds tops out at 6 feet, so they feared her liver would be too small to function well in her bigger brother.
But early tests showed Dodds and Kilcup shared the same blood type, A-positive. There were no tissue typing conflicts. And when a 3D model of her liver was made, it turned out that Kilcup's right liver lobe was exceptionally large, the perfect size and proportion to fit into her brother.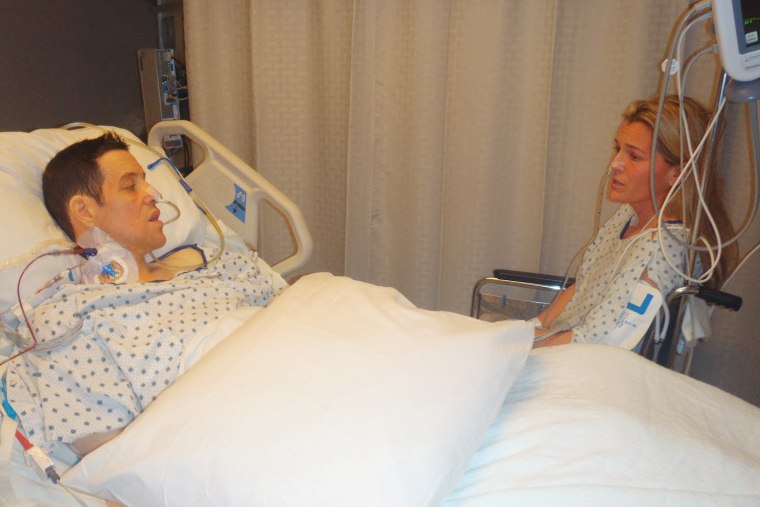 "That's fairly interesting about Marj and Tom," Quinitini said. "Because they were probably the least favorable combination."
Still, there were worries. Live donor transplants, including liver transplants, are not without risk. Even one catastrophic failure can have devastating consequences for patients -- and the programs. The 2002 death of a healthy 57-year-old New York man who donated part of his liver to his brother sent live donations plunging, transplant experts say.
Overall, the risk of early death among live liver donors is about 1.7 cases per 1,000 donors, according to a 2012 paper led by Dr. Dorry Segev, a transplant expert at Johns Hopkins Medicine. There have been four deaths of living liver donors among the more than 4,300 transplants performed since 1999, according to OPTN.
For comparison, OPTN officials estimate that there were 30 deaths of living kidney donors between 1999 and 2011, out of more than 83,000 live donor transplants. The long-term mortality rate is comparable for living kidney and liver donors, Segev concluded.
Still, on Dec. 10, 2012, when the siblings were being wheeled to separate surgeries, they both say there was no fear or worry. "She said, 'See you tomorrow," Dodds recalled. "I said, 'See you tomorrow.'"
Nearly 70 percent of Kilcup's healthy liver was transplanted into Dodds, leaving her with barely a third of her original organ.
The aftermath wasn't easy, of course. Kilcup said the first four days were "pretty terrible," and the operation left her with a scar that runs from her chest to her belly button.
But both siblings are back to work and have resumed normal lives with their spouses and kids. Kilcup ran a half-marathon within three months of the swap. They see each other only once a year or so, when they visit their parents in Ottawa, Canada, but they talk or email weekly – and they say they feel connected in deeper way, too. "We keep in good touch," Kilcup said.
Dodds remains profoundly grateful to his sister, but she says gratitude is beside the point because there was no other option.
"If something had happened to him, there's no way I could wake up in the morning knowing that I could have helped him and that I didn't," she said. "It's not brave; it's just what you do."
Now, she's become an advocate for live liver donation. For more information on live donation, click here.

"My thing is not so much, 'Look what I did,' but 'Look what you can do, too,'" she said. "Sometimes, I think if people know it's an option, they'll be more proactive."
JoNel Aleccia is a senior health writer with NBC News. You can reach her on Twitter at @JoNel_Aleccia or send her an email.