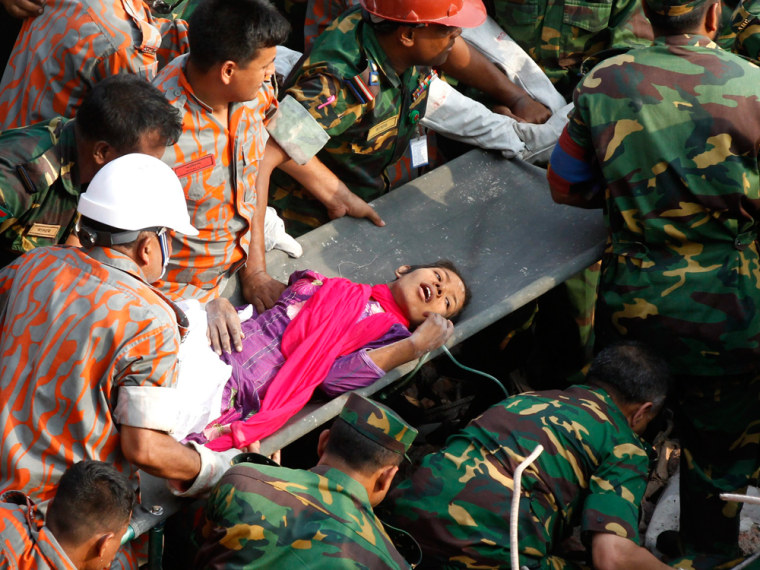 Water would have been key to the survival of a woman pulled from the rubble of a collapsed factory in Bangladesh after 16 days, experts say. 
The woman named as Reshma Begum, mother of a young son, was taken to a hospital with dehydration, officials said. But she's likely to pull through if she has no major injuries, says Randall Packer, an expert on the body's water balance at George Washington University.
"She had to have some sort of water source. She could survive that long without food intake but not without water intake," Packer told NBC News. She later told rescuers she had both. "The last two days I had nothing but water. I used to drink only a limited quantity of water to save it. I had some bottles of water around me," Reshma told the private Somoy TV station from her hospital bed.
People have lived much longer without food, or with very little food. Mohandas Gandhi went on several hunger strikes in the 1930s and 1940s, and his thin body survived for as long as 21 days on only sips of water. Irish Republican prisoner Bobby Sands died after 66 days of a hunger strike in 1981 in Britain's notorious Maze prison.
Six weeks without food is about the limit for an average weight person, Dr. Claude Piantadosi of Duke University in North Carolina says. "If somebody's really huge, really fat, they could live longer than six weeks."
Even a dribble of water would have helped, Piantadosi says. "If she could move around a little bit, she may have been able to lap some and stay alive," he said.
After Haiti's 2010 quake, a man survived for 14 days in the rubble thanks in part to a two-gallon jug of water he had nearby.
Doctors know precisely how long people can live without water, says Packer. "Sometimes at the end of life, hydration and food is stopped," he said. "Now, these people are already in a weakened state but they are in ideal conditions of temperature, and so on. Sometimes they go on for a week."
But that's about the maximum people can last with no water at all – and if it's hot, or dry, or if people are moving around, they can die of dehydration much more quickly.
"I have sort of a 100-hour rule," says Piantadosi. "Depending on the temperature you are exposed to, you can go 100 hours without drinking at an average temperature outdoors. If it's cooler, you can go a little longer. If you are exposed to direct sunlight, it's less," he added.
"The more energy you expend the more likely you are to lose water," Packer says. "You lose a little bit of water every time you exhale. You lose water when you sweat. You do make a little water when you metabolize food … but the balance is such that you always need some sort of water intake."
Dehydration kills by bringing blood pressure down to fatal levels, Packer says.
"Under extreme conditions an adult can lose 1 to 1.5 liters of sweat per hour. If that loss is not replaced by drinking, the total volume of body fluid can fall quickly and, most dangerously, blood volume drops," Packer says.
Water is the best fluid for survival, but it's not the only one, he noted. "A person can stay hydrated by drinking many different kinds of fluids in addition to water, with one exception. Drinking alcoholic beverages actually causes dehydration," Packer says.
"Ethanol depresses the level of anti-diuretic hormone, increasing urine volume to the extent where more fluid is lost in urine than is gained in the drink."
He believes the woman in Bangladesh may have a shot at survival. "Physically, at least, unless she was really thin person she should come out of this in pretty good shape," he said.
"It just had to be horrifically frightening."
Related:
How long can you survive under quake debris