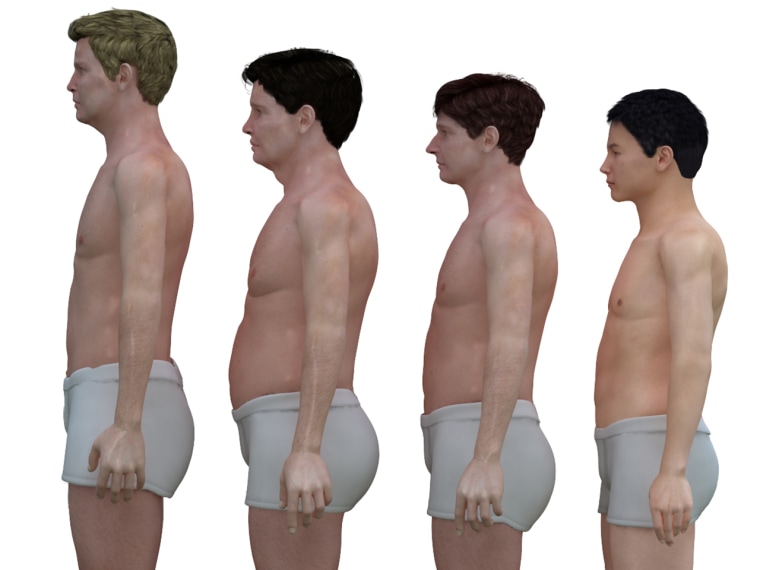 American guys: You've got guts. Sorry, that is not a compliment.
Through a new project that blends 3-D computer-generated avatars with Center for Disease Control and Prevention body-mass measurements, we now can see the shape of an "average" U.S. adult male, compared to the build of an "average" man in Japan, France and the Netherlands. 

The avatars, sporting nothing but tighty-whities for maximum exposure, were created by Pittsburgh artist Nickolay Lamm. Lamm previously created a 3-D model of a "normal" Barbie, based on the proportions of the average 19-year-old American woman, which became a viral hit last summer. 

Based on average height and waistline for men, ages 30 to 39, the American dude looks a bit Weeble-like, with the broadest beer belly and biggest bum. BMI is a gauge of body fat in adults calculated by height and weight.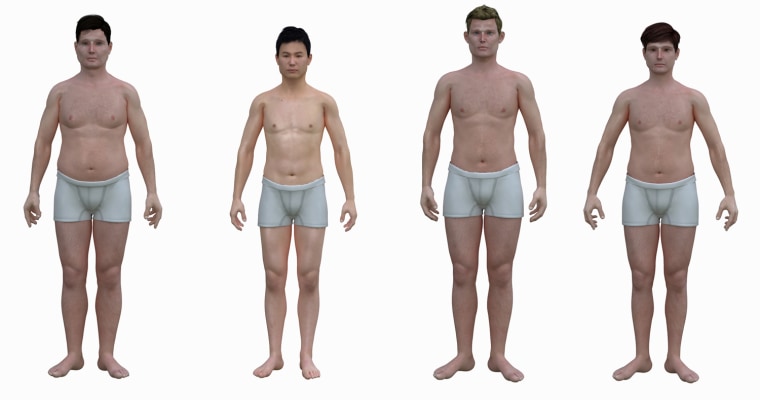 It's no surprise that the average American man is a bit of a porker. Sixty-nine percent of all Americans over the age of 20 are overweight or obese. But a number is one thing and seeing it in the computer-generated flesh is another. 
"Rather than explaining it in bar graphs or pie charts, I thought it would be a lot more powerful to visually see what we look like compared to other countries," said Lamm.
The BMI for a typical adult American male is 28.6, according to the CDC, which rates a BMI of 18.5 to 24.9 as "normal" and a BMI of 25 to 29.9 as "overweight." Any adult with a BMI of 30 or higher is considered obese. 
The Japanese male avatar represents the average national BMI of 23.7; while the Netherlands avatar illustrates a BMI of 25.2 and the avatar for France represents at 25.5.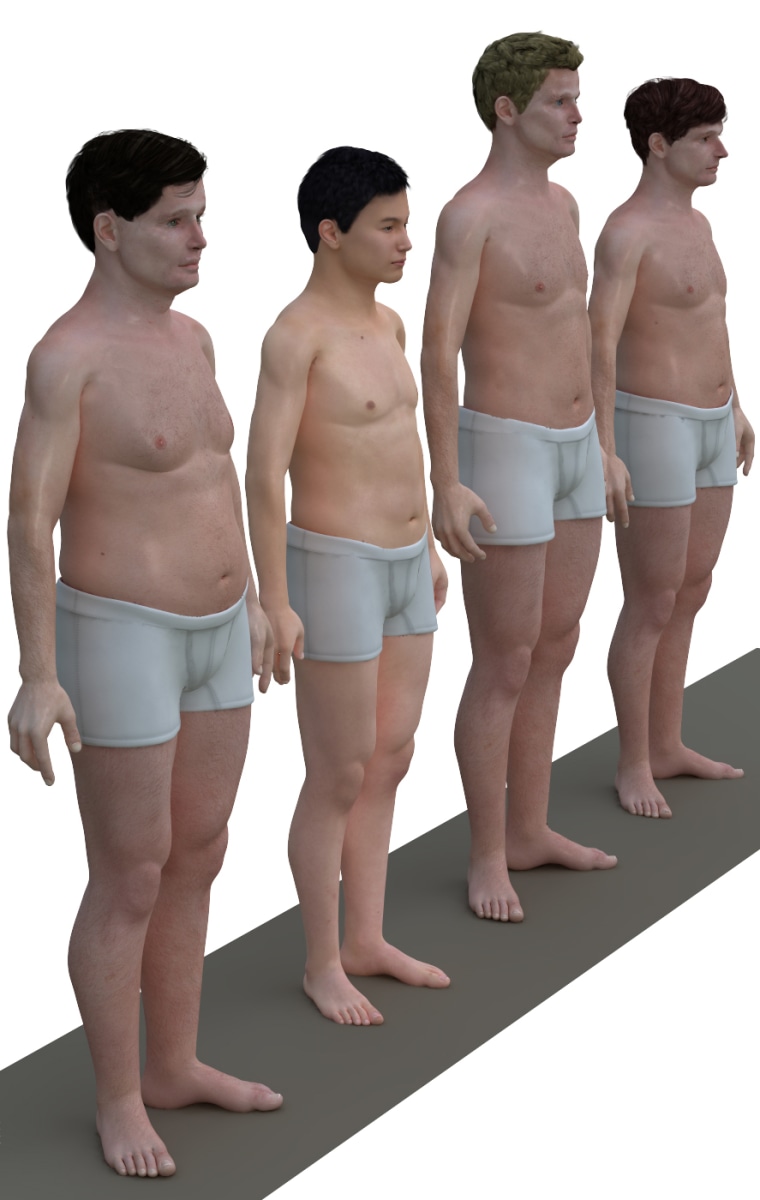 Beyond crunching height, weight and waistline stats, Lamm also crafted his models by looking at numerous photographs of actual men whose BMIs were reported in the pictures' captions. The work took two months.

He then ran each of his avatars by an expert, Matthew P. Reed, a research professor at the University of Michigan Transportation Research Institute. Reed works in a field called anthropometry, which uses human shapes and sizes in engineering applications, such as vehicle design.
"It is a fact that Americans have gotten heavier at historically unprecedented speed since about 1960," Reed said. "The average woman now weighs about the same as the average man in 1960. There's been a tremendous increase in body mass with no change in stature.
"But just seeing it in terms of numbers doesn't mean anything to most people," Reed added. "That's what you really see in these models."
There has been some criticism over Lamm's casting Caucasian-looking guys as the "average," especially at a time when the U.S. has become so racially and ethnically diverse. He defends the lighter skin color of the avatars — almost a grayish pink — because a similar tone among the foursome underscores the varying sizes of male butts and guts.
Reed agreed with that choice.
"Obviously all Americans don't have the same skin tone. Actually, probably nobody has this skin tone," Reed said. "But by avoiding that aspect of it, he's enabled people to focus on the differences in body shape." 
Lamm sees the body shape project as a "reality check" for American men. "We have the biggest cars, the biggest houses. But I'm sure we don't want to have the biggest waistlines."
Oh, and what about Lamm's BMI? A healthy 23.4.