/ Source: The Associated Press
Hurricane Katrina catapulted teenager Charbresha Carmouche on a personal odyssey from her New Orleans home, where 8 feet of water poured through the roof, to the convention center — where yes, she says, it was that bad.
Finally, when the storm and all its chaos subsided, she landed at Houston's Westside High School, a sprawling red-brick expanse set on 50 acres among attractive gated communities.
Ask Charbresha what has been most difficult about moving to Houston, and the talkative senior offers a multiple-choice array of possibilities: Struggling to keep up in class. Putting off plans to graduate early. Dealing with stray snide remarks from local kids.
Then, in a voice that always sounds as if she is close to tears, she finds her answer.
"Two of my friends, I never heard from since the hurricane," she says. "And nobody that went to school with us, nobody that used to hang with us, they don't know where they are."
She falls briefly, uncharacteristically, silent. Then: "It's a question. I wonder sometimes whether they're dead, or ... Where they at? Who knows?"
370,000 schoolchildren displaced
Trying to keep in touch with friends flung far by Katrina — or, more than two months later, just trying to find them — is but one of the head-spinning ways life has changed for the 370,000 schoolchildren displaced by the hurricane.
The adjustments they have had to make, and the ways they improvise in their new lives, seem as wide and as incomprehensible as the hurricane's diaspora itself.
They grope for a sense of home, of life before the storm, in small ways. They wear New Orleans class rings, or display fashions that are suddenly, awkwardly out of place.
In classrooms already threatening to burst at the seams, they struggle to make up lost ground and grasp new material. Some of them excel, and vow to clutch diplomas, if only to make their parents proud. Some of them fail. A few shut down, or walk away.
They wear donated clothes, often in school colors, and hear taunts from the hometown students in inevitable turf wars. They look the other way, or seek out counselors, or drop their books and fight.
Principals and teachers and social workers, the unwitting first responders, will tell you this massive uprooting is probably easier for elementary school children, who can absorb change like sponges absorb water.
But for middle school and high school children, this personal earthquake comes at an already awkward time in life, when fitting in and finding true friends was hard enough at home, let alone in Rhode Island or Oklahoma.
'A great sociology experiment'
Westside High alone swelled past 3,000 students with the addition of 300 teenage evacuees from Hurricane Katrina, about 200 of whom remain enrolled.
The natives and the newcomers have marked their turf. Paul Castro, the principal of Westside High, can walk through his gleaming cafeteria after the closing bell and point you to where the New Orleans kids hang out and where the Houston kids hang out.
"I don't think anyone has understood it," he says. "This would be a great sociology experiment."
No administrator or math teacher or 10th-grader has ever been through such a massive relocation before. There are no guidelines for anyone in this enormous Class of Katrina on how to get by. And so it is just that — an experiment.
Middle and high school are not lived grade to grade, or even test to test, but day to day, one bell to the next.
Members of the class of Katrina are intimately aware of the upheaval in their lives: It shows itself in the morning's decision of what to wear, of which potential new friends to embrace and which to eye warily.
Fashion reminders in Denver
At Montbello High School in Denver, which has five Katrina students floating in its 1,500-student population, and where the theme from "Rocky" blares in the halls to sound a three-minute warning for the next class, there are reminders in the shoes.
Terry Butler, a 17-year-old junior who left New Orleans with two days' worth of clothes, noticed his new classmates wear Reebok or Converse, shoes he thought were out of style.
Some of the New Orleans students wear shell-toed Adidas sneakers, prompting one native Montbello student to ask if they had all stayed in a shelter together and received free shoes.
Sophomore Geena Caronna, from Chalmette, La., has settled in at Pearl High School, just outside of Jackson, Miss. But her casual clothing and lack of makeup prompt disapproving looks from other girls.
"People ask me all the time, 'Why don't you dress up?' Because I don't want to. I think it's uncomfortable to wear tight jeans in class and walk up and down stairs in high school."
They dodge stray caustic remarks. At Westside, when Hurricane Rita was approaching Texas just weeks after Katrina, one junior girl heard someone say, "Oh, look. There's a hurricane coming to Texas. Where's OUR money?"
Scot Pilie, a bright sixth-grader who had never left New Orleans in his whole life and now attends Pin Oak Middle School in Houston, says he heard it from a teacher: "Oh, New Orleans really stinks. It really does stink."
He says he asked why she would say such a thing about his hometown. He says she answered: "Are you drunk? Because a lot of New Orleans people are drunk."
'Don't know who to trust'
These are exceptions, of course. Katrina students in new schools across the country said for the most part their classmates had been welcoming, some of them even turning into quick friends.
But quick friends are not old friends, and these new surroundings are not home.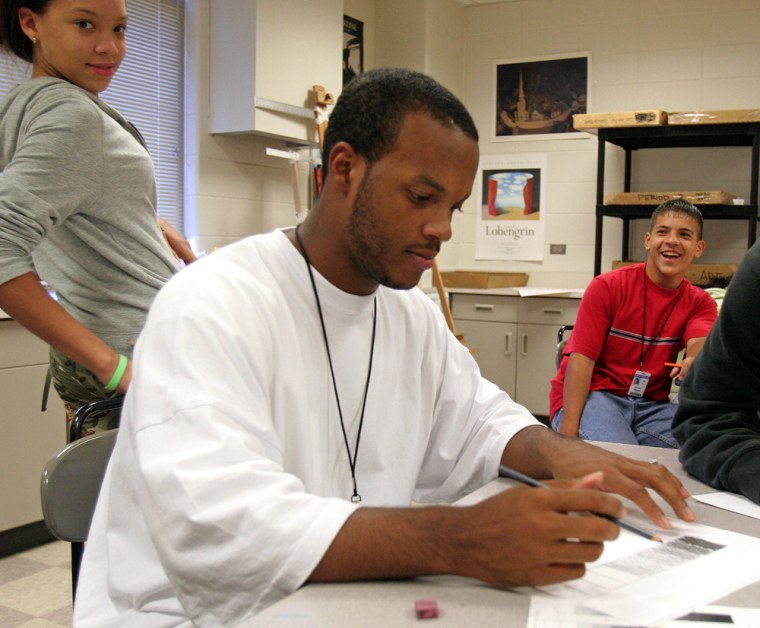 Vernard Henley, a senior who has moved to Westside High from New Orleans East, may return when classes start again in January. He wonders whether making new friends is worth it.
"You don't know who to trust when you're talking to somebody, so you kinda gotta keep to yourself," he says. "At your old school you knew who you could talk to. As soon as you get here you have to hold your tongue every now and then."
Soft-spoken and sincere, handsome and broad-shouldered, Vernard was an honor student in New Orleans. At Westside in Houston, he tried to enroll in advanced placement classes, but his new school had started classes Aug. 15, long before his New Orleans school. He was four to five chapters behind, he figures, and was assigned to regular classes.
"My math class right now, the stuff that we're learning in the middle of the first semester, I already learned in the first semester at my old school," he says. "So if I go back to my old school in January, like we're planning on doing, I'm going to be so far behind it's going to be ridiculous, you know what I'm saying?"
And what of the college application process — particularly now, in the fall of senior year, a crucial time? Don't even ask.
"Most people right now, you know, they're trying to figure out what college they're going to," Vernard says. "I'm just trying to figure out what high school I'm trying to be in."
Hard to get help
Some students from the Katrina region have shut down completely — lost in their new classes, not socially invested in their new homes, not sure when, if ever, they will return to their old schools.
But teachers and administrators say those cases are relatively rare, and most of the storm-tossed children are gamely trying to catch up to a difficult, even bewildering, new environment.
"School just started two months ago and I don't know nothing," says a downcast Ariana Dison, an eighth-grader whose Katrina odyssey took her from home in St. Bernard Parish to a shelter in Opelousas, La., to Beaumont, Texas, and then to Charlotte, N.C., as Rita took aim at Texas. "I have to get my education as good as I can."
To keep pace, the Katrina students meet with guidance counselors, try to wring a few extra minutes from a teacher after class. But these students are seeking help from teachers who are themselves struggling to adjust to the influx.
At Westside, a school administrator asked teachers to respond to a questionnaire that asked, "What challenges has your school experienced as a result of the hurricanes and increased student enrollment?"
Many of them mentioned the difficulty of packing additional students into classes that already had as many as 28 students in them and were now up to close to 40.
There are not enough books, lockers, computers, pencils, paper, teachers.
While many wrote that it was difficult to bring the New Orleans children up to speed with their own, their opinions of the students themselves varied from one classroom to the next.
From one teacher: "I have four students from New Orleans. Two left, went to another state. Two are still with me. They are well-behaved, nice kids. I enjoyed them very much."
From another: "The lack of respect and the disinterest from some of the students is not acceptable. It is a shame that we as a community have gone above and beyond the call of duty to assist and make them feel at home, and to be treated this way is a very sad statement."
Turf fights
Middle and high schools are nothing if not social battlefields. Class and race and turf — actual physical space in a hallway or study hall or cafeteria — are clearly delineated.
But in some schools, Katrina has added a new fault line — newcomers versus locals.
At Natchez High School, a predominantly black campus in a historic river town in southwest Mississippi, there have been two fights, one attributed to a New Orleans student moving in on the covert cigarette concession in the bathroom, the other to a Mississippi boy showing unwanted interest in a Louisiana girl.
"I guess cultural nuances went to the degree that it was our students' contention — as we looked into the situation — that 'We are not going to let anyone come in and claim what is ours,"' Natchez High principal James Loftin says.
The students were disciplined with short suspensions.
At Westside in Houston, a fight in late October started with two students bumping into each other in the hallway.
"All the sudden it became a Texas-Louisiana thing," Castro, the principal, says. "It got defined as something bigger. We have a group of kids who feel displaced and disconnected, and we have another group that's not all that excited they're here."
It was in mid-October, more than a month after Katrina struck and the first evacuees began trickling into Westside, before everyone realized that the Katrina students were not going anywhere, Castro says. There was new competition for spots on sports teams, and for dates.
"So you have a fight, and kids who aren't even involved want to jump in because they're mad," the principal says. "They're mad at the system, they're mad at perceived insults, and — boom — you have a problem."
Finding friends and sports
Suspended between a horror-movie past and a profoundly uncertain future, the students displaced by Katrina cope by reaching for what is familiar — a relative, a once-lost friend found again, the sports they loved back home.
"I have six apartments in my apartment complex that have my family in them," says Raven Duncan, a new Westside sophomore. "So I just go over there and see what they're doing."
Raven, after countless attempts on her cell phone, only recently found her best friend. "She's staying right beside me, like two blocks from my house," she says with a shy smile.
Those who played sports are trying to fit in with new teams, grateful for the familiar rhythms of their games.
Deville Williams, 17, longs for Cajun cooking from New Orleans but is finding success as a defensive back for the Tigers of Broken Arrow Senior High, just outside Tulsa, Okla.
He still wears his senior ring from St. Augustine High. "The one thing they really preached there was pride," he says.
In the Class of Katrina, the students' minds are never far from home and the schools they left. Shantell Duplessis, a shy 17-year-old from New Orleans' West Bank who now attends Westside, declares her senior year "ruined" by the hurricane.
"I was — out there I was looking forward to everything," she says. A senior trip to Philadelphia with the black student group. The senior dance, the prom. "Definitely my prom."
She complained to her mother, who said she would just have to deal with it.
Shantell told her mother: "I'm going to try to deal with it, but it's not going to be the same."
Contributing to this story were Associated Press writers Colleen Slevin in Denver, Tim Whitmire in Charlotte, N.C., Valerie Bauman in Natchez, Miss., Eric Tucker in Middletown, R.I., and Kelly Kurt-Brown in Broken Arrow, Okla.