Japan's Hayabusa spacecraft is on track to attempt a sampling of asteroid Itokawa on Nov. 19.
During a rescheduled practice run on Wednesday, the craft approached within 230 feet (70 meters) of the asteroid. The descent test served to verify the probe's guidance and navigation functions.
Engineers handling the Hayabusa spacecraft have clarified the issues that led to the cancellation of a Nov. 4 landing rehearsal. An onboard navigation computer detected anomalous information during the practice run. The problem resulted in an abort command being transmitted to the probe by Earth controllers, thereby stopping the rehearsal. Subsequently, the spacecraft fired its chemical engines and started ascent, backing away from the asteroid.
Mission officials are now prepared to carry out a landing at the "Muses Sea" site, performing sampling tasks on Nov. 19 and during another touchdown on Nov. 25, according to the Web site of the Institute of Space and Astronautical Science, the space research division of the Japan Aerospace Exploration Agency.
Return samples
In the wake of this week's rehearsal, Hayabusa is now judged ready for its historic attempt to gather and return asteroid specimens to Earth.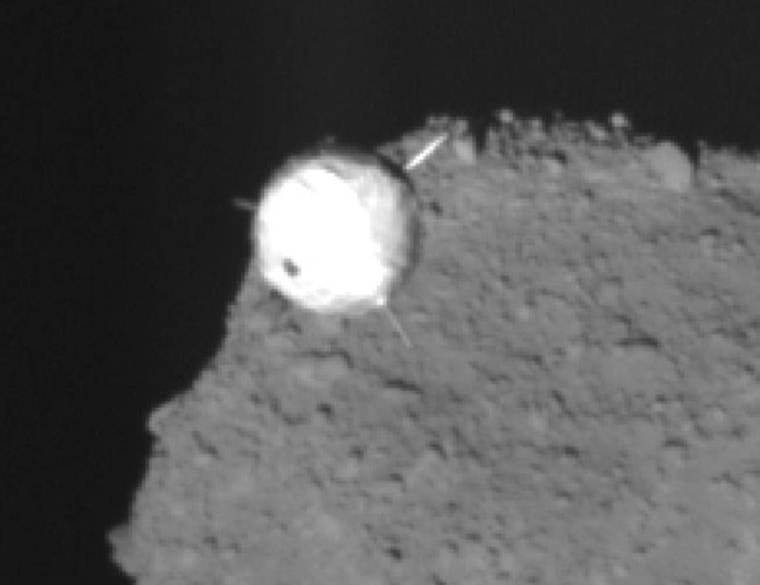 Imagery taken by Hayabusa was used to select a touchdown location on asteroid Itokawa. One newly released image shows the shadow of the spacecraft cast upon the asteroid's surface.
Japan's Hayabusa roared off into space from Japan's Kagoshima Space Center on May 9, 2003. The spacecraft arrived at its asteroid target on Sept. 12 of this year.
Hayabusa equipped to collect samples of the asteroid and return them to Earth — and that's not all: A tiny robot will hop about Itokawa and relay pictures from the space rock's surface.
Plans call for a capsule carrying asteroid specimens to return to Earth in June 2007, landing by parachute in a remote desert spot in Woomera, Australia.