/ Source: The Associated Press
The truck driver bringing a load of bottled water for residents was incredulous and demanded to speak to someone other than the diminutive woman standing before him.
But a National Guardsman armed with an M-16 rifle said he had no choice.
"She's the boss," the soldier said, pointing to Lily Duke.
"I'm with no one, I'm an independent," she told the driver. "I live down the street."
Within days after Hurricane Katrina hit, Duke managed to do what other relief agencies couldn't: get food and water to her neighbors. Since then she's expanded her network, distributing medicine, packaged lunches and bags of ice to as many as 20,000 people a day.
"Thank God there are people like her around here," said Staff Sgt. George DeBono, a Colorado National Guardsman directing a line of cars waiting for jugs of water and meals of Beefaroni, potato chips and applesauce.
'What she says goes here'
How the woman they call Miss Lily managed to create her own relief group has inspired soldiers and workers from the Federal Emergency Management Agency who now are assigned to her. The soldiers defer to her as their first-in-command.
"What she says goes here," said 1st Sgt. Joseph Vigil. "It's amazing. Each day the amount of food she gives out grows."
Duke, an independent film producer, left her home in the Algiers neighborhood just ahead of the hurricane, but she was blocked from returning. To get back, she had to sign up as an aid worker with the Church of Christ and was allowed in with a truckload of food.
She gave all that food away in the parking lot of Mardi Gras World, a tourist attraction where parade floats are built. Donations kept coming from churches and food banks and now her outdoor warehouse is filled with thousands of boxes of cookies and canned soup.
Far-flung network
So much has come in that Duke has opened distribution centers in the Ninth Ward and St. Bernard Parish. She spends hours trying to secure cleaning supplies and food for residents and books and backpacks for schools.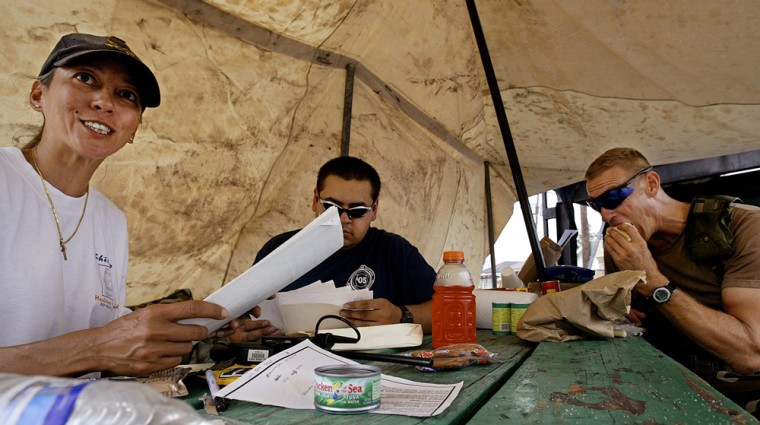 Most of those she's helping out have no idea who is behind the operation. "That's a blessing," Brenda Carcisse said of the food she was picking up for her family.
Some who show up for ice and water are just returning to their homes; others have been back for weeks even though they don't have electricity or natural gas.
"Louisiana people are proud people," Duke said. "They want to come home."
'Proud to meet you'
Duke, 43, has been living in a tent because the storm ripped apart her apartment's roof and she isn't paid for any of her work. "I have not had a day off since Katrina," she said.
That hasn't slowed her down. After directing two trucks into the parking lot, she stopped only for a moment to shake hands with a driver. "Proud to meet you," he said before driving away.
Forklifts borrowed from Mardi Gras World unloaded pallets of water. A group of firefighters from West Hartford, Conn., tossed bags of ice into the trunks of cars.
Firefighter Mark Bassett said some relief agencies should be a bit embarrassed by how Duke has managed to out work them.
"She went out there and got it done," he said.