/ Source: The Associated Press
President Jacques Chirac said Monday that more than two weeks of violence in the poor suburbs of France is the sign of a "profound malaise" and he ordered new measures to reach out to troubled youths and fight the discrimination believed to be at the root of it.
In his first address to the nation since unrest erupted Oct. 27, the president said the laws of France must be obeyed and values rekindled in youths living in the poor, mostly Arab and African immigrant suburbs ringing French cities.
He spoke after the Cabinet approved a measure to extend a 12-day state of emergency until mid-February if needed. The emergency measures empower regional officials to impose curfews on minors, conduct house searches and take other steps to prevent unrest.
About 40 French towns, including France's third-largest city, Lyon, have used the measure to put curfews for minors into effect.
Chirac, speaking with a French tricolor and European Union flag behind him, said that discrimination should be fought.
But he appeared to rule out U.S.-style affirmative action programs amid a debate over whether France's strict adherence to the principle of equality has caused it to fail in acknowledging and addressing racial tensions.
"There is no question of entering in the logic of quotas," the French leader said.
Chirac to set up volunteer corps
He said he has decided to set up a corps of volunteers to offer training for 50,000 youths by 2007. He also said the French media, which is not very ethnically diverse, need to "better reflect the reality of France today."
He told companies and unions they must encourage diversity and support employment for youths from tough neighborhoods, saying it was important to fight "this poison for society which is discrimination."
Chirac has commented on the unrest in other forums, but this was his first formal televised address to the nation on the problem.
Overnight, the number of car-torchings — a barometer of the unrest — dropped again, with youths setting fire to 284 vehicles, compared with 374 the previous night, police said Monday. No clashes between police and rioters were reported.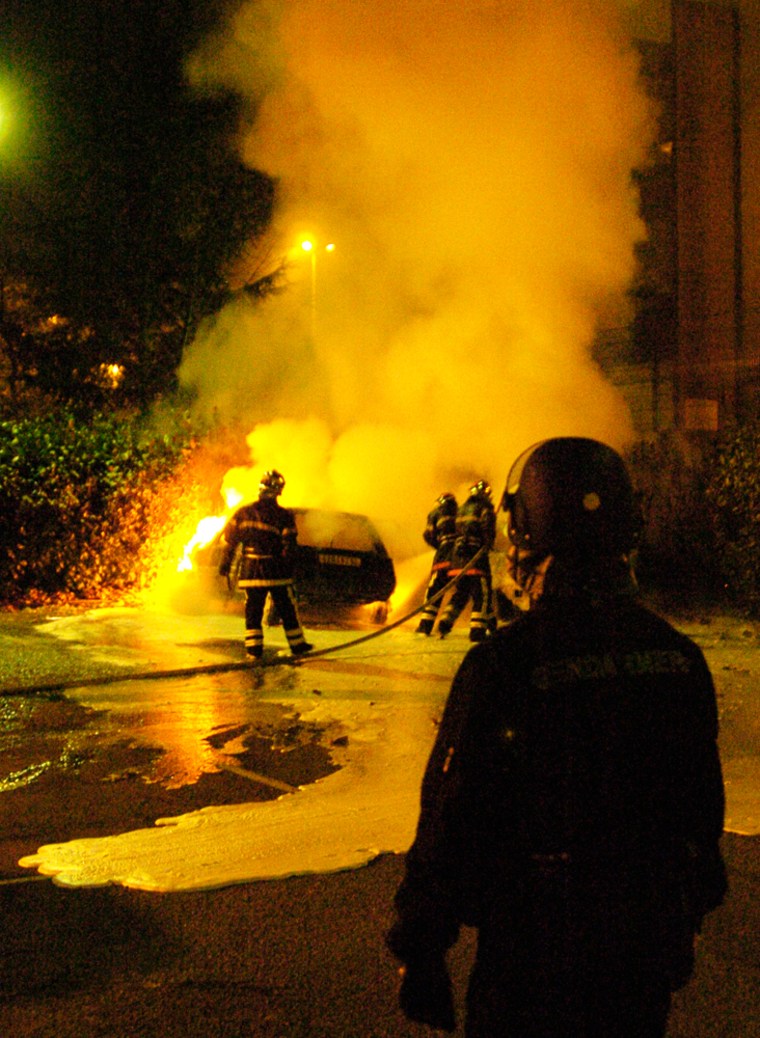 "The lull is confirmed," national police spokesman Patrick Hamon said. A week ago, 1,400 cars were burned in a single night.
The 18 nights of arson attacks and riots — set off by the accidental electrocution deaths of two teens who thought police were chasing them — began in Paris' poor suburbs, where many immigrants from North and West Africa live with their French-born children in high-rise housing projects.
Chirac again pointed a finger at parents, whom officials have blamed for failing to stop teenage youths from destructive rampages that have hopscotched around France.
"Parental authority is vital. Families must assume all of their responsibilities. Those that refuse should be punished as the law allows," he said.
While condemning the violence, Chirac also reached out to disgruntled suburban youths.
"I want to say to the children of difficult neighborhoods, whatever their origins, that they are all the daughters and sons of the Republic," he said.
Worst unrest since 1968
France's worst unrest since the 1968 student-worker protests is forcing the country to confront decades of simmering anger over racial discrimination, crowded housing and unemployment.
In scattered attacks overnight Sunday-Monday, vandals in the southern city of Toulouse rammed a car into a primary school before setting the building on fire.
In northern France, arsonists set fire to a sports center in the suburb of Faches-Thumesnil and a school in the town of Halluin, the North regional government said.
A gas canister exploded inside a burning garbage can in the Alpine city of Grenoble, injuring two police officers, the national police said. Three officers were injured elsewhere.
From Sunday to Monday, 115 people were taken into custody, police said. Since the beginning of the unrest, 2,767 people have been arrested.
Damage: Up to $234 million
The French Federation of Insurance Companies gave a preliminary estimate for the total damage from the rioting — up to $234 million, including more than $23 million for torched cars.
Violence has decreased steadily since France declared a 12-day state of emergency Wednesday.
In the Paris suburb of Draveil, the mayor said he would cut off municipal aid — such as vouchers for cafeterias or daycare centers — for the families of those convicted of rioting or arson.
"I'll tell them that if they want their children to eat at the cafeteria, the first step is not to set it on fire," said Georges Tron, a politician from Chirac's center-right party.
Government spokesman Jean-Francois Cope said the bill approved by the Cabinet on Monday would leave open the possibility of ending the emergency measures before three months are up, if order is restored.
Recovery, deportation
Officials already are turning their attention to helping riot-hit towns recover: European Commission President Jose Manuel Barroso proposed Sunday that the EU give $58 million to France and said it could make up to $1.17 billion available in longer-term support for suburban jobs and social cohesion.
In the next few days, France is expected to start deporting foreigners implicated in the violence, a plan by law-and-order Interior Minister Nicolas Sarkozy that has raised concerns among human rights groups.
Foreign Minister Philippe Douste-Blazy said he agreed that illegal immigrants could be sent home, but not foreigners with permission to live in France.
"A French person who carried out a crime or a misdemeanor in France cannot be treated in one way while a foreigner with papers in order is treated in another," he told Europe-1 radio. "It's not possible."