/ Source: The Associated Press
Good times are back at the Skyline coal mine in Helper, Utah.
Arch Coal Inc. closed the mine and laid off 200 workers two years ago, when coal was just too cheap to justify extracting. But a mini coal boom is changing all that. St. Louis-based Arch is investing about $40 million to reopen the mine and local miners are lining up for work.
"We're in about as good a condition as we've been in some time," said Delynn Fielding, director of economic development for Carbon County, where the mine is located.
Fielding's words could apply to the coal industry overall. Companies like Arch have seen surging profits and record-high stock prices. Expansion plans are in the works, from new coal mines to coal-fired power plants. In Washington, a new energy bill has lessened the fear of regulatory hurdles for future coal burning.
But while consumers pay close attention to gasoline prices, few follow the market for a rocky fuel that generates about half of the nation's electricity.
"For whatever reason, (coal is) not in the forefront of people's minds when they think about energy," said Fred Freme, a coal industry researcher with the U.S. Energy Information Administration. "But without it, half the lights in the country would go out."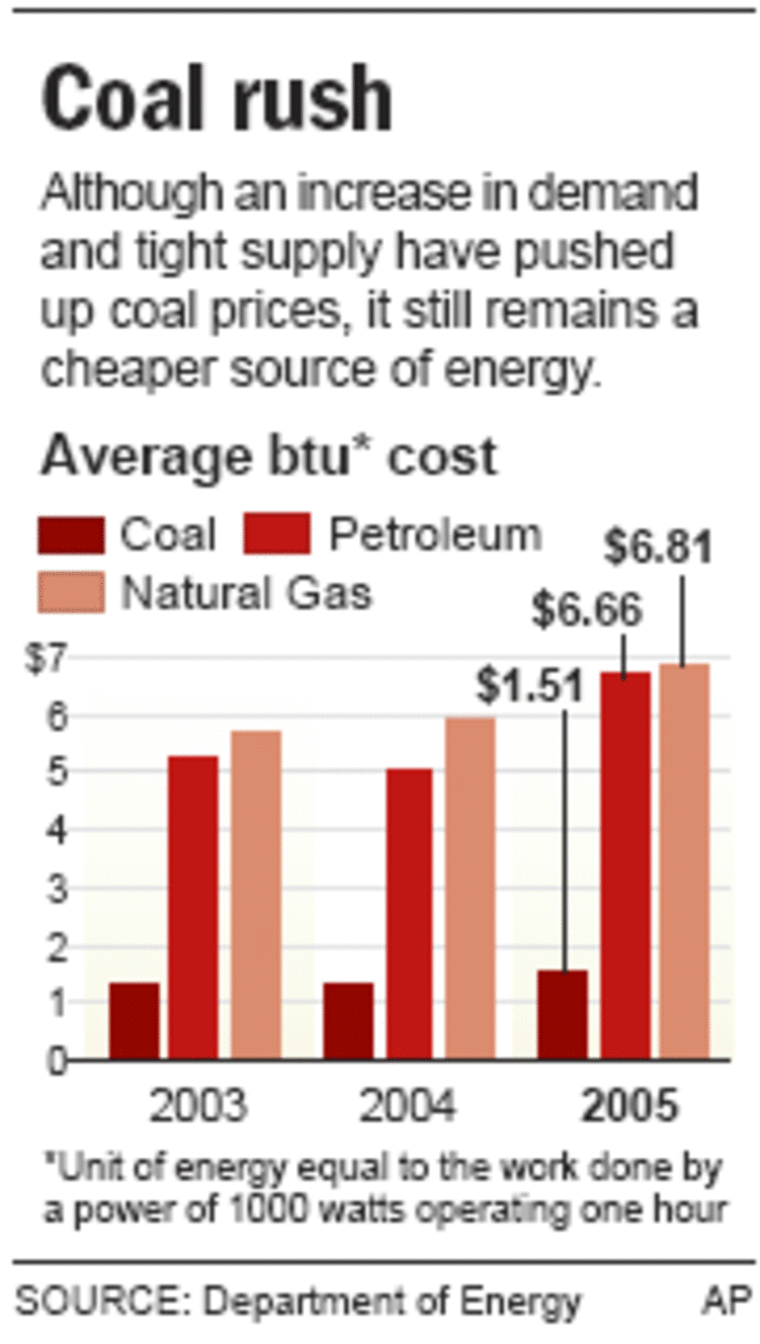 Coal is in the limelight this fall since increased demand and tight supply have pushed up prices, said Mark Reichman, an analyst with A.G. Edwards & Sons Inc. in St. Louis. Prices rose thanks to factors ranging from a train wreck last spring to economic growth in China, he said.
The price of a futures contract for a ton of coal in the Western United States rose from about $9 in June to $19.50 in October, and that's no blip, Reichman said.
"I think maybe we are entering a little bit of a new price range for coal," he said.
The benefit is clear for the nation's two biggest coal companies. The largest, Peabody Energy Corp., reported a 141 percent increase in profits during the third quarter. Arch reported a 75 percent increase.
Globally, the coal supply tightened two years ago when China switched from exporting coal to importing to feed its own energy needs, said Rich Bonskowski, a geologist with the Energy Information Administration. Coal consumers in Europe, the United States and India are bidding up prices on supplies from smaller producers like Australia and South Africa, he said.
Supplies in the United States tightened further in May when two trains derailed on a track that carried roughly 370 million tons of coal annually, about a third of the nation's supply. Shipments will remain hindered until December, Bonskowski said.
The derailment had an outsized impact because utility companies hadn't built up coal reserves last year, expecting the price to drop, Bonskowski said. With winter around the corner and electricity demand expected to rise, utility companies now have little choice but to buy coal on the open market, he said.
But coal remains a far cheaper energy source, said Bonskowski. In July, it cost about $17 to generate a megawatt of electricity for an hour using coal. It cost $59 to generate the same energy with natural gas and $64 with liquid fuels such as kerosene, Bonskowski said.
Coal carries hidden costs, such as the price of complying with air pollution rules, but as long as the price remains lower than other energy sources, it will be attractive to utilities, he said.
Coal companies are ramping up efforts to meet the demand and cash in on higher prices.
Arch executives have outlined $400 million worth of investment to open and expand mines from West Virginia to Utah, and Peabody's management has announced expansion plans that could generate 75 million tons of coal in five years.
Peabody's stock hit a record high Oct. 3 when it closed at $86.12 per share on the New York Stock exchange. Arch soon followed when its stock hit an all-time high Nov. 3, closing at $80.31. Although they remain at historical highs, both stocks have declined since that time, with Peabody trading at $72 per share Tuesday and Arch trading near $69 per share.
New federal law, such as the 2005 Energy Policy Act passed in August, is paving the way for coal's expanded use, Bonskowski said. The biggest regulatory changes are geared toward the electric utility plants, which consume about 90 percent of all coal in the United States, he said.
The energy bill sets a limit on the plants' emissions, but gives utility companies wide discretion for meeting the limits, Bonskowski said. If a utility can't meet the standard it can pay the government for extra emissions.
The energy bill doesn't mean it will be a free-for-all when it comes to building coal plants. Peabody has faced stiff opposition from the Sierra Club and other environmental groups as it presses forward with new power plants in the midwest.
In Kentucky, the Sierra Club filed a request with state authorities asking them to review Peabody's plans to build a new power plant. The move has stalled a regulatory process that Peabody began in 2002.
The Sierra Club plans to resist new coal plants where they are proposed nationwide because emissions from the plants increase cases of asthma and other respiratory diseases, said spokesman Brendan Bell.
"If even a fraction of these (power) plants get built, we will be stuck with these plants for 30 or 40 years," he said.