/ Source: The Associated Press
Asia-Pacific leaders including President Bush and China's Hu Jintao sought to breathe life into stalled global trade negotiations at an annual summit Saturday with a statement calling for a breakthrough in a stalemate with Europe over agricultural subsidies.
Wrapping up their annual summit, the 21 leaders of the Asia Pacific Economic Cooperation forum also promised to boost cooperation on fighting terrorism and preparing for a possible flu pandemic. They urged that further progress be made at international talks seeking to convince North Korea to abandon its nuclear weapons ambitions.
"The North Korean nuclear issue is a factor of security anxiety not just for South and North Korea, but also a factor of anxiety that affects the whole of Northeast Asia," South Korean President Roh Moo-hyun told journalists after the meeting. If the standoff is resolved, Roh said peace and economic cooperation would expand between the Koreas and across northeast Asia.
The trade issue dominated the two-day leaders' summit, which occurred three weeks before a key World Trade Organization meeting in Hong Kong.
The leaders, who clearly identified Europe as responsible for the deadlock on the sidelines of APEC, stopped short of naming the continent in their statement on the global trade round. Officials said it was too politically sensitive to do so.
"We urge all other WTO members, and especially those that have the largest stake in the global trading system and derive the biggest benefits therefrom, to show the flexibilities needed to move the negotiations forward," the leaders said.
They said "significant progress must be made" at a WTO meeting next month in Hong Kong.
"There is more at stake here than just another phase of economic liberalization," the leaders said. A successful meeting will be "crucial for the future credibility of WTO and the rules-based multilateral trading system."
Progress urged in nuclear talks
Asia Pacific leaders also urged progress at talks between the United States, the two Koreas, Japan, China and Russia to persuade North Korea to abandon its nuclear weapons ambitions.
South Korea's Roh said the leaders welcomed "the positive steps" taken recently at the talks and "urged further substantive progress."
Despite the statement, no mention was made of the North Korea nuclear issue in a joint declaration on broader APEC issues adopted earlier Saturday in which the 21 APEC leaders promised to boost cooperation on fighting terrorism and preparing for a possible flu pandemic.
Trying to unblock bottlenecks
The APEC nations also called for moves to open market access in that sector that could help unblock other bottlenecks.
Australia and Canada wanted the statement to name Europe as the main obstacle in the WTO, but other leaders objected because they did not want to single out any country or region for criticism, officials said.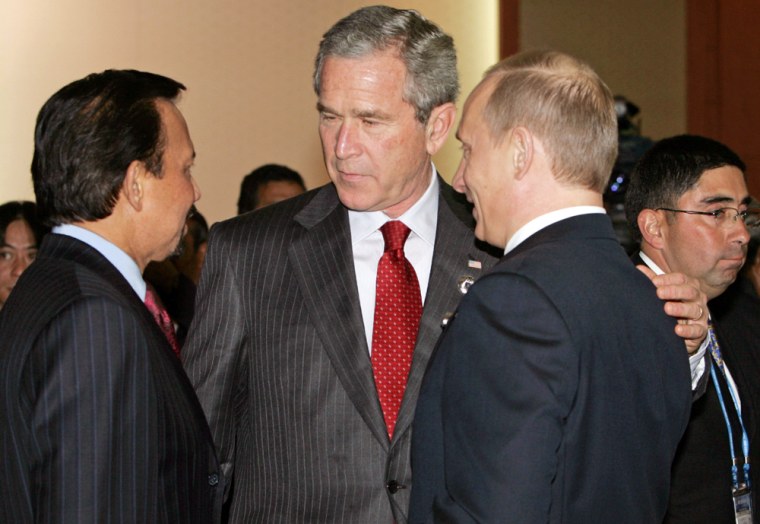 "You don't have to name names, it's quite obvious who are the people" the statement will be directed at, Philippine Foreign Secretary Alberto Romulo told the AP on Saturday.
In the broader declaration, leaders endorsed a roadmap for lifting trade barriers across APEC member countries, including a planned reduction in trade transaction costs by 5 percent over the next five years.
Fears of a possible human pandemic spawned by bird flu have grown in recent days China announcing its first human cases. Under a new initiative against bird flu, APEC countries committed to openness and information sharing, and said they would conduct a simulation exercise early next year to test regional responses in the event of an outbreak.
APEC's bird flu plan "commits our economies to effective surveillance, transparency and openness, and close domestic, regional and international coordination and collaboration," the statement said.
Condemning terrorism, the leaders said they would seek to dismantle terrorist groups and counter threats from weapons of mass destruction.
They also launched an initiative to protect intellectual property, seeking to stem counterfeit goods and software piracy, and said they would find ways to offset the effects of high oil prices.
Tight security around summit
The leaders assembled Saturday in a newly built muffin-shaped villa on the South Korean coast, named "Nurimaru" house — a new Korean word meaning "pinnacle of the world."
Heavy security surrounds the villa, including naval cordons and helicopters, to protect against the threat of attack and keep demonstrations far away.
On Saturday morning, about 1,000 anti-APEC protesters blocked an intersection in the city away from the villa. They were surrounded by police, but the event remained peaceful.
As the leaders met Friday, rock-throwing protesters clashed with riot police who sprayed them with high-powered water hoses within sight of the summit venue but separated by a river, leaving the meeting undisturbed.