/ Source: The Associated Press
Tropical Storm Gamma weakened into a tropical depression Sunday and drifted off Honduras after torrential downpours lashed the Central American coast, killing 14 people — including a young family of four.
Gamma, the 24th named storm of an already record-breaking Atlantic hurricane season, was expected to dissipate over the next day and was likely to miss Florida altogether. But the storm was expected to bring steady rain to northern Honduras and central Cuba as it becomes less organized, according to the National Hurricane Center in Miami.
Gamma's maximum sustained winds decreased to 35 mph — below the 39 mph to be considered a tropical storm, the hurricane center said. Its center was located about 85 miles north of the Honduran city of Limon and it was meandering north.
Forecasters said Gamma's projected path would carry it south of Jamaica by Wednesday, but forecasters said it might not even be a tropical cyclone by then.
Gamma had 45 mph winds and torrential downpours when it deluged Honduras on Saturday. Its remnants killed a 48-year-old man and an 8-year-old boy Sunday in Batalla, 250 miles northeast of the capital, Tegucigalpa, bringing the death toll in that country to 11, authorities said. There were no details on how the man and boy died. Authorities were searching for 15 people reported missing.
The government said the storm destroyed 48 homes, damaged 264 and forced more than 11,000 people to evacuate.
"The losses are high, and they pain and sadden us, but the worst could come when we learn the full magnitude of the tragedy," said Hugo Arevalo, national disaster response coordinator.
Helicopters from a U.S. military base joined Honduran aircraft in ferrying aid to hard-hit areas, but authorities cautioned that dozens of coastal communities remained cut off. Among them were towns in the Gracias a Dios region near the Nicaraguan border.
"We haven't gotten any humanitarian aid to them because the weather conditions won't let military helicopters land," Arevalo said.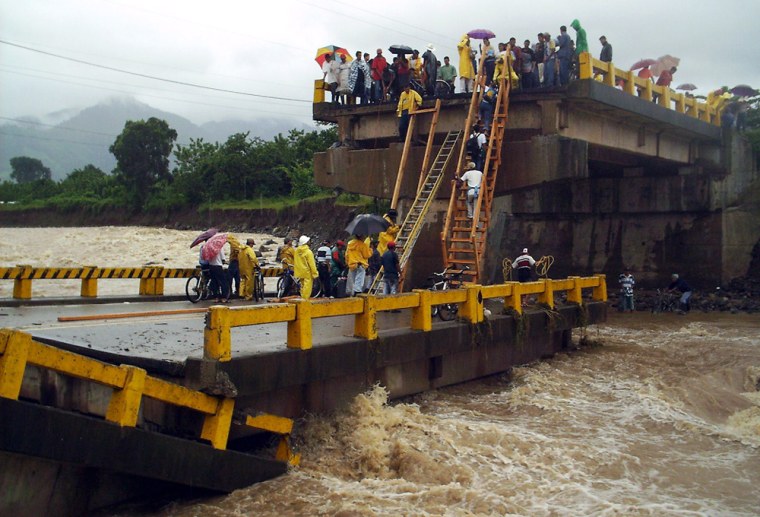 A mudslide swept down on a home in Puerto Cortes, Honduras' main Caribbean port, killing a couple in their 20s and their two toddlers.
Five people were also killed in the northern town of El Progreso, where Mayor Nelly Soliman said flooding was extensive.
In Belize, search teams blamed bad weather associated with Gamma for the crash of a private plane belonging to Blancaneaux Lodge, an exclusive jungle resort owned by the filmmaker Francis Ford Coppola.
The crash killed the Belizean pilot Rene Ram and two guests, said Kathleen Talbert, a representative for Coppola. The Belizean military on Sunday identified the two as U.S. citizens, but offered no further details.
The plane fell into a ravine near another ranch.
Gamma extended the Atlantic's record-breaking storm season. The previous record of 21 named storms had stood since 1933.