/ Source: The Associated Press
A man accused of a shooting spree at a crowded shopping mall told authorities to "just follow the screams" when he called them shortly before opening fire with a pair of assault rifles, according to court documents released Monday.
Plans for making bombs and poison gas were later found after a search of the man's car and bedroom, prosecutors said. Dominick Sergio Maldonado, 20, was ordered held on $2 million bail after pleading innocent Monday to multiple charges that included first-degree assault.
According to the court documents, Maldonado told detectives he had been humiliated during a troubled childhood and that recent problems made him want to be "heard." A text message to his ex-girlfriend minutes before the rampage said he was about to show the world his anger, the woman said.
Six people were injured, one critically, in Sunday's attack. Maldonado surrendered about four hours after he ducked into a music store and took four hostages, all of whom were released unharmed, authorities said.
'Just follow the screams'
In the documents, prosecutors said Maldonado, of Tacoma, denied intending to shoot anyone but wanted media attention.
Police said they got a call just before the shootings erupted, with the caller saying he was armed with two assault rifles and about to start firing. When the dispatcher asked the man where he was, he replied, "Just follow the screams," the papers said.
The documents said police searched Maldonado's car and bedroom, finding a formula for making the deadly poison ricin, as well as bomb-making diagrams and materials, and body shooting targets.
'The world will know my anger'
Tiffany Robison, 20, Maldonado's ex-girlfriend, said in an interview broadcast Monday on ABC's "Good Morning America" that he sent her a text message shortly before noon reading: "Today is the day that the world will know my anger."
"I think honestly that he just wanted attention. It's the sick attention that he wanted," Robison told ABC. They broke up months earlier "because of an issue with a drug," she said.
Her mother, Mary Simon, 47, of Tacoma, said she was at home when her daughter got the troubling cell phone text message.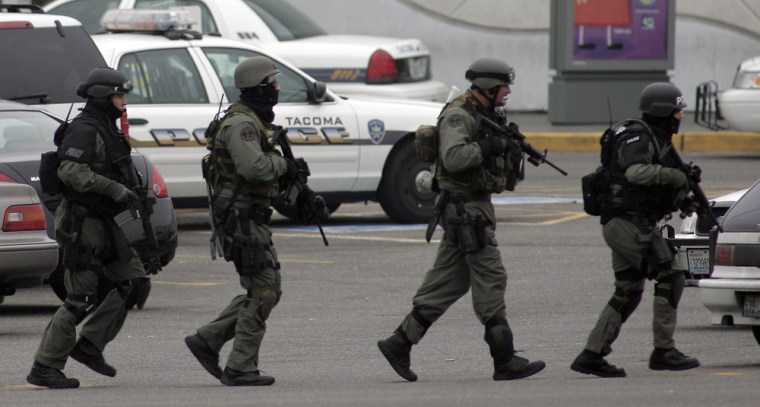 "When she got the message, she freaked out and took it very seriously," Simon told The Associated Press by telephone from her home Monday. "And then when she heard about the shooting, she knew in an instant that it was him."
Later, Robison got a call from Maldonado at the mall during the shooting spree and hostage standoff.
"He just said, 'Well, I just shot up the mall, and I'm busy now. I'm still in the Sam Goody,"' Simon said.
Of the couple's breakup, Simon said her daughter told her Maldonado had "made a lot of changes and said a lot of things that spooked her, and so she broke it off. He was reaching out for help and nobody was listening, was what she said."
Maldonado was charged with eight counts of first-degree assault, four counts of kidnapping, and two counts of unlawful possession of a firearm.
One person remained hospitalized in critical condition Monday, a hospital spokesman said. The other injured had all been released from hospitals.